Not only will planned north metropolis along mainland China border add flexibility to urban planning, 'dumb-bell' approach aligns with national goals, Paul Chan says
A planned new urban centre along the border with mainland China will become the second great economic engine of Hong Kong, complementing the financial district that has historically defined the city's identity, the financial chief has said.

Having one driver of growth in the north and the other in the south to create a "dumb-bell" pattern would also allow for more flexibility in city planning, Paul Chan Mo-po wrote on his blog on Sunday.

The financial secretary argued that Hong Kong had a "golden window" of opportunity to embrace "new thinking" now that stability had been restored by the national security law.

Chan said the ambitious plan for a Northern Metropolis that leader Carrie Lam Cheng Yuet-ngor laid down in her policy address last week would not only further align the city with national development goals but also free up much-needed land for housing and offices.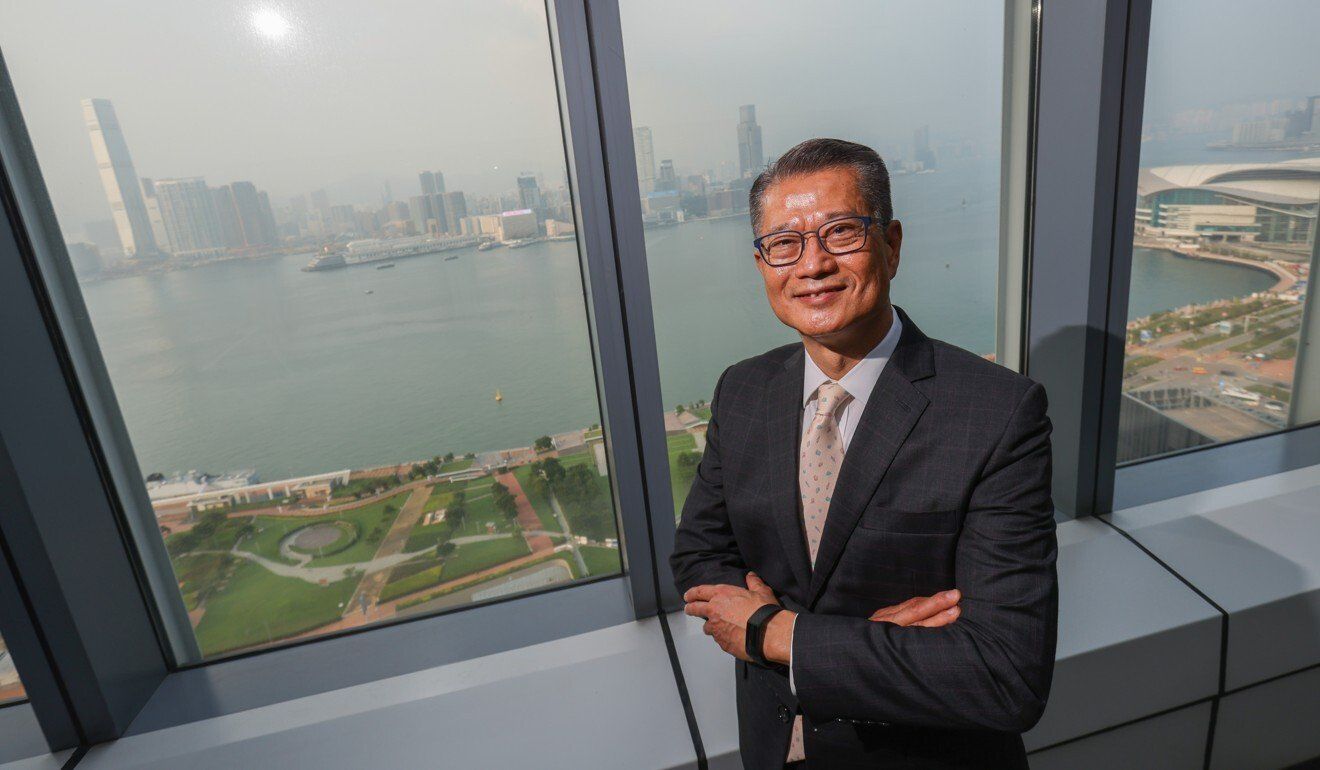 Financial Secretary Paul Chan.

The new urban centre will stretch across Yuen Long and North districts, encompassing about 300 sq km, or roughly a quarter of Hong Kong's overall size.

Over the next two decades, the area will provide more than 900,000 residential flats, or enough for an estimated 2.5 million people.

Chan said the new metropolis would be home to a new innovation and technology hub, while the traditional central business district would continue to grow as the city's core financial area.

"The dumb-bell-shape pattern of development will be formed with the developments of the southern and northern sides of Hong Kong, carrying two big economic engines," he said.

The middle section would be the future transport and logistics corridors linking the eastern and western parts of the city, Chan added.

The minister noted that the development of the central business district along the shores of Victoria Harbour in Central, Wan Chai and Tsim Sha Tsui was largely due to historical reasons.

But this approach was outdated because it "has not taken into account the big picture of synergistic development resulting from the cooperation between Hong Kong and neighbouring mainland cities", he said.

The "dumb-bell-shape" approach could also diversify the economy and make urban planning more reasonable, he said, adding growth was too focused on finance.

In her policy address, Lam also announced plans to make use of more border land, such as at San Tin and Lok Ma Chau, to develop the IT sector.

Pointing to the Beijing-imposed national security law and the central government's reform of Hong Kong's electoral system, Chan maintained that the financial hub had to seize new opportunities.

"This situation … provides the golden window. We need to adopt new thinking to set foot on a new journey," he said.

"Land and housing are Hong Kong's most acute social issues, and we have reached a stage to forge ahead and overcome difficulties. The government must spare no effort to tackle it without any delay, with the aim to see results in three to five years so as to let the people see the change, feel the improvement and build up confidence."

Lam announced last week that to improve transport, the Hong Kong-Shenzhen Western Rail Link running from Hung Shui Kiu new town to the Qianhai economic zone over the border would be built, along with four other local railway projects that would connect more rural spots in the northern New Territories.

Economist Billy Mak Sui-choi, of Baptist University, agreed that the "dumbbell-shape" strategy was sensible and feasible.

"If we need to cooperate with Shenzhen, it is only sensible that we develop the border areas of northern New Territories," Mak said.

"We can't expect people to travel from Central to Shenzhen to do business daily. And more importantly, there is not enough land in the traditional central business district area if we are to develop innovation and technology. The financial service trade can still stay in Central or Admiralty because it does not need much land. But for IT development, land to set up laboratories or research centres is needed."

Two weeks ago, Chan published a report on the city's business environment, which also stressed the opportunities brought about by the national 14th five-year plan and the Greater Bay Area development that calls for integrating Hong Kong, Macau and nine other southern Chinese cities.

His report also said the United States strategy of "suppressing China" had disrupted Hong Kong and accused Washington of supporting "black-clad violence" and imposing "blatantly unreasonable sanctions" on Hong Kong and mainland officials, as well as putting pressure on multinational firms operating in the city.

He praised the national security law for restoring order and said the business environment had since been put back on track.