Jay Li Ting-fung, a member of the Sham Shui Po district council, says officials need to ramp up their messaging to make sure more people get tested
Community leaders from ethnic minority groups in Hong Kong's Sham Shui Po are urging members to get tested for Covid-19, as a growing Omicron cluster in the area has led to suspended religious gatherings and activities.

The district has become a new high-risk area with an expanding cluster of cases believed to have been sparked by a cross infection at the Silka Seaview quarantine hotel, where a woman returning from Pakistan tested positive days after she completed her 21-day quarantine and returned to her home in Sham Shui Po.

Sixteen cases have been linked so far to the cluster, including pupils studying in an international school in Mei Foo.

Mufti Muhammad Arshad, the current chief imam for Hong Kong, said he had appealed to his community to get tested and vaccinated as soon as possible, but added that ethnic minority groups should not be blamed for the infections.

"She did not bring the virus from Pakistan, but instead got infected during her quarantine in Hong Kong," he said, adding the woman and her family were doing well and recovering in hospital.

"No community or group should be blamed for infection, which is without ethnicity or background," he added.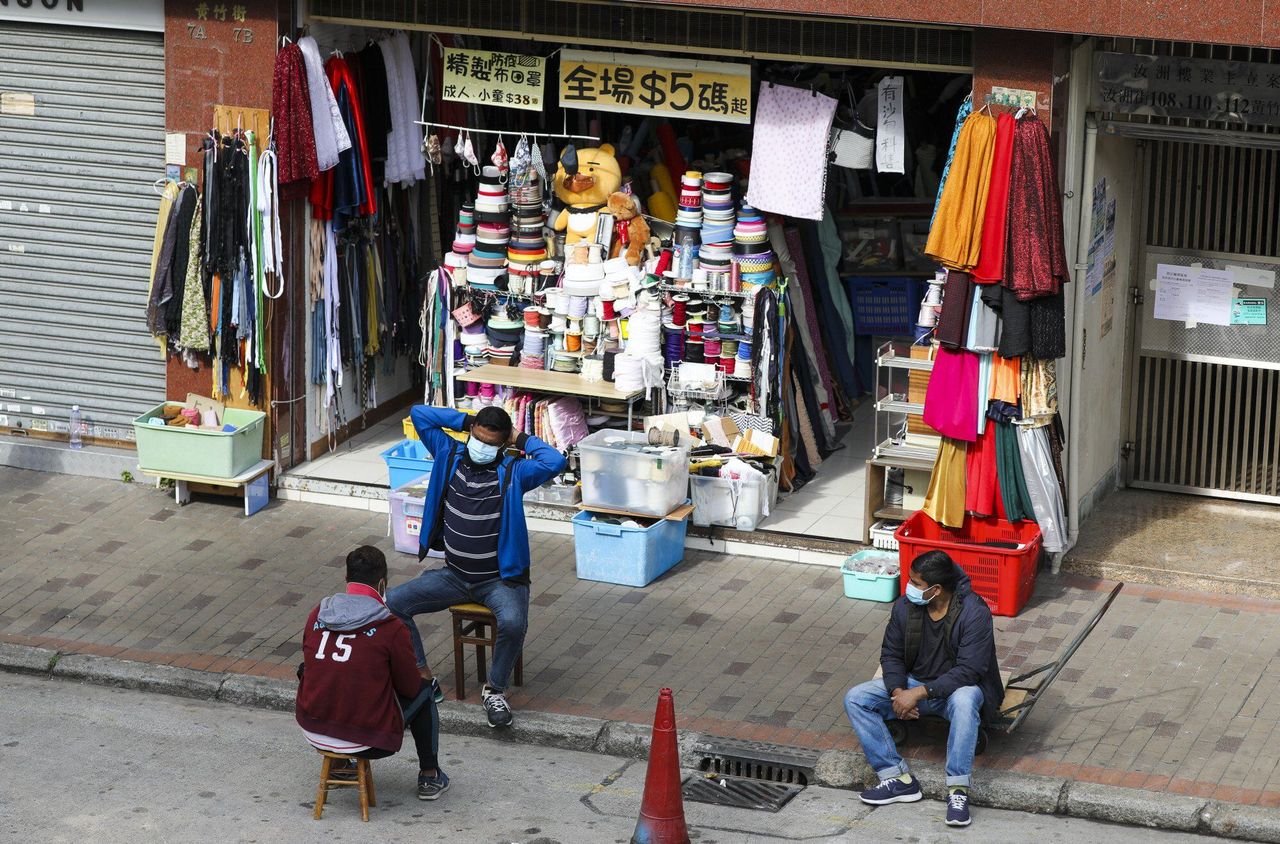 Sham Shui Po residents have been urged to get tested for Covid-19 amid a rising number of infections.

A district with residents from diverse ethnic backgrounds, Sham Shui Po has a population of 406,000, with about 382,000 Chinese inhabitants, while the rest belong to ethnic minority communities, such as Filipinos, Indonesians and Pakistanis.

At least four areas in Sham Shui Po have reported a number of confirmed cases from unknown sources, and recently collected sewage samples have also tested positive.

The authorities put the district's Fu Yuet House in Fu Cheong Estate under an overnight lockdown on Wednesday to carry out compulsory testing, and also urged residents and people working in the area to get screened to cut off suspected invisible transmission chains.

On Thursday morning, long queues formed at a testing station in Mei Foo, with hundreds of people seen waiting in line to get tested. Most of them were local Chinese, with a few ethnic minority students. But almost no one showed up at two other testing points in Cheung Sha Wan and Sham Shui Po.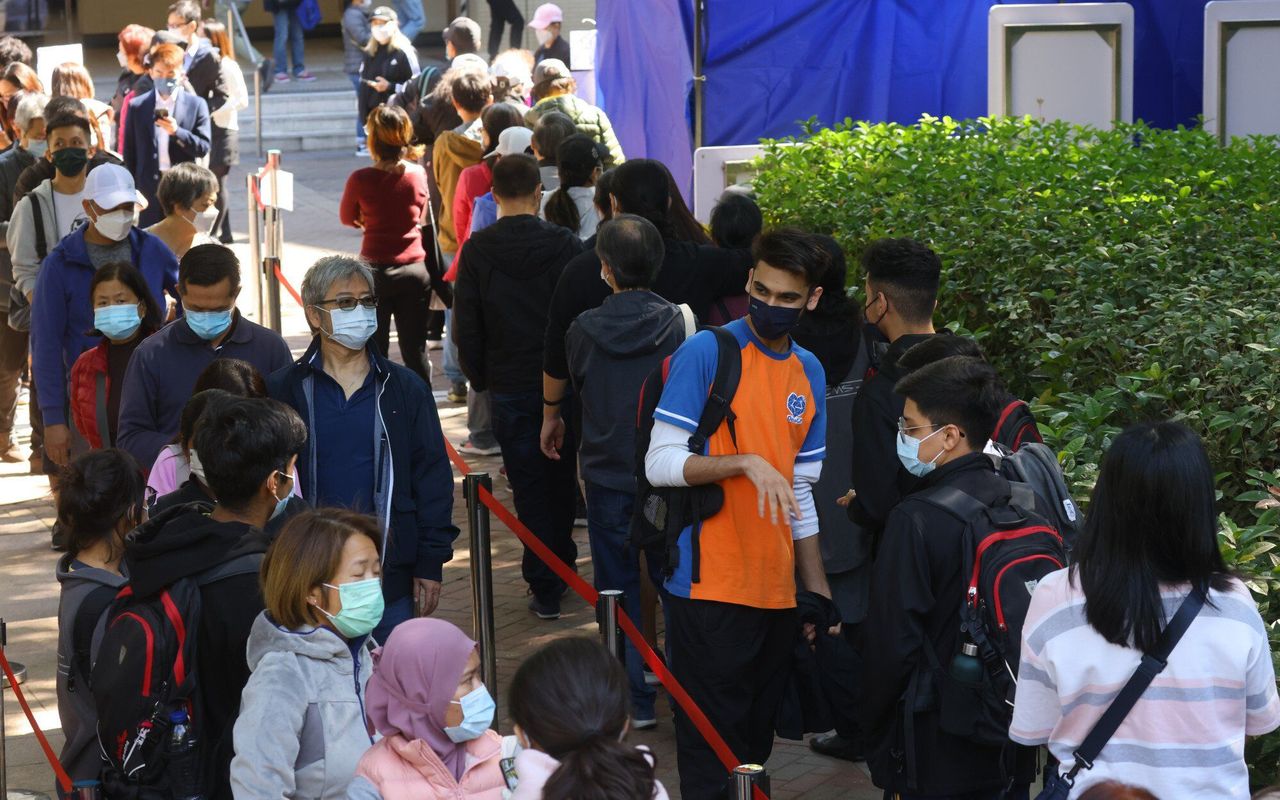 People waiting in line to get tested at Lai Chi Kok Park in Mei Foo.

Jay Li Ting-fung, a member of Sham Shui Po District Council, told a radio programme on Thursday: "Officials need to ramp up their messaging to make sure more people come out for testing."

Government figures showed that as of 9pm on Thursday, about 17,000 people had been tested for Covid-19 at the eight testing points in Sham Shui Po.

Ali Tayyab, assistant imam of Khatme Nubuwwat Islamic Council Limited in Sham Shui Po, said the mosque had already taken immediate action by shutting its doors from January 17 to January 28. Between five and 10 people, mostly Pakistanis living in the area, would go to the mosque daily, while 150 to 200 people attend Friday prayers.

"Most of them [members of the mosque] are worried because minorities are often related to each other," he said.

Pakistan-born Tayyab, 33, lives in Ngau Tau Kok but used to visit the mosque in Sham Shui Po daily. He said he was worried about bringing the virus home to his six-year-old and four-month-old daughters.

He got tested on Wednesday morning and received a negative result. Some members of his mosque also heeded the government's appeal to get tested.

He said he would continue urging members to get tested, but also called on the government to ramp up efforts to explain the latest Covid-19 developments and related measures to ethnic minorities by offering information in different languages.

Ali, a 20 year-old Pakistani who lives in Cheung Sha Wan with his parents and two siblings, said he was worried about the growing number of infections because he often had to travel in the area to deliver food.

"I'm very concerned, and I will get tested for the coronavirus as soon as possible," he said, asking to be identified only by his surname.

He said his family was fully vaccinated, and his mother, brother and sister also got screened last week. With a busy work schedule from 8am to 10pm, Ali said he would try to squeeze in time to get tested on Friday.

Chief imam Mufti Muhammad Arshad said the city's largest mosque, the Kowloon Masjid and Islamic Centre in Tsim Sha Tsui, had suspended its five daily classes which were each often attended by 30 to 40 people. Hand-shaking or sitting together have also been banned in the wake of the new infections.

"We are part of the local community. Any new infections will have the same impact on us as the rest of society, and we share the same feelings," he said.