Andrew Cheung calls for greater public tolerance after two judges were sent letters containing corrosive substances and stresses need for public access to courts at a time when Legal Aid Department is considering restricting assistance.
Hong Kong's chief justice has expressed alarm over pressure being exerted on the courts after two judges were recently threatened, saying attacks on the rule of law must be condemned.

Andrew Cheung Kui-nung also stressed on Friday the importance of public access to court services and lawyers at a time when the Legal Aid Department was considering tightening rules on how it offered assistance. Critics have raised concerns the changes could affect opposition figures' choice of defence counsel, as well as the ability of residents to mount legal challenges against the government.

"Any attempts to exert undue pressure on judges and judicial officers will violate the rule of law spirit and deal a blow to the principle of judicial independence, which shall be severely condemned," Cheung said at the opening ceremony of the Law Society's Law Week, which is aimed at promoting legal knowledge within the community.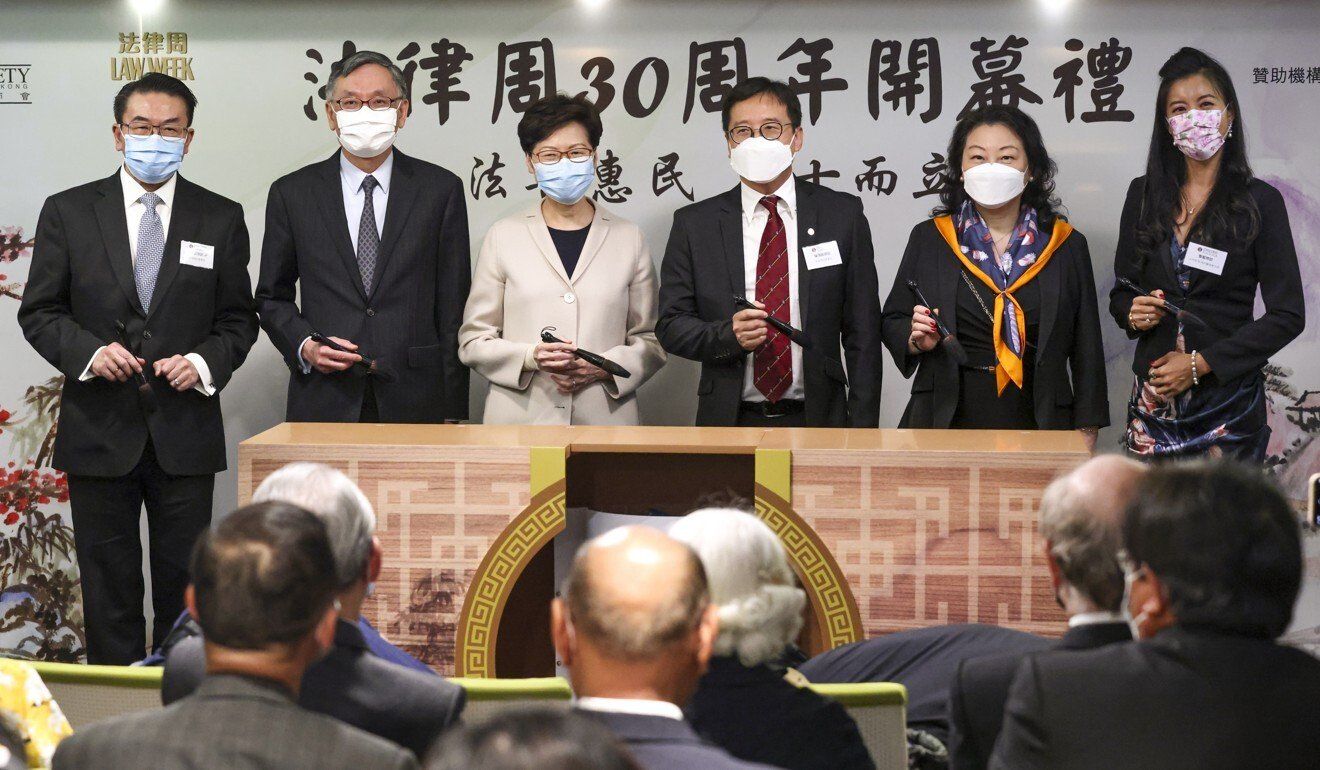 Chief Justice Andrew Cheung (second left) with Chief Executive Carrie Lam and Secretary for Justice Teresa Cheng (second from right).

The comments mark the first time the chief justice has spoken in public since letters containing a highly corrosive substance were sent to Magistrate Pang Leung-ting and Deputy Judge Kathie Cheung Kit-yee on Wednesday. The judges were last week both sent mail containing lye, also known as caustic soda or sodium hydroxide, a substance that can cause chemical burns.

Pang and Cheung recently handed down guilty verdicts and jailed participants of the 2019 anti-government protests, although Pang also acquitted several defendants.

Judges have found themselves in the hot seat in the past year, with divisive political disputes making their way into court as protesters are tried for a variety of crimes related to the social unrest. The defendants argue they are being denied mercy, while the pro-establishment camp says judges are being too lenient on the accused.

Without specifically referring to the recent threats, Cheung appealed to the public for greater understanding.

"Public confidence in law is an indispensable element in defending the rule of law," he said.

"If residents lose their confidence in the rule of law, they may resort to improper, or even illegal, means to resolve their conflicts with others or the government."

The Legal Aid Department announced a consultation late last month over its plan to limit an applicant's choice of lawyers and significantly reduce the number of judicial review cases each lawyer could take up.

The move came after the pro-establishment camp said a small group of lawyers who were sympathetic towards protesters were being retained for the vast majority of cases tied to the 2019 unrest. But some lawyers have expressed concerns the department's proposal will undermine a defendant's right to defence counsel and leave applicants in judicial review cases with fewer experienced lawyers to choose from.

Cheung did not comment on the changes directly, but he pointed to a provision in the city's mini-constitution.

"Article 35 of the Basic Law states that Hong Kong residents shall have the right to confidential legal advice, access to the courts, choice of lawyers for timely protection of their lawful rights and interests or for representation in the courts, and to judicial remedies," he said.

Chief Executive Carrie Lam Cheng Yuet-ngor, who also spoke at the event, noted numerous bodies had commented recently on the rule of law in Hong Kong. While she stopped short of naming the groups, she took issue with their claims.

She cited a survey by the World Bank Group that gave the city's rule of law a score of 91.83 out of 100 in 2020, up from 69.85 in 1996, before Britain handed the financial hub back to China.

Writing on her blog, Secretary for Justice Teresa Cheng Yeuk-wah also criticised the recent intimidation of judges, calling the threats "utterly intolerable".

"Attacks made against the judiciary simply based on the outcome of cases, or made with an attempt to exert undue influence on judges by means of doxxing or threats of violence, are not only unacceptable in a law-abiding society, but will also be to no avail," she said.

"Those who turn a blind eye to the reasons of the court's rulings, and act unlawfully and despicably against judges based merely on their own likings on the outcomes of cases only reveal their ignorance, cowardice and blatant disregard of the law."

Law Society president Chan Chak-ming said lawyers were "officers of the courts" and should speak up for the judiciary when appropriate.