Hong Kong's chief justice set to meet recently appointed head of Supreme People's Court Zhang Jun, discuss increasing use of technology with Beijing judges.
Hong Kong top judge Andrew Cheung Kui-nung left the city on Sunday evening to embark on a four-day trip to Beijing, the second of his tenure, where he will meet the new head of the country's highest court.

Chief Justice Cheung set off as Paul Lam Ting-kwok, Hong Kong's justice minister, reiterated that local authorities hoped to finish drafting legislation for the city's own national security law no later than next year and fulfil their constitutional obligation under the Basic Law.

The minister referred to Article 23 of the city's mini-constitution, which requires Hong Kong to enact its own laws prohibiting any act of treason, secession, sedition, and subversion against the central government.

It must also outlaw theft of state secrets, as well as ban foreign political organisations or bodies from conducting political activities in the city and local political organisations or bodies from establishing ties with foreign political organisations or bodies.

"Hong Kong has been valued as an international hub that respects the spirit of the law, human rights and freedom. There is no reason we will shoot ourselves in the foot," Lam told a radio programme on Sunday.

"We will definitely strike a balance between safeguarding national security and protecting human rights and freedoms … the two do not necessarily conflict with each other."

Meanwhile, Cheung is expected to meet Supreme People's Court Chief Justice and president Zhang Jun, who took office in March, as part of his four-day trip to mainland China.

During his first trip to Beijing in 2021, Hong Kong's top judge was urged by the country's then-chief justice Zhou Qiang to help ensure only "patriots" governed Hong Kong.

Zhou also urged Hong Kong's judiciary to deepen exchanges with its mainland counterparts to "strengthen judicial officers' consciousness for the country and concepts of the nation".

During his current visit, Cheung will stop at the smart court laboratory for the Supreme People's Court, the Beijing Financial Court and the Beijing International Commercial Court to exchange views on the increasing use of technology in courtrooms.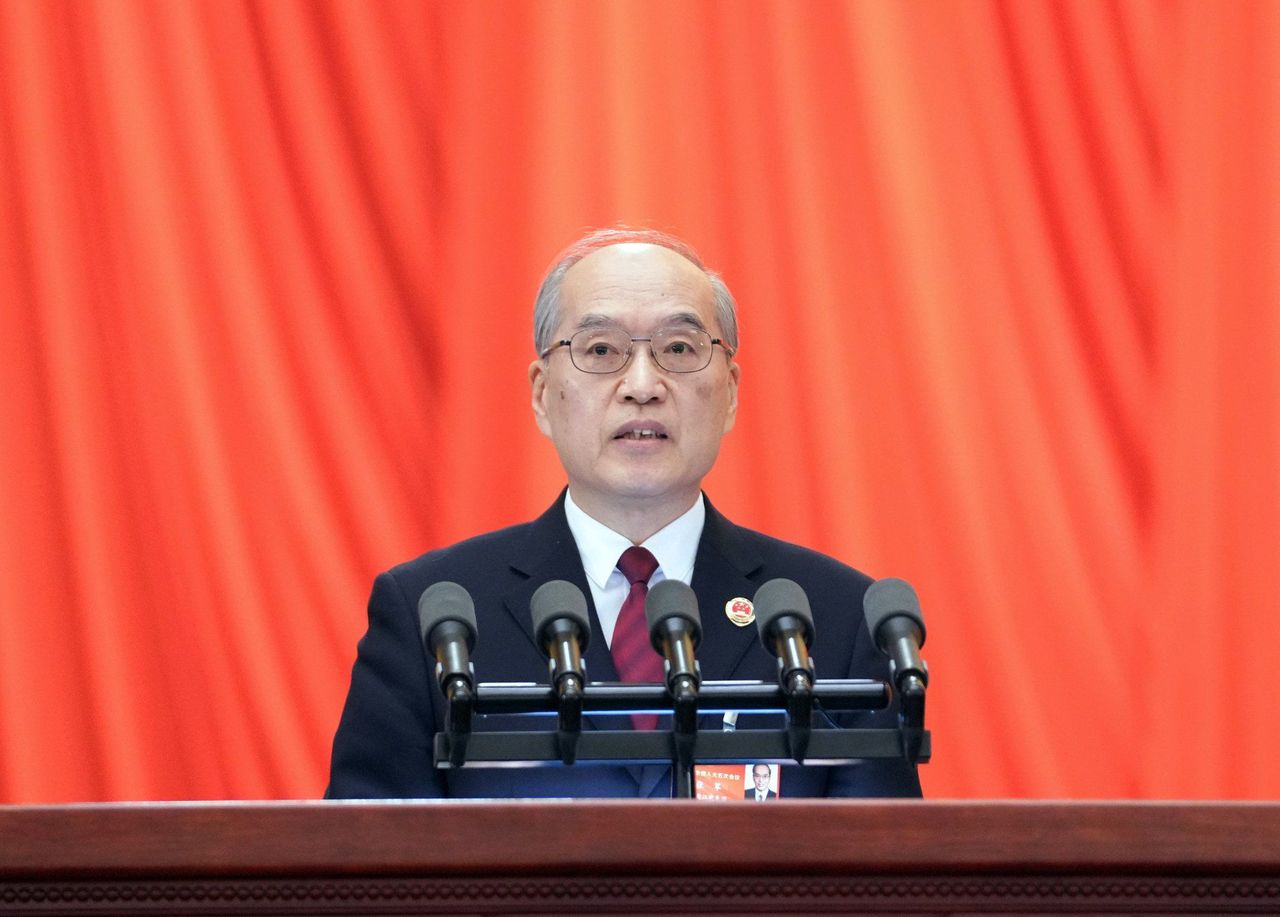 Zhang Jun, who took office as chief justice of the Supreme People's Court in March.

The top judge will also meet the Supreme People's Procuratorate, the country's top agency overseeing prosecution, as well as members on the Basic Law Committee of the National People's Congress Standing Committee.

Visits to the country's Ministry of Justice and the Hong Kong and Macau Affairs Office are also on the agenda.

Cheung will be accompanied by Chief Judge of the High Court Jeremy Poon Shiu-chor, Court of Appeal vice-president Carlye Chu Fun-ling and Judiciary Administrator Esther Leung Yuet-yin.

Justice Roberto Ribeiro, a permanent judge on the Court of Final Appeal, will serve as acting chief justice in Cheung's absence.

In March, Cheung led a judiciary delegation on a three-day trip to the Greater Bay Area, Beijing's ambitious initiative to integrate Hong Kong, Macau and nine mainland cities into an economic powerhouse.

Yang Wanming, vice-president of the country's highest court, at the time said he hoped Hong Kong's judiciary would strictly abide by the state's constitution, the Basic Law and the city's national security law.

He also urged local judges to maintain Hong Kong's constitutional order, while also continuously improving its judicial and legal systems.