Union says it has received 'numerous fatigue reports' amid staff shortages and additional workload at airline.
Cathay Pacific's cabin crew union has said less rest time during layovers and changes to rostering could impact the Hong Kong flagship carrier's service and safety as staff have been left feeling exhausted.

The airline's management has pushed back against the safety claims but promised to improve personnel schedules in future.

The Cathay Pacific Flight Attendants Union, which counts about 3,000 airline cabin crew as members, on Thursday warned the carrier's flight schedule allowed for "minimal rest time" during overseas layovers and the organisation had received "numerous fatigue reports", adding there were staff shortages and an additional workload.
"It is not our intention to ask for more when the company is recovering. We want no more than reasonable patterns, reasonable manpower and reasonable pay," union chairman Ken Chang Kam-yuen said in an open letter to airline CEO Augustus Tang Kin-wing.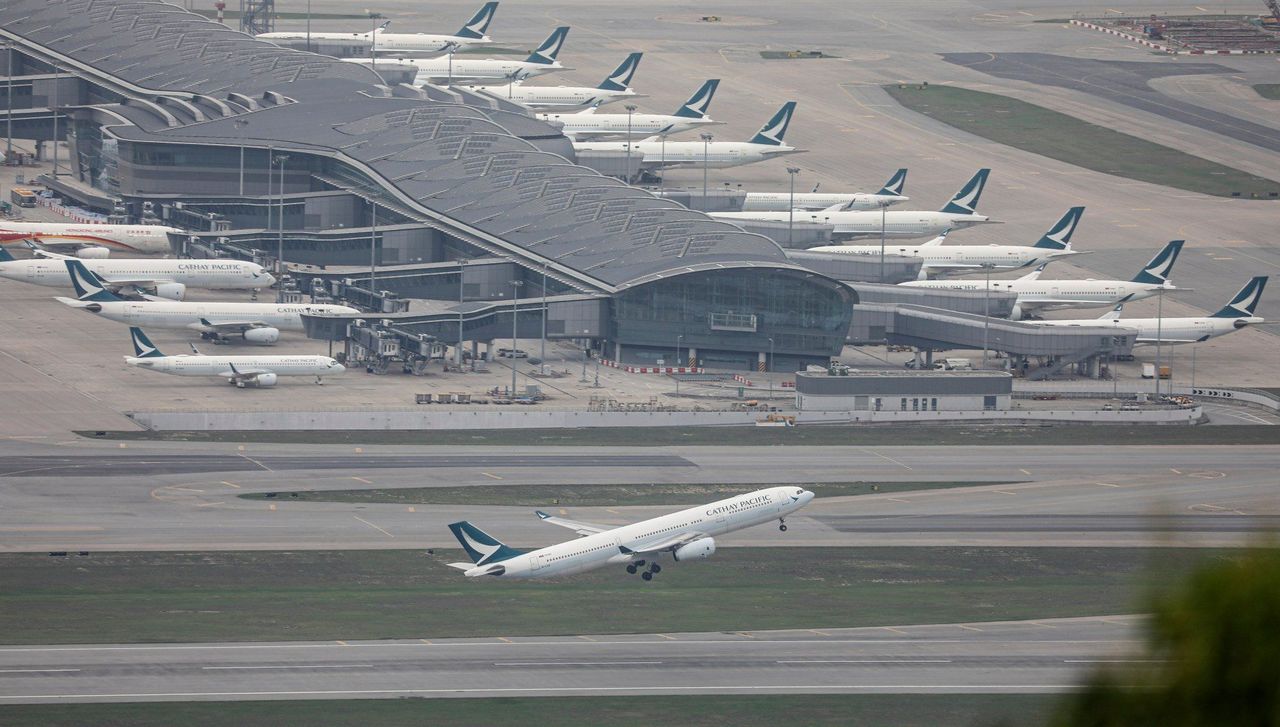 The union has warned the carrier's flight schedule allows for "minimal rest time" during overseas layovers.
"We no longer want any explanations; we want to see tangible actions."
The union has called an emergency meeting of its members next week to discuss further steps.
In a statement to the Post, Cathay said its rostering practices complied with rules set out by the Civil Aviation Department, insisting there was not a safety issue.
"We acknowledge that there are issues with our rosters as we rebuild our network and resume more flights. We understand that there are some abnormalities with crew layover patterns due to infrequent flight schedules. We are applying short-term fixes to adjust the rosters manually," a spokeswoman said.
"Longer term, there will be better rosters with more choices as we resume more flights. With more flying hours, our crew can earn more productivity pay and other allowances," she added.
In December, the carrier said cabin crew on average would have about 14 days off and around 60 to 70 flying hours.
The union's vice-chairwoman Grace Siu Wing-yan said among the measures the organisation had called for included more rest time during overseas layovers, and an improvement to the airline's rostering practice.
According to Siu, the layover time for some routes had fallen since October, such as for flights to Australia, where the duration had dropped to about 15 hours compared with 24 hours previously. Layovers for New York and Boston flights were about 24 hours, compared with 30 to 35 hours in the past.
"We still have to perform what Cathay expects as a premium airline service, so how can we do that?" she said, adding flights had been operating with one less cabin crew since January.
"You never have enough time to recharge and carry out premium service and safety-related checks."
Siu said the union had been raising the issues with the airline's management since October, but had yet to see an improvement.
Cabin crew earn allowances for long-haul flights with layovers at overseas outposts. Siu said rosters were "imbalanced", as previously crew saw a mix of long and short-haul flights, but some were only being scheduled to fly turn-around flights, therefore unable to earn the boost in income.
Eligible Hong Kong-based staff would see their average basic salary increased by 3.3 per cent as well as receive the equivalent of one month's pay as an ex gratia payment in January, according to an internal memo seen by the Post last week.
Siu said the increase meant junior crew whose basic salary was HK$9,100 (US$1,166) per month would only see their pay improve by HK$300.
She explained that when the company shed a record 5,900 jobs in October 2020, after axing regional airline Cathay Dragon and offering new contracts, cabin crew saw their salary drop by around 20 per cent.
In September, authorities scrapped hotel quarantine and replaced it with a "0+3" scheme, where arrivals are required to undergo three days of medical surveillance at home or in a hotel, with limited freedom of movement.
Following the move, Hong Kong travellers scrambled to book overseas trips, while Cathay Pacific and budget carrier HK Express said they would add about 3,000 new flights from October to December this year.
Cathay said it was on track to reach a third of its pre-pandemic passenger flight capacity by the end of this year and operate at 70 per cent of its flight capacity before the
Covid
-19 health crisis by the end of next year.
The airline earlier said it expected to recruit more than 4,000 frontline employees, including 700 pilots and 2,000 cabin crew, to meet travel demand over the next 18 to 24 months. It added that a cabin crew recruitment drive in October had drawn about 1,000 applications.
The union estimated the number of cabin crew had plummeted from 11,000 before 2020 to about 5,800 now.