Airline's move comes as tighter government measures for aircrew quarantine loom.
Cathay Pacific has been forced into contingency mode, cancelling almost half of planned passenger flights and a third of cargo ones on Thursday, a move that may cause more fissures in an already stressed global supply chain.

According to live flight schedule data from Hong Kong's Airport Authority, the city's flag carrier axed 28 of 61 planned departing passenger flights amid uncertainty over even tighter Covid-19 regulations for aircrew.

The live departure flight page for Hong Kong International Airport, the world's busiest international air cargo hub, showed Cathay had pulled flights to destinations that included Australia, Britain and Japan, with aircrew expected to face tougher quarantine measures.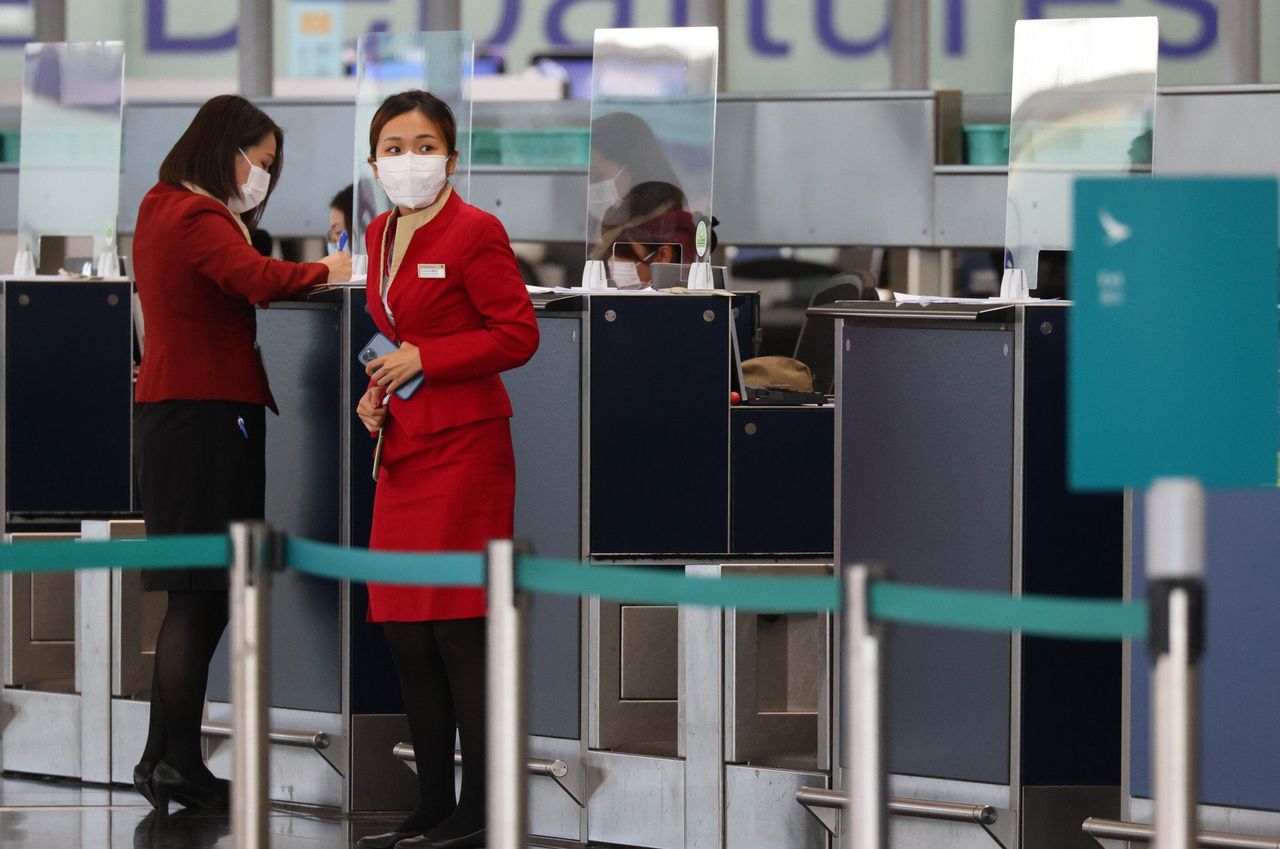 Cathay staff at the airport. The airline has come under increasing pressure from changing travel rules amid the pandemic.

Of 15 cargo-only flights, five, including to Japan, mainland China and India, were scrapped, with one further delayed by 24 hours. No cargo flights were cancelled on Wednesday, and none have been dropped for Friday.

More passenger flights have been cancelled for Friday, however. As of 7pm on Thursday, the airline had dropped seven flights for the next day, including six long-haul trips initially set for departure between midnight and 1.30am.

Compared with Wednesday, the airline only cancelled seven passenger flights.

The perceived threat of the Omicron coronavirus variant, which scientists fear may be more transmissible than the current dominant strain, has prompted the Hong Kong government to toughen already strict arrival rules. Authorities bumped up more than a dozen countries to the Group A high-risk category, meaning the maximum 21 days of quarantine for travellers, and 14 for aircrew.

On Thursday, Cathay flight operations director Chris Kempis told staff: "We are still waiting for a response from the Hong Kong government that confirms the status of our crew exemptions following the new quarantine classifications for several countries, which have now become effective."

He warned the effects of the rule changes "are significant and far more challenging to manage as they are constantly changing and are now linked to every individual crew member's movements".