Known variously as nano flats, micro-apartments, cage homes and shoebox homes, Hong Kong's tiny abodes grew out of the desperate quest for affordable housing in the world's most expensive urban centre.
Hong Kong's notoriously tiny flats are likely to endure and withstand the minimum size ordered by the city authorities, as affordability remains the biggest challenge for many first-home buyers struggling to get on the first rung of the property ladder.

The 280-square feet (26 square metres) minimum stipulated this week on new projects built on government land would wipe out many flats priced below HK$6 million (US$769,400), which are eligible for up to 90 per cent mortgage financing, pushing affordability further beyond reach for many buyers.

The minimum size will also be a hindrance in land-scarce areas like Hong Kong Island, pushing developers and buyers alike to venture further afield to the New Territories for the larger homes.

"In the New Territories, it is fair to set a minimum size of 280 sq ft for flats, but it becomes less affordable in urban areas where homes are priced at HK$30,000 to HK$40,000 per sq ft," said David Chiu, chairman of Far East Consortium International, which has built at least three projects with micro-apartments between 198 and 400 sq ft in Wong Tai Sin, Cheung Sha Wan and Tai Wai. Chiu said he supports the government's minimum.

Known variously as nano flats, micro-apartments, cage homes and shoebox homes, Hong Kong's tiny abodes grew out of the desperate quest for affordable housing in the world's most expensive urban centre. For years, they defied classification as developers subdivided available space into ever-smaller homes, until the government declared a minimum this week.

Homes "measuring only 100 to 200 sq ft have some impact on Hong Kong's image," said Stewart Leung, executive committee chairman of the Real Estate Developers Association of Hong Kong (Reda). "It is good to have some planning."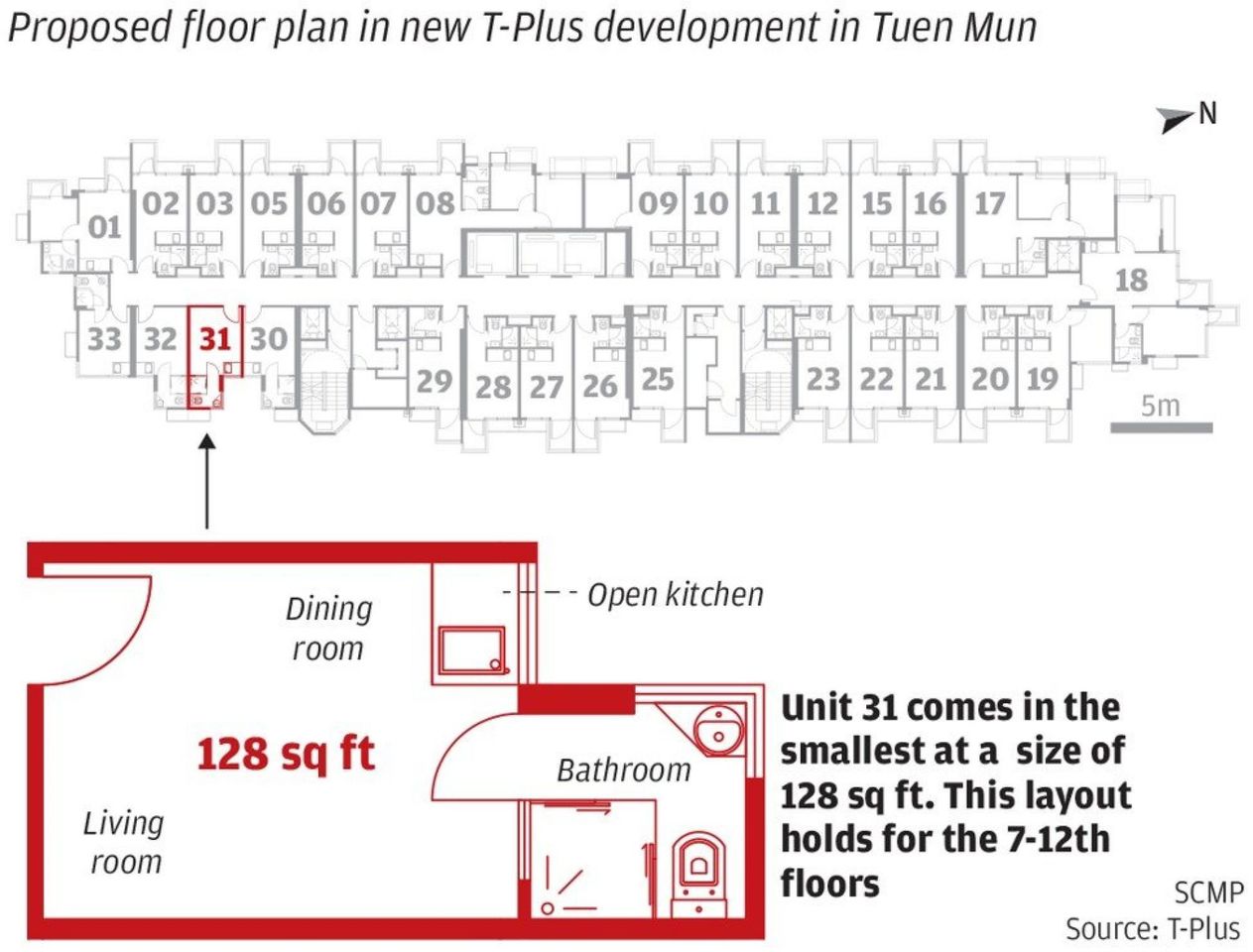 Layout plan of the T-Plus micro-apartments in Tuen Mun.

CK Asset Holding set the trend in motion when its Mont Vert project in Fanling sold out in a massive success in 2014. The smallest unit, at 165 sq ft, was available for HK$1.29 million after a 15 per cent discount.

Seeing the market in the niche, other developers piled in, some converting old buildings into tiny homes for sale. The smallest units on the market were at the T-Plus project in Tuen Mun, where the tiniest flat measured 128 square feet, smaller than a standard carparking space in Hong Kong.

"We build nano flats smaller than 200 sq ft for singles or couples who have limited budget [because] we see a market there," said Edwin Leong Siu-hung, the founder of Tai Hung Fai Enterprise and one of the city's wealthiest men. His family paid HK$1.22 billion in 2016 for three apartments at Mount Nicholson on The Peak, each with more than 4,000 sq ft of space.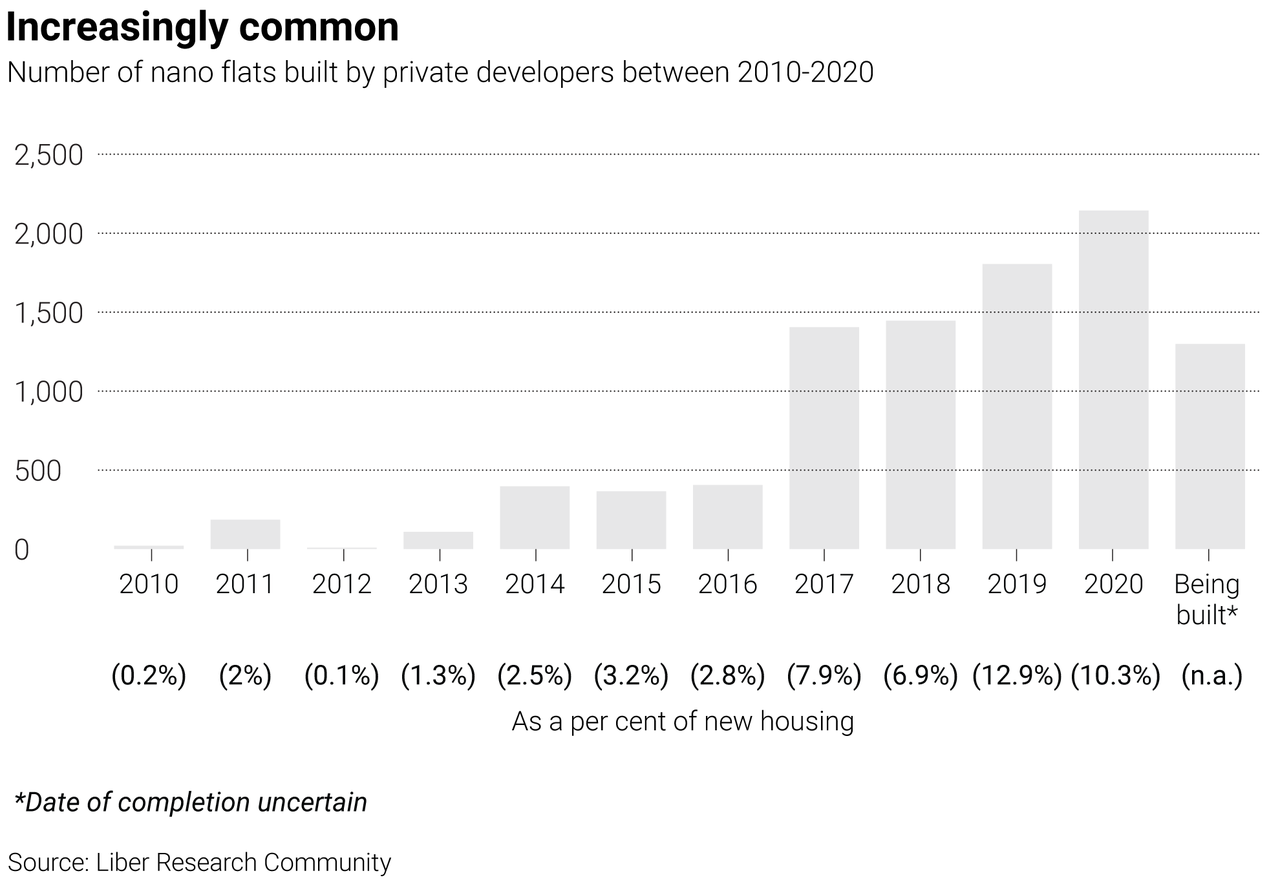 Leong, also dubbed Hong Kong's "King of Shops" for his portfolio of more than 1,000 shops, is speeding up the construction of a yet-to-be-named micro-apartment project in Sheung Wan, where a third of the 300 units being designed measure less than 200 sq ft.

"Other developers will think like me: better build before the government extends the minimum size to all developments," he said in an interview with the Post after Hong Kong's government announced its minimum requirement.

Leong has a good reason for his strategy. Tai Hung Fai's Artique project in Sheung Shui sold all 30 nano flats within two hours in October. The flats, from as small as 138 sq ft to 259 sq ft, were priced between HK$2.42 million and up to HK$5.12 million after discounts. Under Hong Kong's financing rules, a buyer needs as little as HK$242,000 as down payment to secure a flat, with the bank lending the remainder 90 per cent of the purchase price.

"The number of new homes priced less than HK$6 million will gradually decrease, [forcing] prospective buyers to prepare more capital to enter the market in future," said Dave Ma, the chief operations officer of the Hong Kong Property Services (Agency).

With the gradual decrease of nano flats and the inability to make up for the new supply in time, the prices of small homes may actually rise, Ma said.

"A buying fever of nano flats will be stirred up before the decline," he said.

One of every three new property projects launched in 2021 in Hong Kong offered units smaller than 250 square feet, making up 1,730 flats, or 9.3 per cent of the homes launched, according to data provided by Century 21 Q Power.

Since the new minimum-size rule applies only to newly sold land, excluding parcels with old leases, the blight of nano flats will take time to wipe out, said the agency's managing director Gary Yeung.

"There will still be new nano-units, but their supply will gradually decrease," he said.

For now, Hong Kong's notorious nano flats are still available for sale. Chun Wo Development has 120 units, each measuring between 152 and 228 square feet, at its Soyo project in Mong Kok. They will go on sale on January 2, priced between HK$3.38 million and up to HK$6.56 million.