Beijing continues attack on PTU through state media, accusing it of avoiding accountability and demanding further action by law enforcement.
Hong Kong's biggest teachers' union is seeking to speed up its dissolution by changing its own constitution, the Post has learned, but Beijing is insisting that local authorities should still investigate the opposition-leaning group's "lawbreaking" activities.

The embattled Hong Kong Professional Teachers' Union (PTU) announced on Tuesday that it was disbanding under pressure from authorities who have accused it of inciting violence and anti-government sentiment in schools.

The break-up of the 95,000-member group does not go far enough for Beijing, which continued attacking it through state media on Wednesday, accusing it of avoiding accountability and demanding further action by law enforcement.

"[The union] has helplessly disbanded itself, but of course it cannot cancel out all its alleged law-breaching behaviour," Xinhua said in a commentary.

Under its constitution, two-thirds of PTU members would need to endorse the decision to disband for it to be valid.

To ensure the break-up happens as quickly as possible, the PTU committee would meet soon and amend the constitution to lower the threshold, an insider told the Post.

"[The two-thirds] threshold is quite impossible to reach, as many members might not support our decision, or will not want to get involved in the matter," the source said.

"We will do this as soon as possible, as we do not want to drag out the matter."

The decision to disband came just 11 days after the Education Bureau dropped a bombshell on July 31 by severing all ties with the city's largest teachers' group, widely seen as the last power base within the embattled opposition camp. Police later warned that law enforcement could "take appropriate action" against it if necessary.

Just hours before the bureau's move, Xinhua and People's Daily called the union a "malignant tumour" that had to be eradicated over its active role in the anti-government protests of 2019.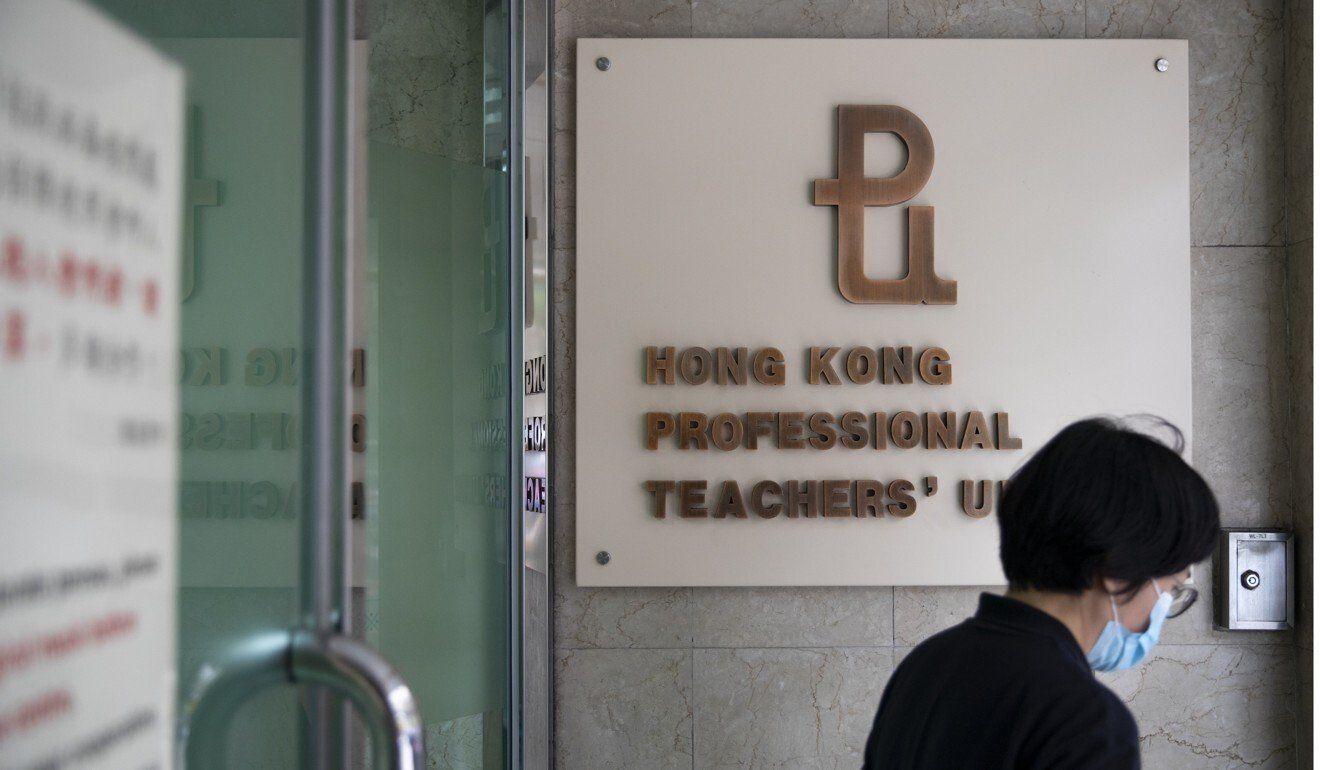 The PTU is the largest teachers' group in Hong Kong.

The PTU's disbandment announcement did not put a stop to the criticism.

In Wednesday's article, Xinhua again referenced the removal of a malignant tumour and said the latest development was a major step in returning the city to order.

It said the "sword of the national security law" had a powerful effect and recently forced the union to quit the Civil Human Rights Front, an umbrella group that organised some of the city's biggest protest marches, and engage in certain conciliatory steps. But liability should not stop there, it said.

"Hong Kong is a society with the rule of law. It follows the law and holds those who breach it accountable. Therefore, Hong Kong's law enforcement will apply the law impartially and investigate accordingly to punish unlawful behaviour, regardless of whether the union is dissolved or not," it added.

Before the 2019 social unrest, the Hong Kong government had over the decades maintained a working relationship with the PTU, despite its political stance.

With its unparalleled membership, the PTU also had much more "power" legally when it came to protecting members' rights.

The PTU took several conciliatory steps last week, including the launch of a working group to raise awareness of Chinese history and culture among teachers and pupils. It also withdrew from Brussels-based group Education International last Wednesday, after pro-Beijing newspaper Ta Kung Pao slammed the PTU for joining the global federation's call for the government to respond to protesters' demands during the 2019 unrest.

But last Thursday, Commissioner of Police Raymond Siu Chak-yee told state media outlet Phoenix TV that the force would "definitely investigate" any wrongdoings if national security matters were involved, without going into the specifics of past comments and acts by the PTU that could have violated the law.

PTU president Fung Wah-wai said on Tuesday that breaking up the union was the "best option available" under continuing pressure. He said members had discussed other options but did not specify what they were.

Criminal lawyer Stephen Hung Wan-shun said the disbandment would do little to shield the PTU from criminal liabilities because of the way in which charges, if laid, were likely to be formulated.

Any prosecution was likely to target an individual rather than a company, he explained, adding: "Most criminal offences in Hong Kong are not time-barred."