Authorities will position Qianhai as window to reform and open up nation's financial services sector, senior official says.
Hong Kong businesses will be allowed to use at least a third of new land being set aside in neighbouring Shenzhen as part of the Qianhai economic zone's mammoth expansion, senior Beijing officials have pledged as they threw their support behind the project.

The mainland Chinese authorities also promised on Thursday to speed up the introduction of a new law to offer investors better protection and pour more resources to build the zone as an international legal expertise and arbitration hub.

People's Bank of China deputy governor Pan Gongsheng also suggested that more would be done to promote Qianhai as a test bed for reform and opening up of the country's financial sector.

"We will position Qianhai as the window of reform and opening of the nation's financial services sector. Together with Hong Kong's global financial hub status, we can offer high-quality services," Pan said at a rare joint press conference held in Beijing with Guangdong, Hong Kong and Macau ministers attending via video conference.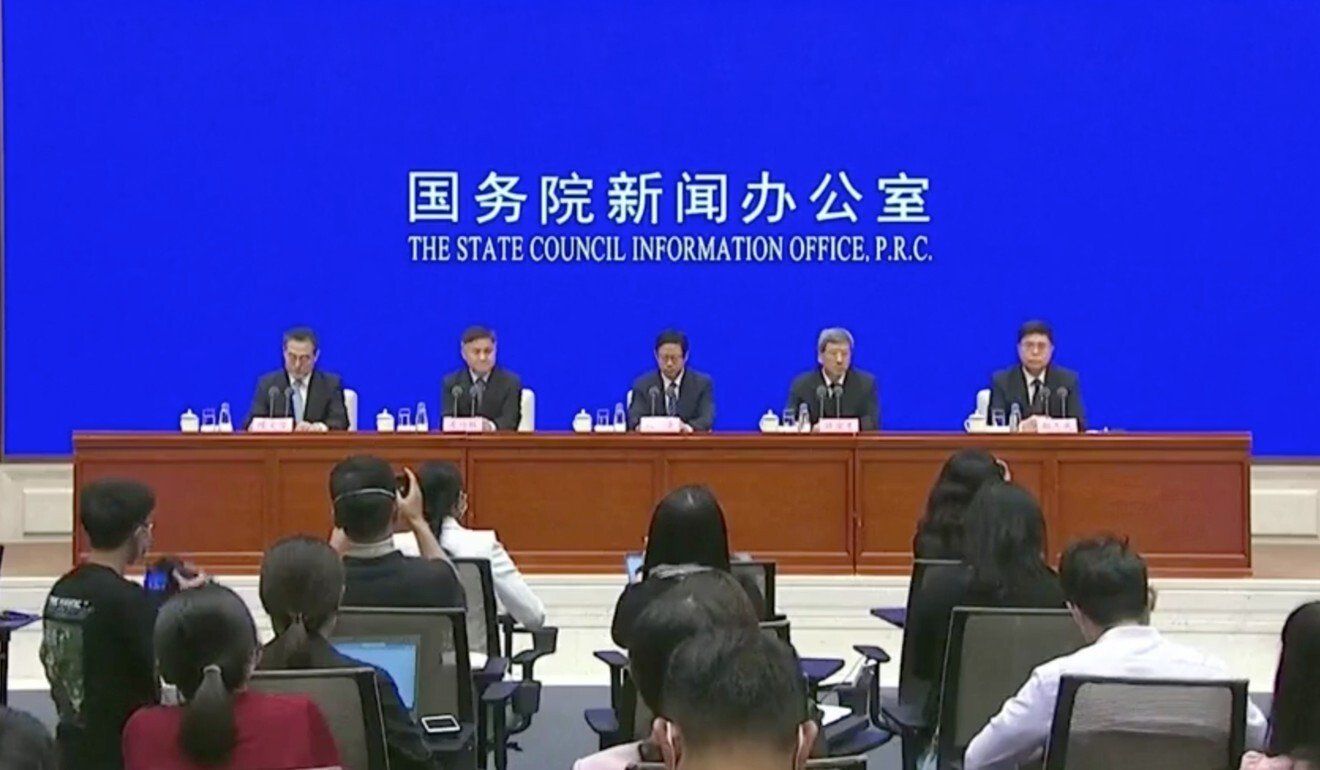 Senior Beijing officials are joined by representatives from across the Greater Bay Area for a rare joint press conference on Thursday.

For nearly 1½ hours, the mainland officials pored over the details of the Qianhai and Hengqin plans approved by the State Council earlier this week.

Under the Qianhai plan, revealed on Monday, the economic zone that was set up in 2009 will expand eightfold, from 14.9 sq km (3,706 acres) to 120.6 sq km.

The plan to deepen reforms in the zone would offer a "wider stage" for Hong Kong to grow its economy and create opportunities for young people in sectors such as finance and technology, mainland officials said on Monday.

A day earlier, the central government announced a new cooperation zone for Macau with neighbouring Hengqin, three times the size of the former Portuguese colony.

Both plans underscore Beijing's renewed drive to develop the Greater Bay Area project and integrate Hong Kong, Macau, Shenzhen and eight other cities in Guangdong into an economic powerhouse.

At Thursday's press conference, Shenzhen Mayor Qin Weizhong pledged the city would implement the new blueprint for Qianhai "fully".

"We will … bear in mind the original intention that the zone must serve Hong Kong and Macau," he said.

"We must make good use of the expanded new space, ensure high quality in the new round of land planning and insist that a third of the newly vacated industrial land will be for Hong Kong capital and businesses."

Qin pledged that the Shenzhen government would also foster deeper cooperation with its Hong Kong counterpart in areas such as finance, technology, professional services and conventions and exhibitions.

"We also need to create new strengths in the business environment," he said. "We will expedite the rolling out of an investment protection law for Qianhai and work with Hong Kong in becoming an international legal services and business dispute resolution centre."

Authorities were working with their counterparts in Hong Kong and Macau to draft relevant documents and strengthen risk management, according to PBOC's Pan, who is also administrator of the State Administration of Foreign Exchange.

Hong Kong is the largest offshore renminbi trade settlement centre outside the mainland, with the pool at about 800 billion yuan (US$102.8 billion).

Pan said the much-anticipated schemes to enable cross-border wealth management and south-bound bond investments would be launched "imminently". Separately, on Thursday, the Hong Kong Monetary Authority said it would announce "implementation details" of the Wealth Management Connect scheme at 4pm on Friday.

Hong Kong's deputy leader, Chief Secretary John Lee Ka-chiu, who represented the city at the press conference, said businesses, professionals and young people were gearing up to embrace the opportunities that would arise from the Qianhai expansion plan.

"Hong Kong will make good use of its strengths under 'one country, two systems' and push forward the development of the modern services industry in Qianhai," he said.

"We also welcome the Qianhai plan's mention of measures for young people to study, work or live there."

Macau's secretary for administration and justice Cheong Weng-chon said the casino hub would study and promote the plan for Hengqin and devise a clear division of work with Guangdong authorities to execute it.

The blueprint calls for Hengqin to be governed under a dual-leadership model via a committee co-led by Macau's chief executive and the governor of Guangdong province. The committee will decide on major plans, policies and important personnel appointments within the zone.

"[Internally,] we will draft the lists of missions, clarify the departments' responsibilities and make every effort to accomplish various tasks," Cheong said.

Created in 2009 to foster service industry cooperation between Shenzhen and Hong Kong, Qianhai is now home to about 11,500 Hong Kong-invested companies, accounting for more than 10 per cent of registered enterprises that make tax contributions in the area.

Asked to explain the reason behind the expansion plan and whether the zone would compete with Hong Kong for talent, Cong Liang, deputy director of the National Development and Reform Commission, said Qianhai has been facing a land shortage.

"After more than a decade of development, the limited size of the area has become a serious issue restricting Qianhai," Cong said.

Liberal Party leader Felix Chung Kwok-pan welcomed the central government's decision to earmark a third of the area for Hong Kong investors but argued the zone should adopt the same professional standards used in the financial hub.

"It will be meaningful only if professional and legal standards are aligned with Hong Kong's," he said. "Otherwise, how can the Greater Bay Area
become Asia's legal and arbitration hub as planned under the 14th five-year plan?"

Professor Song Sio-chong, of Shenzhen University's Centre for Basic Laws of Hong Kong and Macau, said Lee's answers were much less clear than Cheong's, which underscored the challenges authorities in the financial hub would face in carrying out the expansion strategy.

"Many of Macau's senior officials came from the mainland and they had frequent communication with their mainland counterparts before any of Beijing's plans were rolled out," he said.

Song noted that Hong Kong had not been given much power in Qianhai, in sharp contrast with the extensive authority Macau would exercise in Hengqin.

"In May, Macau's chief executive established a working committee for integration in national development," he said. "I think Hong Kong's leader should also do something similar to improve policy coordination."