Residents have been warned against buying products containing CBD from outside the city.
Hong Kong's ban on products that contain a substance derived from cannabis will take effect next Wednesday with no grace period, customs has warned, as it revealed plans to step up enforcement to crack down on drug trafficking.

The Customs and Excise Department called on Hongkongers to be aware of the presence of cannabidiol, or CBD, in products bought inside and outside the city and urged the public "not to risk breaking the law".

"Just don't buy it if you feel uncertain to avoid 'falling foul of the law'," Brian Chan Kai-ho, commander of customs' air passenger division, said on Friday.
CBD is derived from cannabis plants. From February 1, the chemical will be listed in the Dangerous Drugs Ordinance, joining more than 200 substances including cocaine, cannabis, crystal meth and heroin.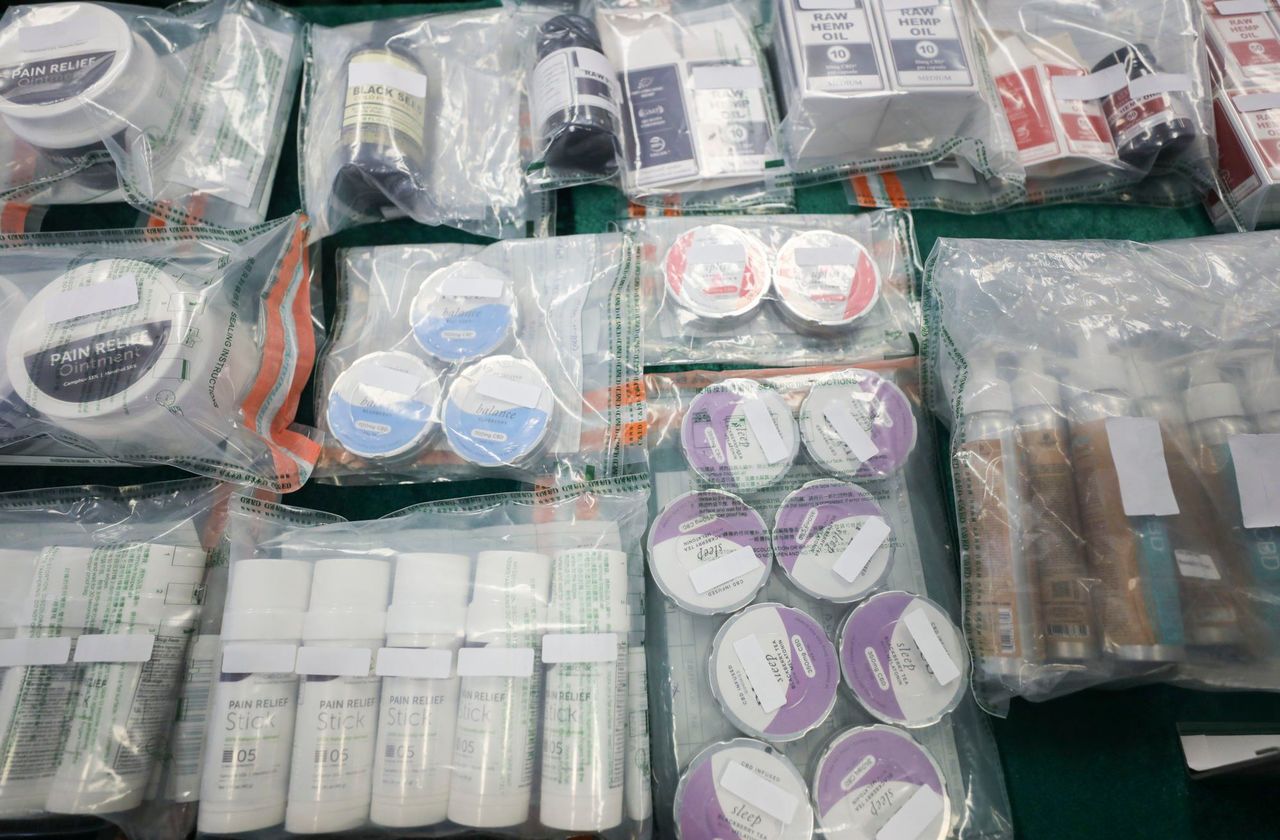 Customs displays examples of products containing cannabidiol which will be banned from next week.
In Hong Kong possession of dangerous drugs is punishable by imprisonment for up to seven years and a HK$1 million (US$127,713) fine. Trafficking, including import and export, on the other hand, is punishable by up to life imprisonment and a HK$5 million fine.
CBD is touted as an aid to relaxation and a natural remedy for anxiety, insomnia and muscle pain. Products infused with CBD, such as oils, coffee, beer and beauty items, have gained popularity in Hong Kong.
Before the ban takes effect on February 1, products containing CBD are allowed if other prohibited ingredients derived from cannabis are not present.
Customs said while there would not be any grace period for the coming ban, people who breached the law unintentionally would be handled on a "case by case" basis.
"Any possession of a CBD product is illegal, and there will be a chance of arrest," Chan said, "but whether a case will be prosecuted depends on the investigation about the intention of crime and the Department of Justice's consultation."
Chan added that people who unknowingly bought CBD products could contact the Customs and Excise Department, or report to a nearby police station.
As for inbound travellers with potential CBD products, Chan said they should go to the red customs channel and tell officers there to help. He added that these cases would be investigated for follow-up action.
With the number of travellers expected to surge following the relaxation of pandemic restrictions, customs said it would step up intelligence exchange with overseas counterparts and use machines such as X-rays and ion scanners, which detect specific chemical compounds, to search luggage.
Since 2019, the department has seized more than 4,100 CBD items that were found to contain tetrahydrocannabinol (THC), a psychoactive substance that gives users a "high", according to Au Yueng Ka-lun, a senior intelligence analyst at customs.
Between January 2018 and December 2022, authorities arrested 38 people for their suspected connections to 68 cases where CBD products were believed to contain THC.
Hong Kong customs arrested nine people and seized 25,000 CBD items worth HK$14.6 million in a citywide operation after the goods were found to contain traces of an illegal active ingredient in cannabis in January 2022.