NGOs warn joint study on fate of similar mega-reclamation projects overseas 'rings alarm bells' for Lantau Tomorrow initiative.
An ambitious project to build three artificial islands off the coast of Hong Kong's Lantau to serve as a third business district could run into delays and become financially risky, concern groups have warned after studying similar initiatives overseas.

But the findings from a joint report from NGOs Greenpeace and Liber Research Community released on Thursday met with a strong rebuttal from the Development Bureau, which slammed the study as playing up problems faced by mega-reclamation projects worldwide.

"[The NGOs] made misleading remarks on the Kau Yi Chau artificial island project in an attempt to discredit this land-making project with major strategic functions," the bureau wrote on social media.

"We call on them not to obstruct Hong Kong's development with alarmist and fallacious remarks."

The joint study found 10 out of the 13 overseas mega-reclamation projects featured had experienced completion issues, such as works either going over deadlines, being postponed or sites becoming vacant.

"These projects are ringing alarm bells for Hong Kong's Lantau Tomorrow Vision," Liber Research Community member Brian Wong Siu-hung said. The city's initiative aims to reclaim 1,000 hectares of land during its first phase and build 210,000 living spaces over the next two decades for a price tag of HK$580 billion (US$73 billion).
The overseas mega projects featured in the study, which each encompass more than 1,000 hectares and involve building on reclaimed sites, had also contended with problems that included oversupply of land and exceeding budgets.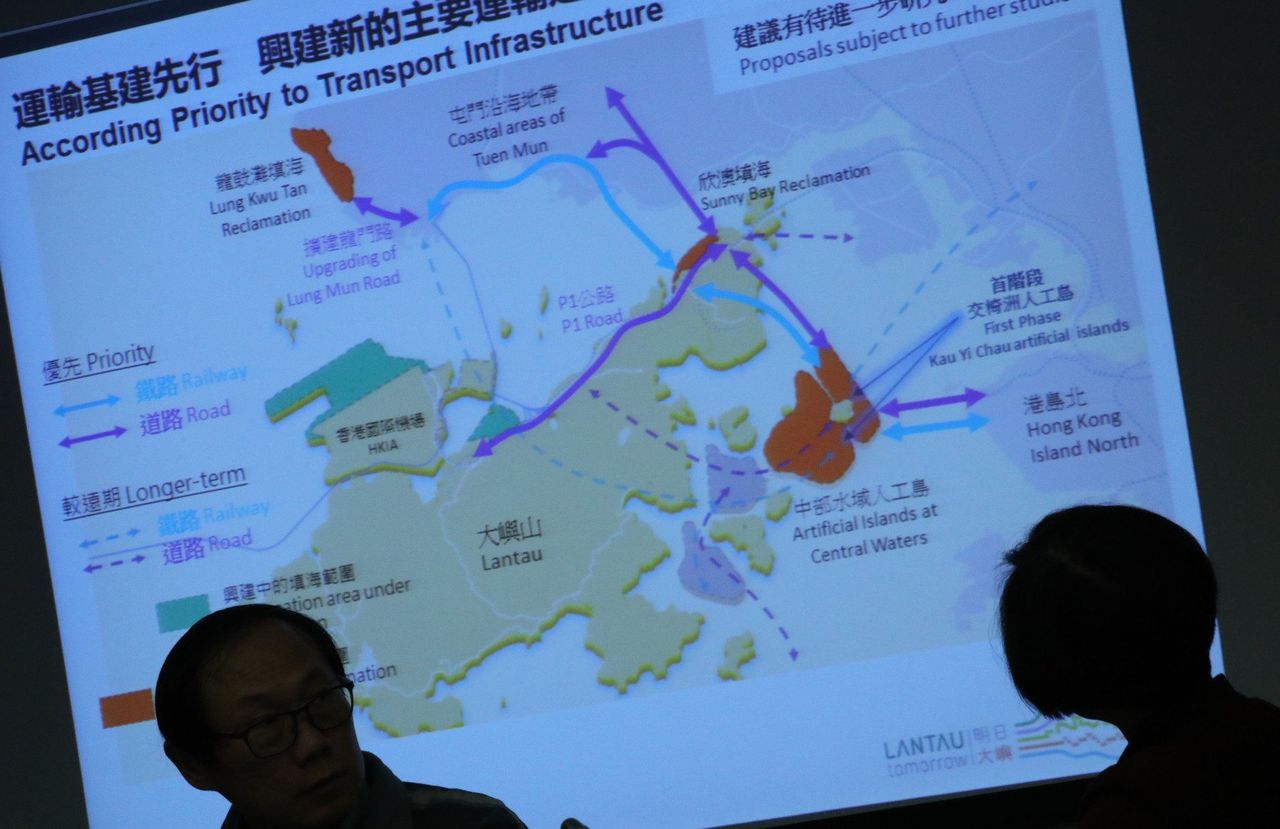 Concern groups have warned the Lantau Tomorrow project could become beset by delay and drain public funds.
Wong cited South Korea's 1,200-hectare project in Songdo, which was first proposed in 1994 and sought to create a smart green city over 20 years. The plan, which was expected to cost US$40 billion a decade earlier, also included a free economic zone that would operate under a public-private partnership financial model.
The plan to create an international business district in Songdo only secured 1.6 per cent of its foreign investment target by 2008, as similar commercial zones across the country overcrowded the market amid a period of global economic regression, the study found.
The project was also affected by a decrease in the amount of land set aside for global commercial use, which shrank 38 per cent between 2004 and 2009, while the area earmarked for residential purposes rose by 24 per cent.
Only half of the proposed office buildings at the site were finished by 2019, one-third of which were vacant.
Authorities in Songdo also resorted to using public money to speed up development and later launched legal action against private developers over accusations the latter had failed to attract foreign capital.
Wong expressed concerns the Lantau Tomorrow project could lead to a similar outcome as Hong Kong was already planning to commercially develop other districts, such as turning Kai Tak into a second business centre and creating an IT hub along the border with mainland China under the Northern Metropolis scheme.
"I have doubts that the Lantau Tomorrow project can attract investment. The government may have to spend public funds to complete the project," he added, urging authorities to drop the scheme.
Separately, the Housing Authority revealed the average waiting time for public rental flats in Hong Kong dropped to 5½ years during the last quarter, down from the 5.6 years recorded in the previous one.
The government attributed the decrease to the allocation of flats to a substantial number of people over previous quarters, reducing the amount of applicants waiting over a long-term period.