Magistrate rules that top editor Ryan Law and Cheung Kim-hung, who is also CEO of the tabloid's parent Next Digital, remain an ongoing security threat in denying the pair bail; the two had offered to post a bond of HK$3 million and resign from their positions.
Two senior executives of Hong Kong's Apple Daily tabloid charged with colluding with foreign forces have been remanded in custody after the city's top magistrate deemed the pair a threat to national security.

Editor-in-chief Ryan Law Wai-kwong and publisher Cheung Kim-hung, who is also CEO of the newspaper's parent company Next Digital, were escorted to West Kowloon Court amid a heavy police presence on Saturday. The duo face life imprisonment if convicted under the Beijing-imposed national security law.

Chief Magistrate Victor So Wai-tak turned down their bail applications despite the defendants offering up to HK$3 million (US$386,000) for their releases and pledging to resign from their posts at the 25-year-old media outlet.

The joint charge also targets three affiliated Apple Daily companies – Apple Daily Limited, Apple Daily Printing Limited and AD Internet Limited – which face a compulsory shutdown and fine if the defendants are convicted.

The prosecution alleged that Law and Cheung, together with the three companies, conspired with the newspaper's founder, Jimmy Lai Chee-ying, to impose sanctions or engage in hostile activities against Hong Kong or mainland China.

Lai, who is facing his own collusion charges in a separate case, is currently serving a 20-month sentence for his role in three unauthorised protests in 2019.

National security law cases have a significantly higher threshold for bail than those for local crimes, stipulating it be granted only if a judge is satisfied defendants are no threat to commit further offences.

A prosecution filing available for inspection by the press does not contain the specific criminal acts allegedly carried out by the accused.

Saturday's hearing drew more than 100 spectators. Some people were seen reading the tabloid as they lined up for a ticket inside the court, while dozens of police officers patrolled the vicinity.

Before the hearing, the magistrate allowed the media to publish the bail terms offered by the defence, after more than 20 media outlets, including the Post, applied to lift reporting restrictions on bail proceedings.

However, he refused a separate request to permit coverage on the discussions that transpired in the hearing regarding the legal principles of bail, citing concerns of prejudicing the future trial.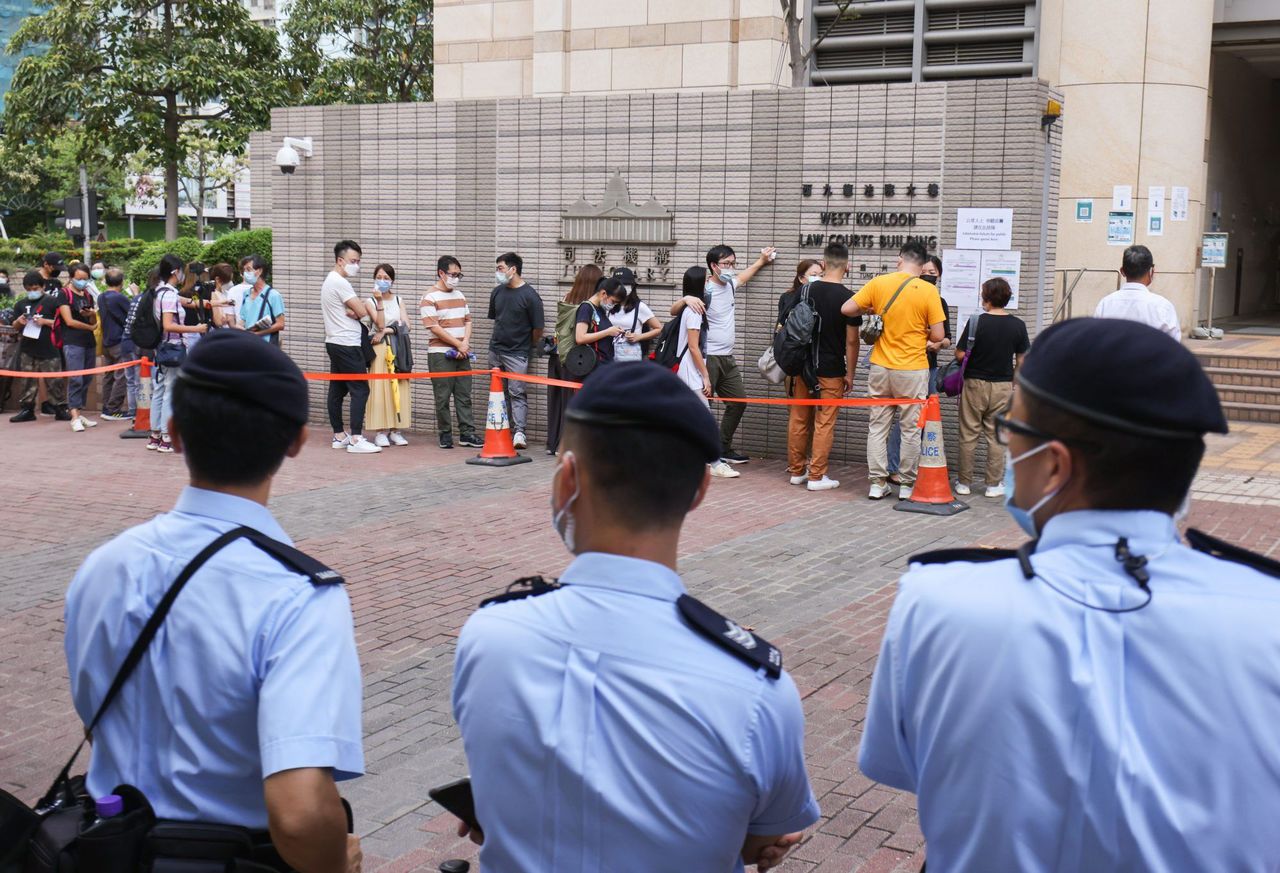 Supporters gather outside West Kowloon Court for the bail hearing.

Prosecutor Anthony Chau Tin-hang asked for an eight-week extension for police to examine computers and servers seized in Thursday's raid, before opposing the defendants' bail bids.

Cheung's lawyer, Derek Chan Ching-lung SC, submitted a list of 13 conditions for his client's bail offer, which included a HK$3 million cash bond, a HK$500,000 surety by a friend and a travel ban.

Chan said Cheung would step down from all positions in Next Digital, and if he was granted temporary release, he would also avoid media interviews and contact with foreign politicians.

Barrister Lee Shu-wun, for Ryan Law, said his client had resigned from the top post in the Apple Daily newsroom.

Apart from offering up to HK$200,000 cash bail and a HK$100,000 surety, Lee said his client was also willing to obey an order to not set foot on the company's premises throughout the criminal proceedings.

But So threw out the pair's applications after finding "insufficient grounds" they would not continue to commit national security offences. He scheduled the next hearing for August 13.

The police force's national security unit on Thursday arrested five Apple Daily executives, including Law and Cheung, marking the first time a top editor at a media agency had been detained under the security law.

The operation also involved the seizure of 38 journalists' computers at the tabloid's Tseung Kwan O headquarters as well as the freezing of HK$18 million (US$2.32 million) in assets belonging to the three companies served with a charge sheet.

The remaining three people who have not been charged – associate publisher Chan Pui-man, digital director Cheung Chi-wai and group chief financial officer Royston Chow Tat-kuen – showed up in court to support their detained colleagues.

After the hearing, Chan Pui-man said further internal discussions were required on the newspaper's future operations in the absence of two senior figures, adding she did not plan to resign at this stage.

"We will continue publication [on Sunday], and we will maintain operations the best we can," she added.

Mark Simon, a Lai aide who is wanted by police over unspecified allegations, told the Post from an undisclosed location overseas that he was furious the two executives of the tabloid were denied bail, saying the "political imprisonment" would harm Hong Kong's status as a financial centre.

He claimed that if authorities shut down Apple Daily, top officials would have to defend themselves in London and the US when shareholders "come for reparations".