Heavy armoured vehicles latest in mainland purchases by city police after allegations of brutality during 2019 protests sparked US, Britain and EU bans.
Hong Kong police will officially launch six new anti-riot armoured vehicles imported from mainland China – dubbed "Saber-toothed Tigers" – next month, just ahead of celebrations for the city's 25th anniversary as a special administrative region of China.

What do anti-riot armoured vehicles do?

Anti-riot vehicles are specially designed for crowd control, with heavy armour to defend from basic attacks including light weapons. They are usually also armed with non-lethal weapons like tear gas or acoustic cannon to suppress and disperse crowds.

The vehicles may also be specifically fitted out for tasks such as personnel transport communication and commanding, climbing and assault, barricade clearance, and many more functions during a riot.

During the 2019 social unrest in Hong Kong, the city's police force frequently deployed its anti-riot trucks to counter angry protesters. During the siege of Polytechnic University in November 2019, one of the police armoured vehicles caught on fire after being hit by petrol bombs thrown by demonstrators.

The six new "Saber-Toothed Tigers" were delivered to Hong Kong in May, and testing by the Electrical and Mechanical Services Department has been completed, according to Hong Kong police.

What is the "Sabre-toothed Tiger" like?

Already widely used by the armed police on the mainland, the vehicle is a modified version of the Ford-550 Super Duty truck, with special bulletproof materials on all sides, reinforced to minimise damage from bullets or explosions, and enough to defend against AK-47 and M16 rifle attacks, according to the manufacturer.

Each vehicle has three gun ports on each side and a machine gun on the roof, and the armament includes smoke or tear gas grenade launchers, a long-range acoustic crowd dispersal device, searchlights, a speaker system, an electric winch and an infrared and night-vision camera system.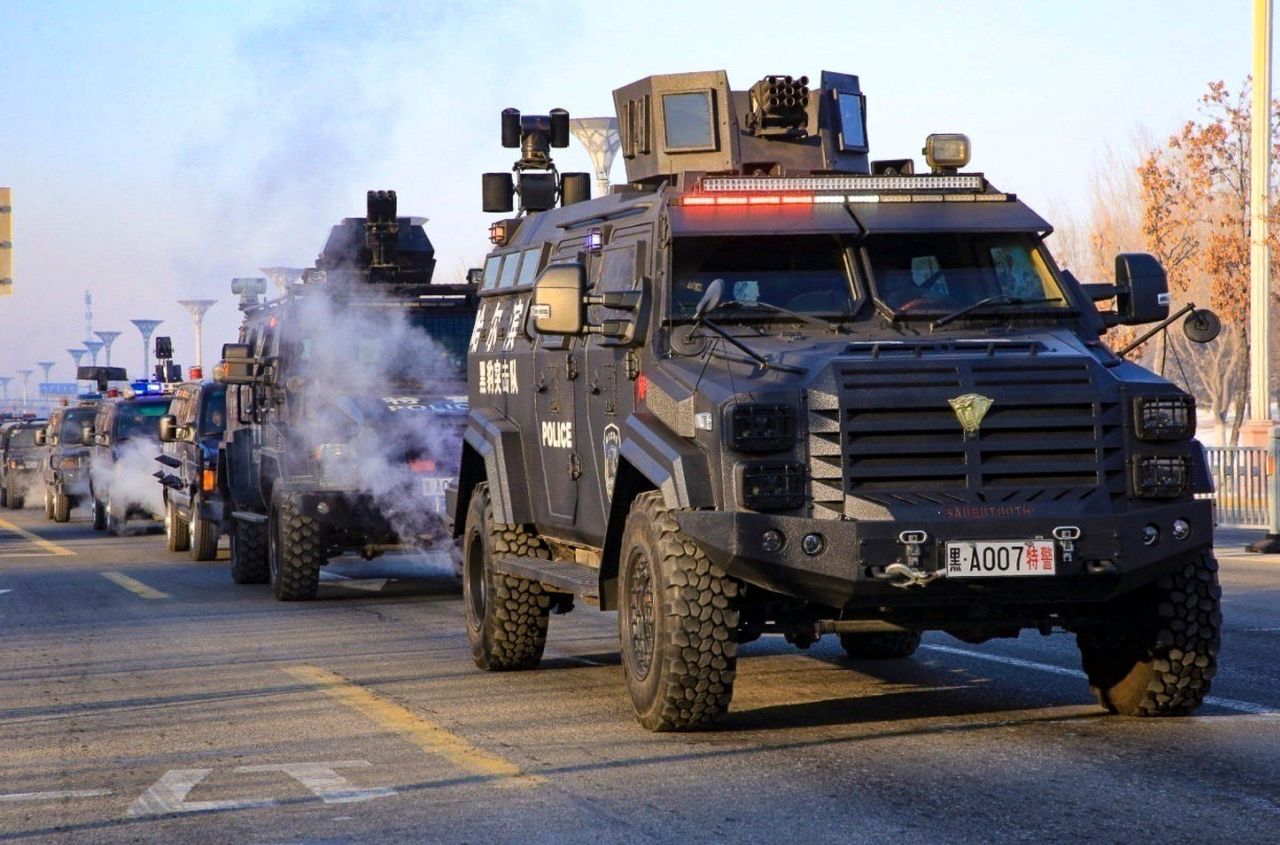 The "Saber-toothed Tigers" have a top speed of 130km/h, and can still go up to 80 km/h with all tyres out.

According to mainland authorities, each truck is fitted with a V10 engine and can reach a top speed of 130km/h (80mph). Even if all four tyres are punctured, it can still travel at a maximum speed of 80km/h. Five doors on three sides also enable fast mounting and dismounting of its 10 personnel on board.

Each Saber-toothed Tiger costs about 2 million yuan (US$298,830), with dimensions of 6.7 by 2.36 by 3 metres, and weighing about nine tonnes.

They are manufactured by Huakai Vehicles in Guangzhou, which specialises in producing special police vehicles.

Why buy from the mainland?

The Hong Kong police had long relied on foreign supplies of equipment. For instance, the existing vehicles to be replaced by the Saber-toothed Tigers are three Mercedes-Benz Unimog U5000 armoured trucks, which had been in service since 2009.

The purchase of mainland-made police equipment came after the traditional suppliers – Britain, the US and European Union – banned or suspended the export of anti-riot equipment to the city in 2019, citing "concerns about human rights abuses".

The Hong Kong police was accused of brutality over its firing of non-lethal crowd control items such as tear gas, rubber bullets, pepper spray, beanbags and water cannon during the handling of the anti-government protests.

Since the Western bans, Hong Kong police turned for an alternative equipment source to the mainland, where the production and sales of law enforcement weapons were growing steadily. The Chinese People's Armed Police now sources most of its armaments from domestic suppliers who have also begun to export to a range of countries in Southeast Asia and the Middle East.

In the past couple of decades, the PAP has increasingly ordered domestic equipment for its operations against terrorism or mass protests.

Besides the Saber-toothed Tigers, the PAP also has introduced several other special armoured vehicles in service, such as the "T-rex" anti-riot vehicles.

Who else is buying mainland police equipment?

"Made in China" police items have also been exported to a range of countries in Southeast Asia and the Middle East and Latin America.

For instance, Chinese-produced tear gas had been identified by media reports in various police crackdowns in countries around the world, including the Thai political crisis, the Arab spring, as well as in protests in Sudan and Venezuela.

Another widely used range of mainland-made equipment is lightweight bulletproof fireproof armour to protect police from sharp or blunt weapons, bought by Hong Kong police emergency units in 2019.

This armour was also sold to countries including Israel, Iraq, Thailand, Malaysia, Morocco, Jordan and Lebanon, according to its Guangdong-based maker.