Airport authority says third runway will be ready 'on time and inside budget' for expected 2024 return to normal passenger levels.
Hong Kong's air passenger traffic was expected to climb to between 60 and 70 per cent of pre-pandemic levels by the end of next year and return to normal by 2024, the airport authority said on Friday, as the city's third runway was officially opened.

The news came as Cathay Pacific Airways announced it had hired 1,800 new staff since July as part of its plan to increase capacity in advance of the predicted recovery of the industry.

The new runway became operational in July, but Friday saw the first official touch down, a Cathay Pacific flight from Perth, Australia, at 7.40am.

Authority chairman Jack So Chak-kwong said at the opening ceremony that the Covid-19 pandemic had caused problems during construction of the third runway, but he was confident the remainder of the project would be completed on time and inside budget by 2024.

Deputy director of airport operations Steven Yiu Siu-chung said he expected passenger traffic to reach 60 to 70 per cent of pre-pandemic levels by the end of next year, in line with Cathay's prediction of 70 per cent capacity by 2023 and full levels by 2024.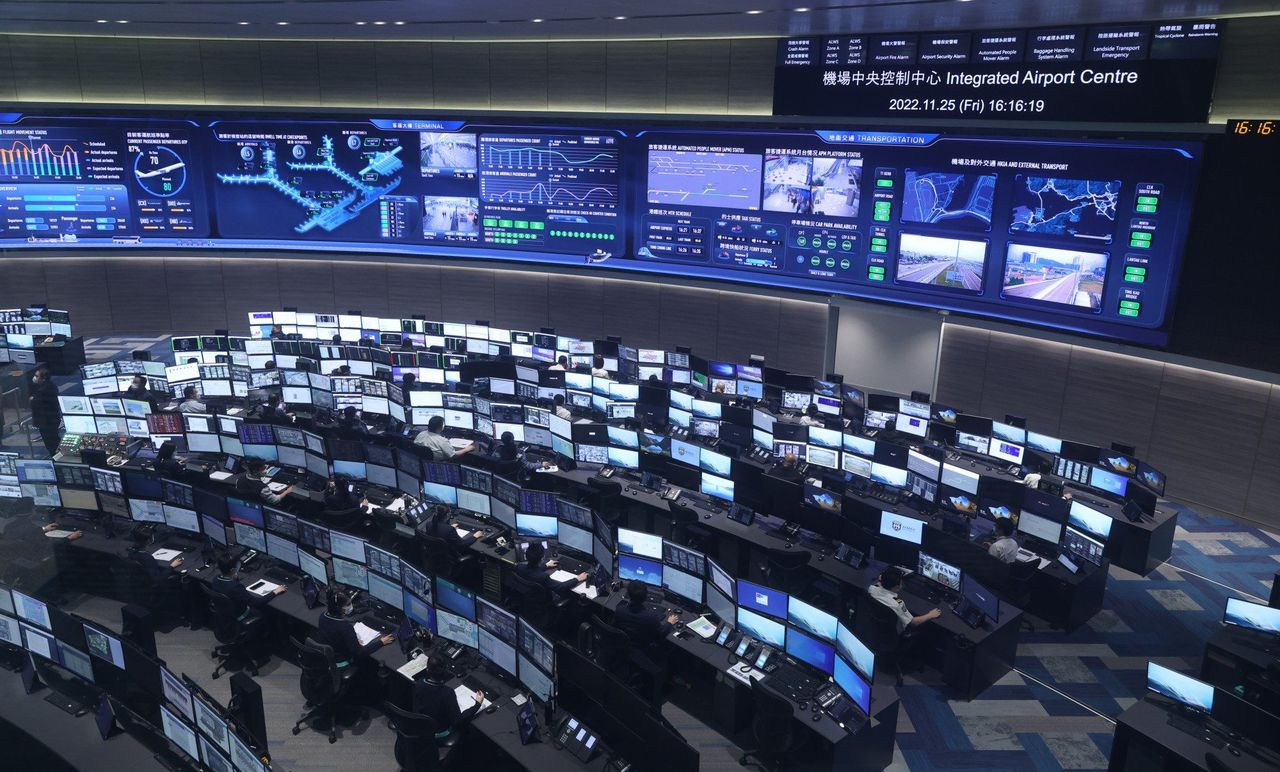 Staff at work in the hi-tech Integrated Airport Centre at the airport.
The third runway, which can handle an extra 30 million passengers a year, is part of a HK$141.5 billion (US$18.2 billion) 650-hectare (1,600 acre) expansion project started in 2016.
The new runway is 3.8km (2.4 miles) long and 60 metres (197 feet) wide and features about 14,000 ground lights to help guide pilots down.
The work also includes the Terminal 2 expansion and the new T2 concourse.
The airport authority closed one of the two original runways for an upgrade in July as the new one came into service.
"According to our latest forecast, the traffic will come back by 2024, so we have full confidence that the north third runway will be fully utilised by that time," Yiu said.
He brushed aside fears over Hong Kong losing its aviation hub status after Singapore's Changi Airport overtook the financial hub as the top airport in the region.
"We are not worried about that. Hong Kong is still the major hub for that region. Actually, Singapore, they have their own market. We also have our own market," Yiu said.
There have been around 11,000 flights since July, with about 140 flights a day using the third runway.
Under the "0+3" travel scheme adopted in September, arrivals are no longer required to quarantine in a hotel, but must spend three days under medical surveillance, with limited movements.
Independent aviation analyst Brendan Sobie said he did not expect the drop in air traffic because of the pandemic to have a permanent impact on Hong Kong's status as an air travel hub, even if the city's recovery lagged behind Singapore.
"While Hong Kong is over one year behind Singapore in terms of the recovery of passenger traffic, both should eventually fully recover and resume growth," Sobie said.
A total of 755,000 passengers passed through Hong Kong airport in October, which was just 13 per cent of pre-pandemic levels. Changi handled 3.6 million passengers in October, about 65 per cent of its normal number.
Ronald Lam Siu-por, Cathay's chief customer and commercial officer, said in a briefing for analysts on Friday the 2024 return to full capacity was just before "the three runway system at Hong Kong International Airport will come in, so we believe this is a good road map for recovery".
The airline said its available liquidity rose by about 7 per cent in the four months to October to HK$28.6 billion. It has been generating cash at an operating level since May and expected that to continue in the second half of 2022. But the company is predicted to post a "substantial loss" for the financial year.
The airline's passenger flight capacity for October this year was 21 per cent of pre-pandemic levels, and cargo capacity stood at 63 per cent. Cathay had 59 aircraft parked overseas in October, down from 69 in June.
The airline resumed flying to 51 destinations in October, up from 29 at the beginning of the year.
The city recorded 8,878
Covid
infections on Friday, including 562 imported cases, and 16 more deaths related to the virus.
The daily caseload marked a slight decrease from the 9,219 on Thursday, the most since early September.