Researchers make estimate based on 10,000 residents tested daily.
Up to 200,000 people may be infected with Covid-19 in Hong Kong each day, researchers have found, but experts say while the estimate may be far higher than official figures the risks will still be manageable when the city's border with mainland China reopens.

Some experts, however, also urged authorities on Monday to require arrivals from the mainland to be triple-jabbed against the virus to help ensure public hospitals were not overwhelmed with severe cases.

"In recent weeks, some of the Covid patients who died in Hong Kong had already received three doses of vaccine," government pandemic adviser Professor David Hui Shu-cheong said. "If mainland travellers come without being triple-jabbed, some of them will develop severe disease and take up beds in public hospitals."

Hong Kong on Monday reported 20,230 new infections, 367 of which were imported, as well as 74 related deaths, while hospitals were treating more than 5,000 infected patients, including over 400 severe or critical cases.

Hospital authorities announced they would cut non-emergency services by 30 per cent, and make more manpower and beds available as they expected the number of patients visiting accident and emergency departments to surge by more than 20 per cent to 5,000 a day from Tuesday.

Researchers at the University of Hong Kong (HKU) have been testing 10,000 residents a day, and based on the infection rates estimated about 150,000 to 200,000 Hongkongers were catching Covid-19 daily, according to Professor Jin Dongyan, a virologist. The figure far outstripped the number of imported cases that could be expected once travel with the mainland resumed.

"After such a long time, Covid-19 has become endemic. When dealing with imported cases from the mainland, Hong Kong has a certain buffer level. It is not a given that mainland travellers will cause a surge in cases," Jin said.

"The number of infections will not increase to a large extent … There will be risks, but a low-level one that Hong Kong can afford."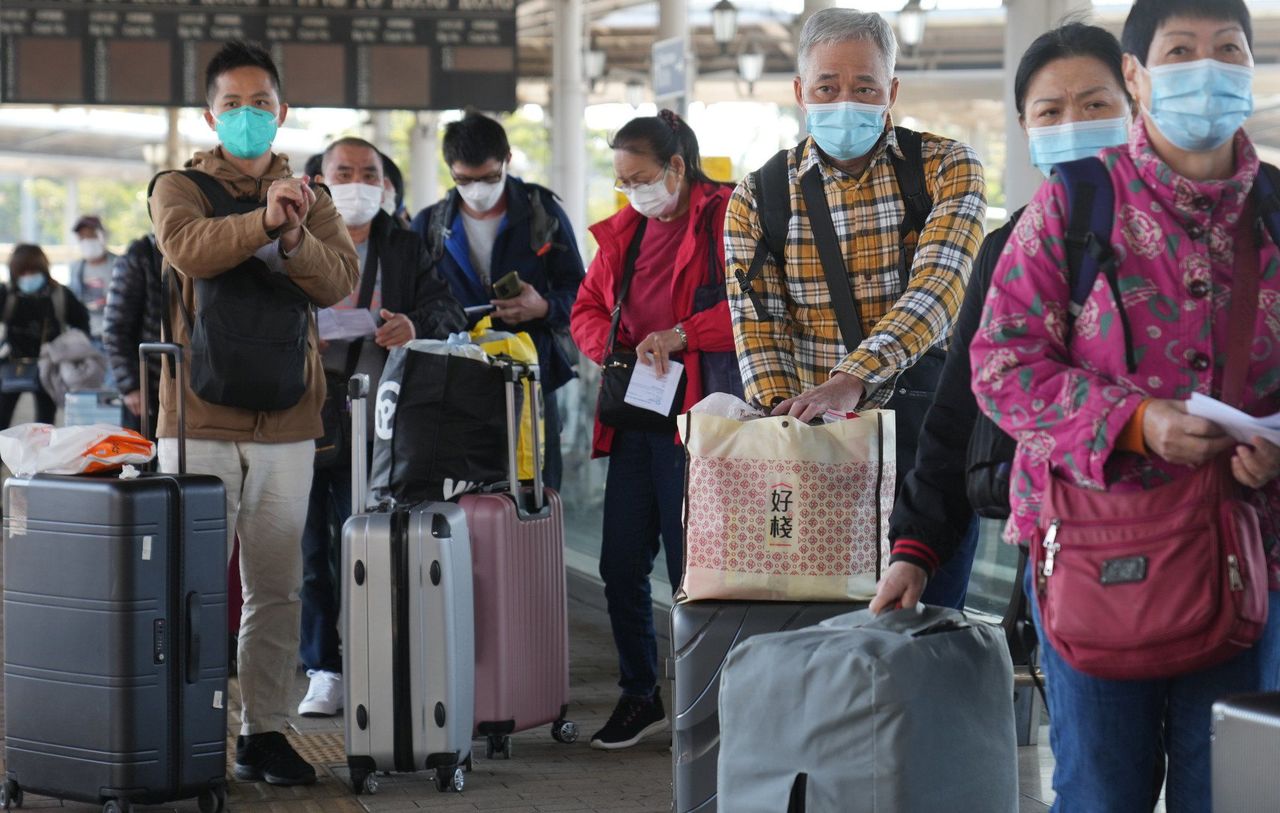 Cross-border travellers at Shenzhen Bay.
The government on Sunday said it hoped to restore travel links on January 8, when global travellers arriving on the mainland will only be required to present a negative result from a polymerase chain reaction [PCR] test conducted within 48 hours of departure.
Hong Kong on Thursday began requiring all arrivals to show a negative result from either a PCR test within 48 hours or rapid antigen test (RAT) within 24 hours
Overseas arrivals, except for Hong Kong residents, are currently required to be fully vaccinated before entering, meaning two shots of
BioNTech
of Sinovac for instance, but there is no inoculation requirement for visitors from the mainland, Macau or Taiwan.
Professor Ivan Hung Fan-ngai, who also advises the government on the pandemic, argued entry rules for mainland and overseas travellers should be standardised to two jabs and
Covid
-19 should now be treated like other upper respiratory tract infections.
He expected the surge in
Covid
-19 caseload following the border reopening to be manageable, as most cases would be mild.
Dr Siddharth Sridhar, clinical assistant professor at HKU's department of microbiology, viewed the risks facing public hospitals brought by the border reopening as manageable given the high level of hybrid immunity in the city.
While he agreed requiring mainland travellers to be triple-jabbed was beneficial, he found a pre-arrival test unnecessary as it could not guarantee all
Covid
-19 cases were stopped at the border, especially when a period of medical surveillance was not required.
Although new infections had dropped for three consecutive days, Sridhar said several more days would be needed before it was possible to estimate whether caseloads had peaked, noting people tended to skip testing and reporting positive results during weekends.
The Hospital Authority said more than 4,000 people had visited the accident and emergency departments daily recently, with some residents waiting up to 12 hours for assistance. The occupancy rate at medical wards had also reached 130 per cent in certain hospitals.
Director of Cluster Services Dr Simon Tang Yiu-hang said he expected the number to rise to 5,000 after the holiday. He said more beds and manpower would be deployed, and quotas for designated treatment clinics and teleconsultation services increased. Non-emergency services would be cut by 30 per cent, he added.
Authorities last Friday announced that only infected care home residents with fewer than three
vaccine
doses would be sent to government-run holding centres.
Residents with serious symptoms could also be sent to the centres regardless of their vaccination status with the approval of medical staff.
Grace Li Fai, an executive council member of the Elderly Services Association of Hong Kong, agreed with the government's decision, noting most cases were mild. But she warned care homes were facing a serious manpower shortage as many staff were infected and she urged authorities to provide more subsidies for operations.
The city's
Covid
-19 tally stood at 2,669,224 cases and 11,943 fatalities.