City's Hash House Harriers clubs band together for festive non-competitive running event to raise money for Operation Santa Claus.
Runners in Hong Kong have donned red-coloured, festive outfits and endured the chilly temperatures of the winter season to participate in a Christmas charity drive to raise money for Operation Santa Claus (OSC).

Participants turned up dressed as old Kriss Kringle for the annual Santa Hash, a fundraising drive organised by the city's Hash House Harriers clubs. This year's event involved 15 chapters of the non-competitive running organisation and featured seven races spanning from December 5 to 11.

The running sport has participants, also known as hashers, following a paper or chalk trail to reach the finish line. The length of each trail varies and such events are open to both amateurs and seasoned athletes.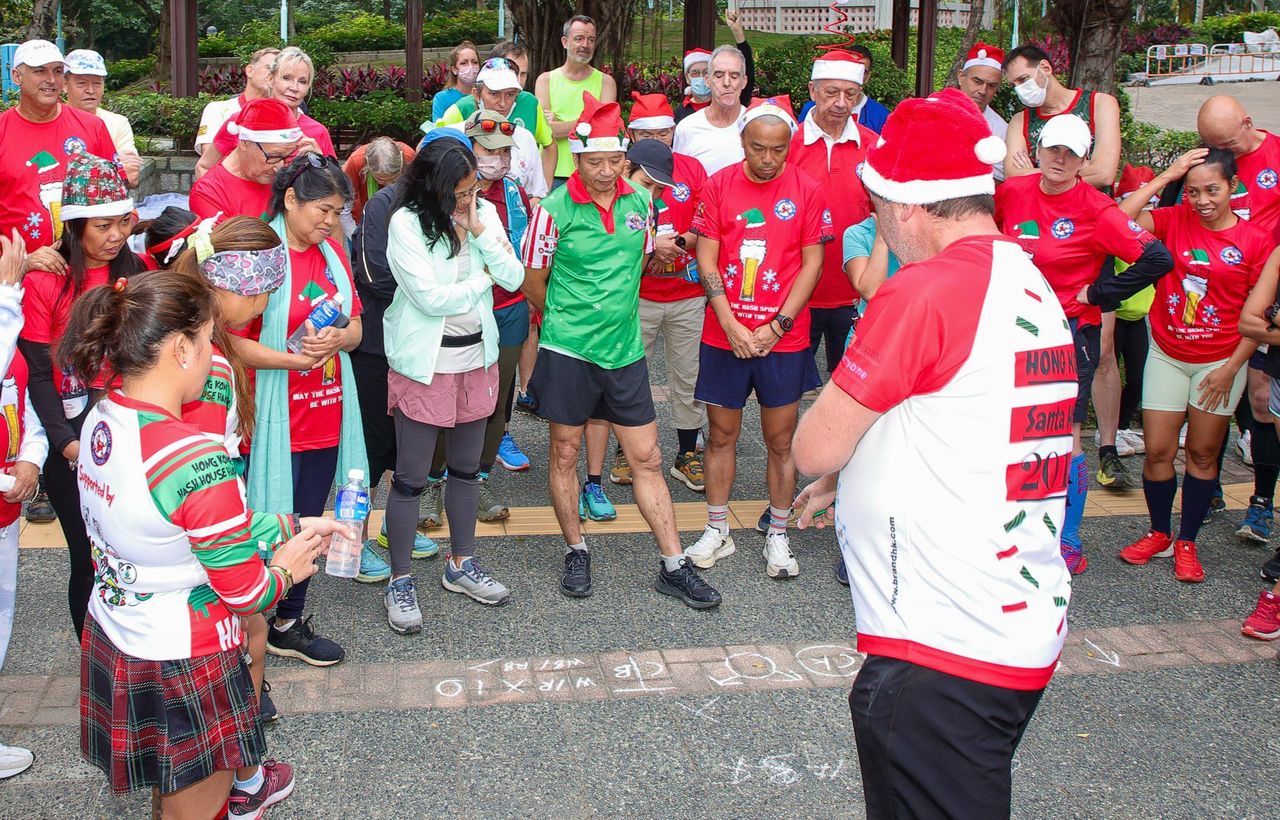 Organiser Mark "Hopeless" Hope (foreground) briefs hashers on the directional chalk markings used to plot the running route.
The organiser of this year's event, Mark "Hopeless" Hope, and his co-organiser, Mike "Moonie" Jones, said the hashers had managed to raise their intended target of HK$60,000 (US$7,685) for OSC.
The seasonal event, which helped to support OSC since the latter's launch in 1988, was a yearly highlight that allowed hashers to meet new people and raise money for a good cause, Hope said.
For the final run on December 11, hashers from all chapters gathered at Sam Ka Tsuen Recreation Ground in Yau Tong to raise money by conquering the local peaks.
"People seem really happy here, especially after the pandemic since there have not been many gatherings like this," said Iris Wong Wai-yin, who was joining the Christmas run for the first time.
"I came with my husband, it is the second year he is joining the Santa Hash and I support this because everyone is running for charity."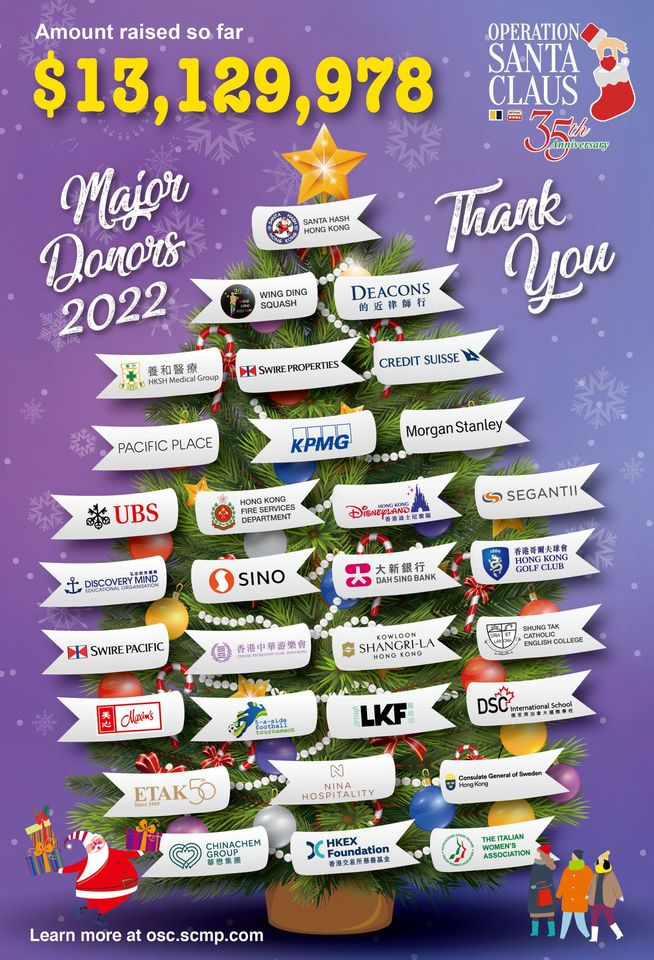 OSC, an annual fundraising campaign organised by South China Morning Post and public broadcaster RTHK, has raised HK$353 million to support the community in Hong Kong through 323 charitable projects since its launch.

For OSC's 35th anniversary this year, funds raised through events such as the Santa Hash are going to 15 charitable projects.

Organisers of the non-competitive running event said they had sold raffles and special running shirts and collected donations from fellow hashers in the name of charity. Hash groups were also encouraged to donate a minimum of HK$2,000 to have their logo printed on a commemorative shirt.

On the day of the last run, Wong's husband and fellow hasher Peter Chu Yat-wang said he was looking forward to tackling the route in Yau Tong.

"It is very exciting because you never know what route you will be running on and it's also really fun towards the end because there is a party and beer for us to enjoy," he said.

Chu added that he believed the Santa Hash was the right type of sporting event for Hongkongers because it incorporated elements of fun and surprise while helping participants to relax and release some stress.

For more information on this year's beneficiaries, please click here.