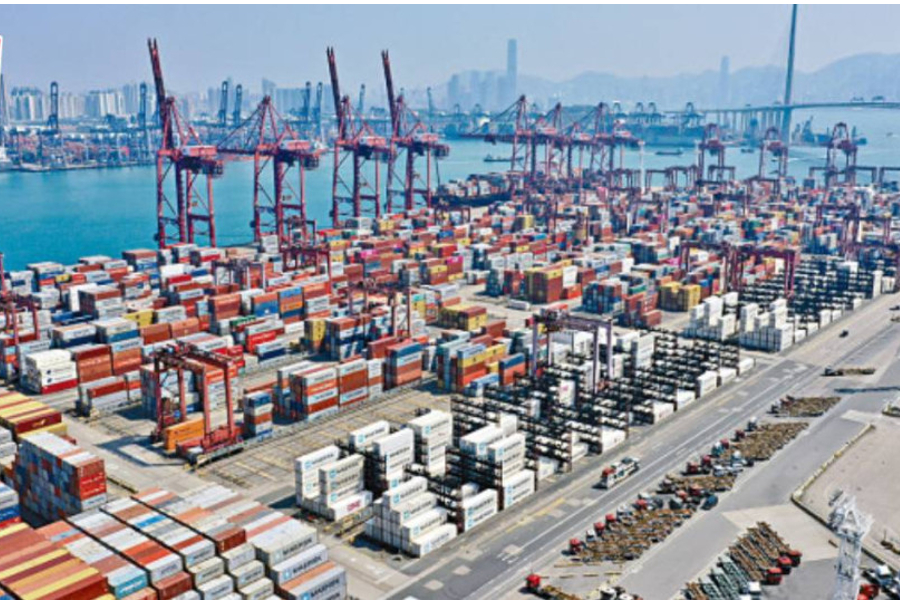 Hong Kong's exports slide as weak global demand hits recovery
Hong Kong's exports fell for a ninth consecutive month in February as demand for goods from China and the rest of the world remained weak, weighing on the financial hub's post-pandemic recovery.
Overseas shipments dropped 8.8% from a year earlier, the Census and Statistics Department said Monday.

Still, that was much better than the median estimate of a 28% fall in a Bloomberg survey of economists, with declines in shipments to mainland China and the US not as severe as in recent months.

Imports decreased 4.1% from a year ago, compared with economists' expectations of a 23% drop. The trade deficit was HK$45.4 billion.

An expected "moderation" of growth in advanced economies this year "will continue to weigh on Hong Kong's export performance in the near term," a government spokesman said in a statement accompanying the data release.

Declines in shipments were recorded across Asia in February, with exports to Japan down 23.1% year-on-year. Exports to India dropped 18.5%, while shipments to Taiwan and Singapore fell more than 14% each.

Exports to mainland China dropped nearly 13%, though that was far improved from declines in January and December of 30% or more. Shipments to the US fell 1.2%.

"The accelerated recovery of the mainland economy, coupled with the removal of cross-boundary truck movement restrictions between Hong Kong and the Mainland, should alleviate part of the pressure," the spokesman said.

The city's exports have been on a downward slide for months because of waning demand from China and the rest of the world. January's plunge in shipments was the worst in 70 years. Other trade-reliant economies, including South Korea and Taiwan, have also posted poor export figures in recent months, in part because China's reopening has yet to generate a boost in demand.

Hong Kong is trying to mount a recovery this year after recording its third annual gross domestic product contraction since 2019. Economists recently raised their median forecast for Hong Kong's GDP expansion in 2023 to 3.4% from an earlier estimate of 2.7%, on the expectation that China's rebound will spur growth and spending.

Early recovery signs included a 7% rise on retail sales from a year prior in January, higher than estimates. The government is also handing out more cash vouchers to help domestic consumption.