While sales in May were higher than they were in April, year-on-year growth slowed down from 12.1 per cent uptick recorded that month.
Hong Kong retail sales rose 10.5 per cent year on year in May, but growth was slower on a monthly basis despite the daily Covid-19 caseload hitting near-zero levels and the government easing social-distancing rules.

Provisional figures released by the Census and Statistics Department on Wednesday showed sales for last month totalled HK$29.6 billion (US$3.8 billion). Online retail sales increased 53.1 per cent year on year, hitting HK$2.2 billion to account for 7.4 per cent of total retail value.

The volume of retail sales rose 9.5 per cent compared with April but growth was lower than the 12.1 per cent uptick recorded the month before and far below the 20.2 per cent surge seen in March.

As a whole, retail sales in the first five months of 2021 are estimated to have increased 8.9 per cent compared with the same period last year.

Annie Tse Yau On-yee, chairwoman of the Hong Kong Retail Management Association, said consumer sentiment remained weak, noting that residents could also be waiting for the HK$5,000 worth of digital vouchers the government will begin handing out on August 1 before going on shopping sprees.

"Even though social-distancing restrictions have been relaxing, people were still conservative about spending," Tse said.

Hong Kong is still emerging from a retail slump that dragged on for two years, starting in February 2019 and worsening over months of anti-government protests, and later, the coronavirus pandemic.

The city turned a corner in February this year, when sales jumped a record 30 per cent year on year, but since then, the pace of the recovery has slowed.

Compared to May of 2019, before the protests broke out, sales last month were still down by 26 per cent.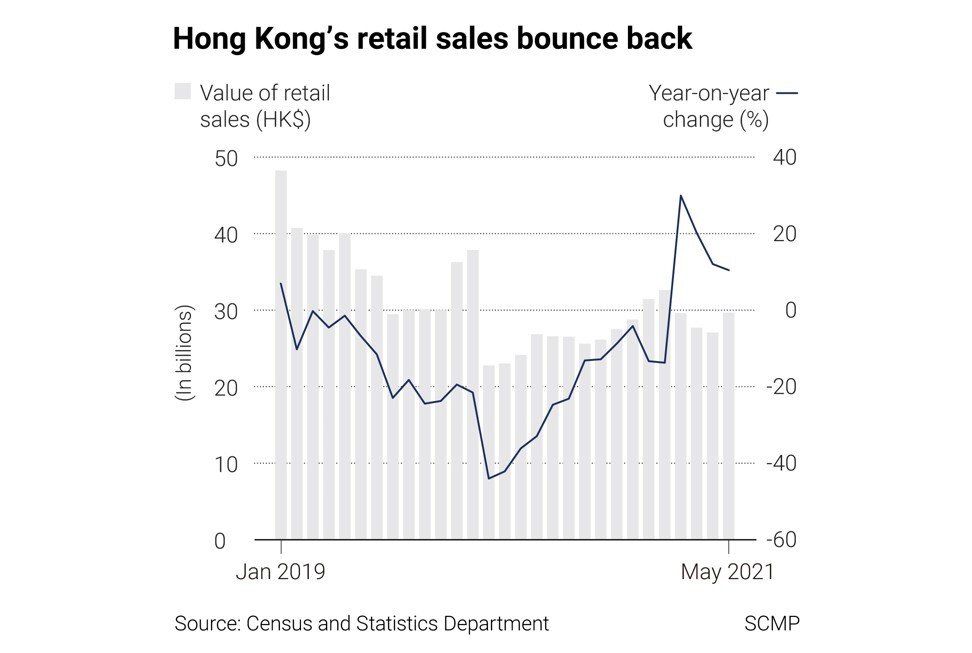 Tse said consumption levels were still low due to a lack of tourist spending, which used to account for 30 per cent of all retail sales before the protests and the health crisis battered the sector.

A government spokesman on Wednesday acknowledged that retail sales were still "far below" pre-pandemic levels, and also pointed to the near-total lack of inbound tourism.

"While the imminent launch of the consumption voucher scheme should help stimulate local consumer sentiment, the near-term operating environment of the retail sector will remain challenging in the lack of visitor spending," the spokesman said.

The government handouts, which open for applications on July 4, are aimed at encouraging local spending and accelerating the city's economic recovery.

Some 7.2 million people are expected to be eligible for the scheme, and will be able to use the vouchers on shopping, dining and public transport.

Tse said the sector estimated the vouchers would give a "slight" boost to retail sales of around 10 per cent over the second half of the year, as consumers might opt to spend the money on transport instead, or stretch out their spending over a longer period.

By category, jewellery, watches and valuable gifts saw the largest jump in sales in May, growing 54.8 per cent to HK$3.1 billion. Apparel was next, with 12.6 per cent growth, rising to HK$3 billion in total sales.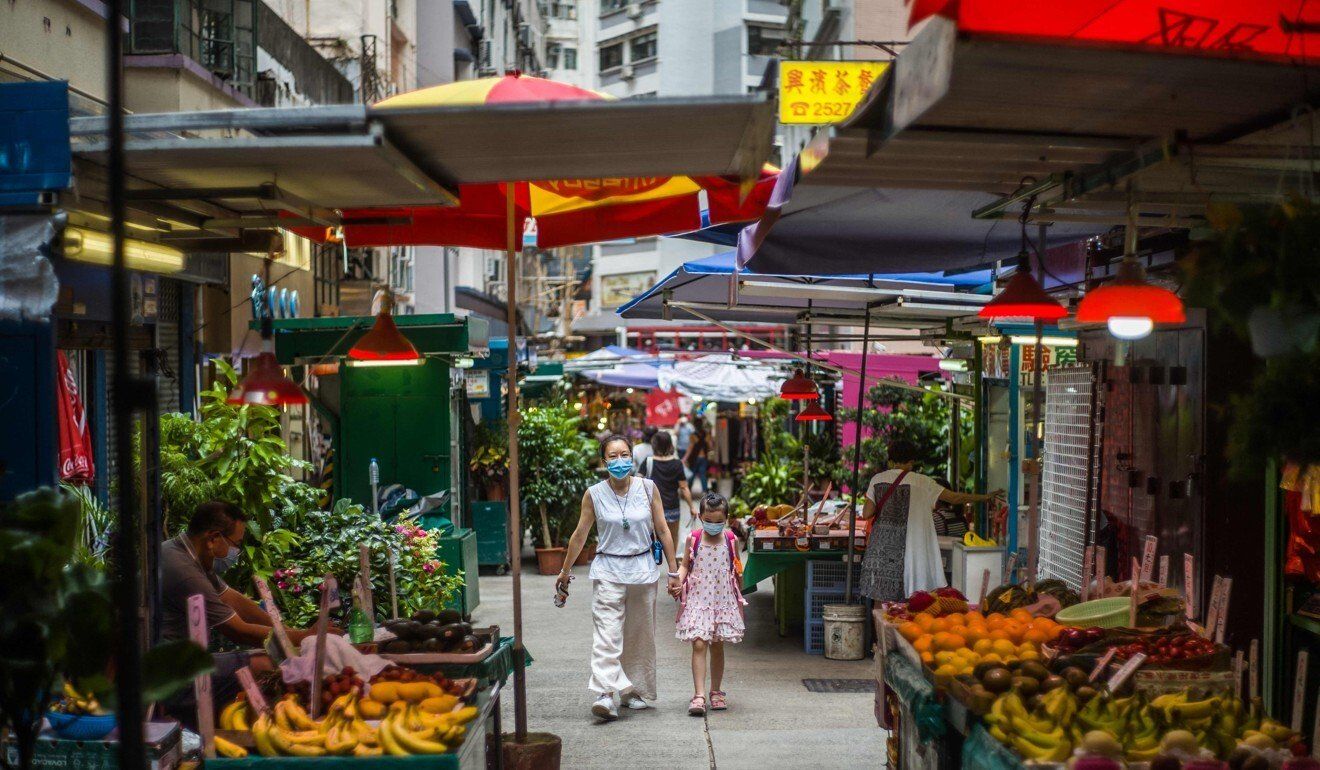 One expert suggested retail spending may still be weak because residents are holding out for the government's HK$5,000 voucher scheme, set to start in August.

Meanwhile, sales at bricks-and-mortar supermarkets slipped 3.5 per cent year on year in May to HK$4.58 billion. Department store sales also declined 6.2 per cent, to just under HK$3.4 billion.

Hong Kong's fourth wave of Covid-19 infections, which began last November, came to an end in late May, coinciding with a relaxation of social-distancing rules.

Hong Kong has largely kept Covid-19 infections and deaths to a minimum, but has struggled to reopen amid a sluggish vaccination rate.

The city's private sector has offered up HK$167.6 million in giveaways and prizes to motivate people to get vaccinated. Some of the perks include spending vouchers at shopping malls and staycation deals.