But hotel and retail sectors feel winter chill as outflow of Hongkongers for holiday celebrations overseas affects local spending.
Hong Kong's restaurants have seen a 20 per cent increase in business over the Christmas holiday compared with last year, according to industry leaders, with some eyeing an even stronger boost during Lunar New Year when mainland Chinese tourists are expected to make a comeback.

But not all businesses got a much-needed shot in the arm following the city's relaxation of Covid-19 social-distancing rules, as hotel and retail representatives said an outflow of Hongkongers for holiday celebrations overseas after travel curbs were lifted had affected local spending.

While Ray Chui Man-wai, president of catering group the Institute of Dining Art, reported a 20 per cent year-on-year increase in business over the Christmas weekend, he told the Post an ongoing manpower crunch had made recovery difficult.
Residents were keen to spend this Christmas, a lawmaker says.
"Businesses are short-staffed because employees fell sick or are close contacts of
Covid
-19 patients. Many workers changed industries during the pandemic and it is difficult to hire more staff in the short term," he said on Monday.
Catering sector leader Simon Wong Ka-wo also said businesses had performed significantly better at Christmas than last year when tighter restrictions were still in place, returning to around 80 per cent of pre-pandemic levels.
From December 23 to 26, the industry averaged earnings of HK$320 million a day, down from HK$380 million in pre-
Covid
times, he added.
"However, the outflow of Hongkongers has directly impacted spending. We see around 20,000 people going overseas to travel and their trip usually spans Christmas and New Year," he said.
However, the sales boost did not seem to reach restaurants on Swatow Street in Wan Chai. Those the Post spoke to said business did not boom as expected, despite the large crowds visiting neighbouring Lee Tung Street for Christmas decorations.
"Funnily enough business this year was worse than last year," said Ng, manager of a sushi shop which had scheduled extra staff but did not get more customers.
The hotel industry, meanwhile, did not enjoy a strong boost in business as residents headed overseas for their holidays.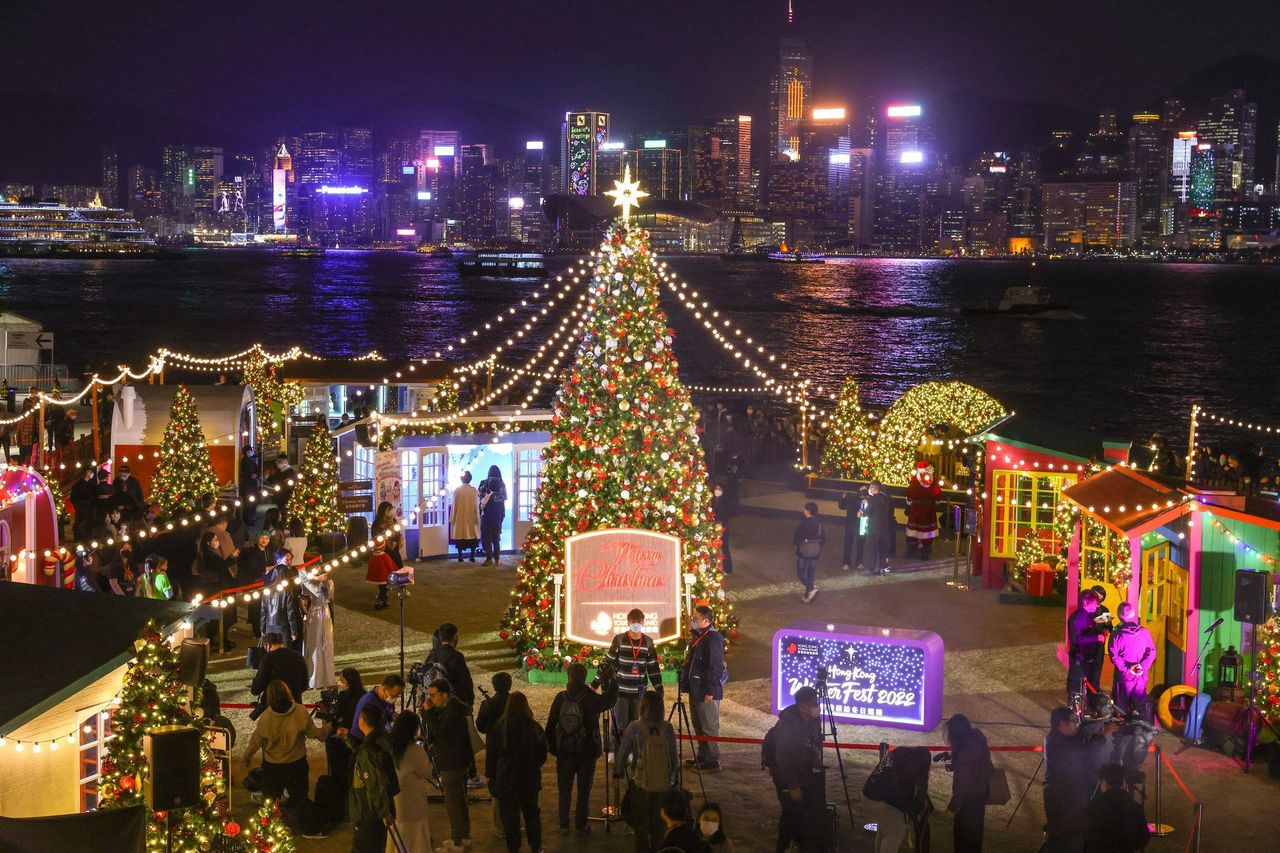 Hongkongers get into the Christmas spirit at the West Kowloon Cultural District.

Timothy Chui Ting-pong, executive director of the Hong Kong Tourism Association and the chief operating officer of a hotel, noted that staycations were less popular this Christmas than last year.

"People with spending power have already flown to other places outside Hong Kong," Chui said, estimating a drop of 10 to 20 per cent in the hotel staycation business.

Following the scrapping of the city's three-day medical surveillance period and amber health code for arrivals, residents took the chance to spend Christmas in Japan, Bangkok and Seoul, Chui said.

He said the number of residents signing up for outward-bound tours was only 10 to 20 per cent of the pre-pandemic level, as the number of trips was constrained by the limited resumption of flights.

"It is meaningless to compare with last year, when the figure was zero. But [the current situation] is still a far cry from pre-pandemic levels," Chui said.

He said he expected more residents to buy packages in the coming week for overseas trips at Lunar New Year at the end of next month, noting that holidaymakers did not care if air tickets were costlier than at normal times.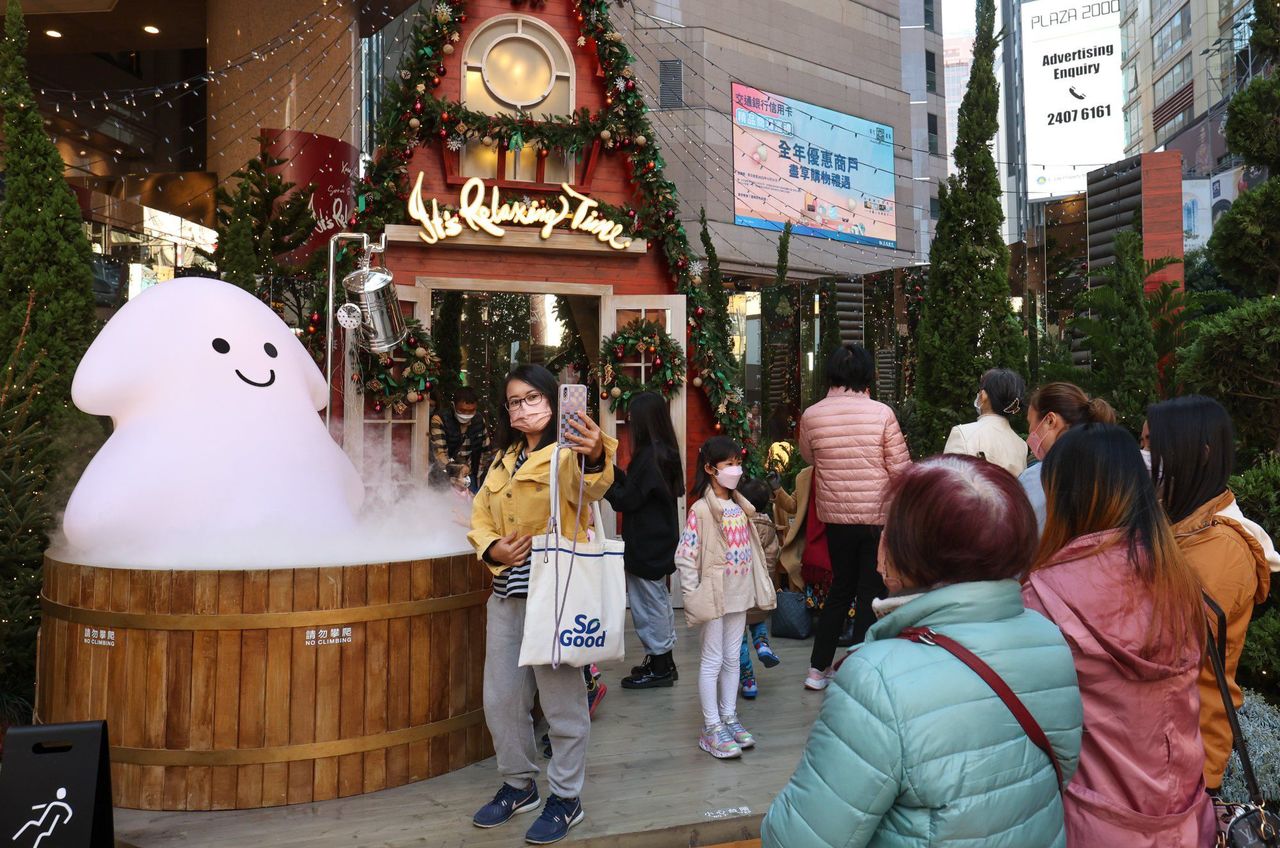 Shopping centres fared better this Christmas, lawmaker Peter Shiu says.

Peter Shiu Ka-fai, lawmaker for the wholesale and retail sector, said businesses in some key shopping centres fared better as people were generally keen to spend more this Christmas.

Shiu said a better performance was expected in the retail sector soon as the city was set to fully reopen the border with mainland China.

"Mainland tourists have not been to Hong Kong for three years. I think a number of them will be coming before Lunar New Year," he said.

A total of 65.14 million people visited the city in 2018 with the mainland accounting for 78 per cent of them. Before the pandemic, the social unrest in 2019 took a toll on Hong Kong's tourism industry with overall visitor arrivals dropping by 14.2 per cent to 55.91 million.