Operators enjoy stronger-than-expected figures compared with same period last month as mainland Chinese tourists flock to city during holiday.
Hong Kong restaurant operators have reported a stronger-than-expected 30 per cent growth in business over the holiday weekend compared with the same period last month, while retailers expressed confidence the momentum of "golden week" would carry into Mother's Day.

Ray Chui Man-wai, chairman of Kam Kee Holdings, which runs 44 restaurants with about 1,000 employees, said he was surprised by the figures. He had expected business to increase by about 20 per cent from the same weekend last month.

Chui, who is also the president of the Institute of Dining Art, said he noticed more mainland Chinese tourists from outside Guangdong province visited Hong Kong compared with the last pre-pandemic golden weeks in 2018 and 2019.

"I previously estimated growth to reach 20 per cent because the industry was concerned about the operating capacity of eateries with such an influx of tourists, especially given the manpower shortage. But the actual growth boosts our confidence for Mother's Day," Chui said.

Immigration Department statistics showed about 451,331 visitors from the mainland came to the city between last Saturday and Monday this week, accounting for 36.7 per cent of the 1.23 million total arrivals. The holiday on the mainland lasts five days.

The Travel Industry Council earlier estimated 600,000 tourists would arrive in the city between last Friday and the coming Saturday.

Dinner reservations for Mother's Day, May 14, had already reached 80 per cent capacity, according to Chui.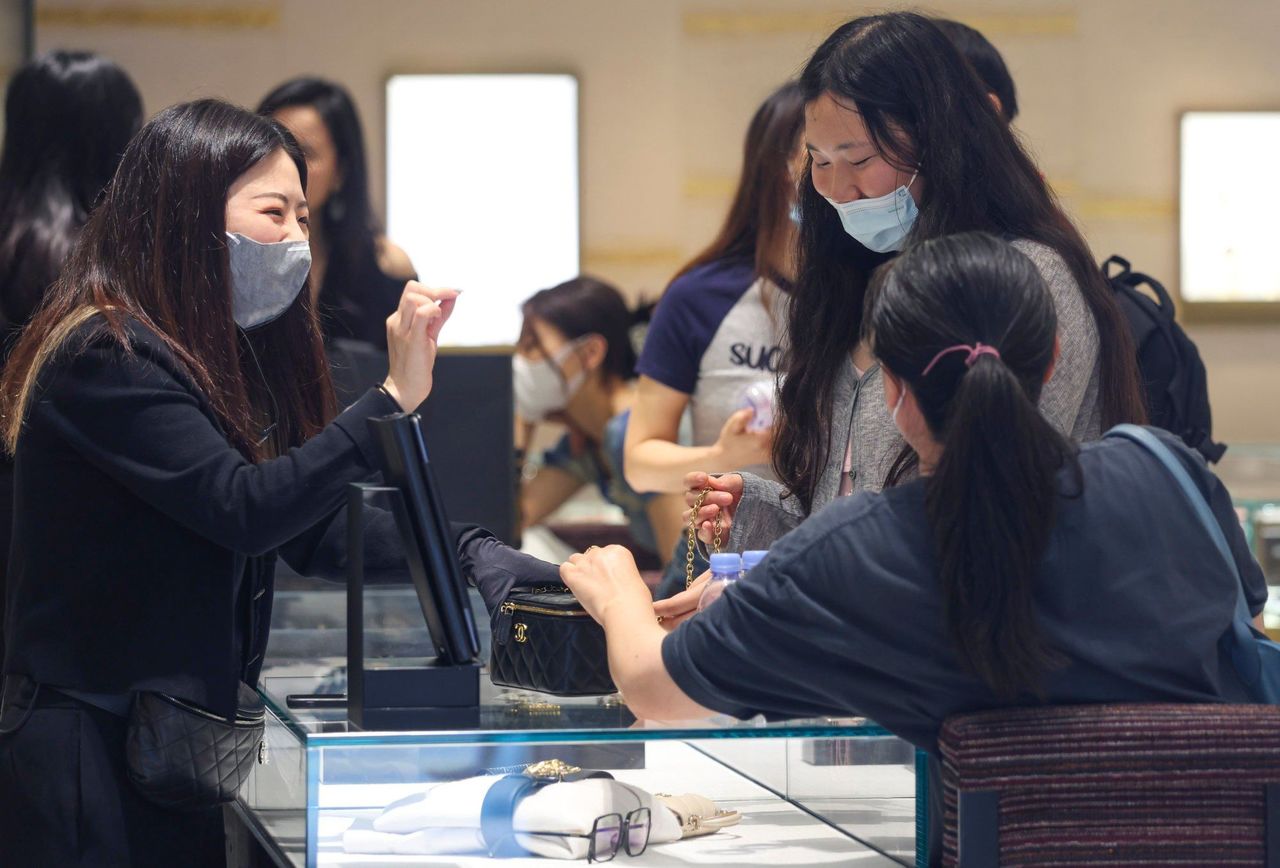 Customers at a luxury boutique in Tsim Sha Tsui on the weekend.

"Traditional Chinese restaurants have had the most bookings because this is the first Mother's Day without any Covid-19 restrictions. Residents are even eager to celebrate twice, with both their mothers and grandmothers," he said.

Entrepreneur Simon Wong Kit-lung, chairman of catering company LH Group, which operates 56 restaurants in the city, said the business performance during the golden week showed that Hong Kong was still an attractive destination for mainland tourists.

"I hope the 700,000 free airline tickets giveaway will give us the momentum we need until the end of the year," Wong said, referring to one of the main features of the government's "Hello Hong Kong" campaign to entice visitors back to the city after three years of tough pandemic curbs.

"I am hopeful about the prospects of Mother's Day, the summer holidays, the National Day golden week in October and Christmas," he said.

Sun Hung Kai Real Estate Agency's 12 malls recorded year-on-year increases in footfall and sales of 25 per cent and 20 per cent, respectively, between last Saturday and Monday. The properties included Landmark North in Sheung Shui and Park Central in Tseung Kwan O.

Jewellery and electronics sellers benefited the most in that period, according to Fiona Chung Sau-lin, the company's director of sales and leasing.

"Looking forward to Mother's Day in the middle of the month, we believe residents will buy gifts for their mothers and arrange dinners to celebrate," Chung said. "Many of our catering merchants have said their restaurants are nearly 90 per cent full with reservations, which is expected to further drive business in the malls."

New World Development's K11 Musea and K11 Art Mall in Tsim Sha Tsui recorded a 50 per cent year-on-year jump in both footfall and sales from Saturday to Monday. Average individual spending by tourists also surged 40 per cent, while sales of personal care and beauty products rose by more than 80 per cent year on year.

But the Hong Kong Retail Management Association said members had reported that the purchasing power of mainland tourists was weaker than before the pandemic struck.

"Some retailers reflected that on top of the border reopening, the extra sales brought by the May golden week were relatively mild," a spokesman said.

He added the current level represented about 40 per cent of the retail sales of the same holiday in 2019.

"Overall, retail sales continue to recover at a slow pace, which was driven by tourist spending," he said. "Spending by locals remains stagnant or weak."

The city's economy, meanwhile, rebounded 2.7 per cent in the first three months of the year compared with the same period in 2022 and grew by 5.4 per cent from the last quarter.

Carlos Casanova, senior economist for Asia at Swiss bank Union Bancaire Privee, said the improvement was driven by increased spending as mainland tourists returned to the city since the full border reopening in February.

He said mainland visitor numbers rose to 64 per cent of pre-pandemic levels in April year on year, up from 53 per cent in March and 33 per cent in February. He expected the level to hit 80 per cent in May.

"Cross-border travel is one of the factors that will drive an increase in product consumption," Casanova said. "Sentiment improved across the board, so we should see domestic consumption from Hongkongers also improving."

He predicted the city's economy to grow by 3 per cent this year, below the International Monetary Fund's latest projection of 3.5 per cent.