Law enforcement officials conduct patrols in areas previously frequented by traders who buy stock in Hong Kong and sell it in mainland China.
Hong Kong law enforcement patrolled the northern district of Sheung Shui on Friday amid residents' concerns over the return of parallel traders following the full reopening of the border with mainland China.

The Post observed the return of suspected parallel traders outside Sheung Shui MTR station, which used to be a hotspot for people hoping to shift goods across the border.
They distributed goods to couriers, who would then take them towards Sheung Shui station, which is one stop away from border crossings at Lo Wu and Lok Ma Chau. A Post reporter observed the process happening at least twice within half an hour. Parallel traders buy stock in Hong Kong and resell it on the mainland at a profit.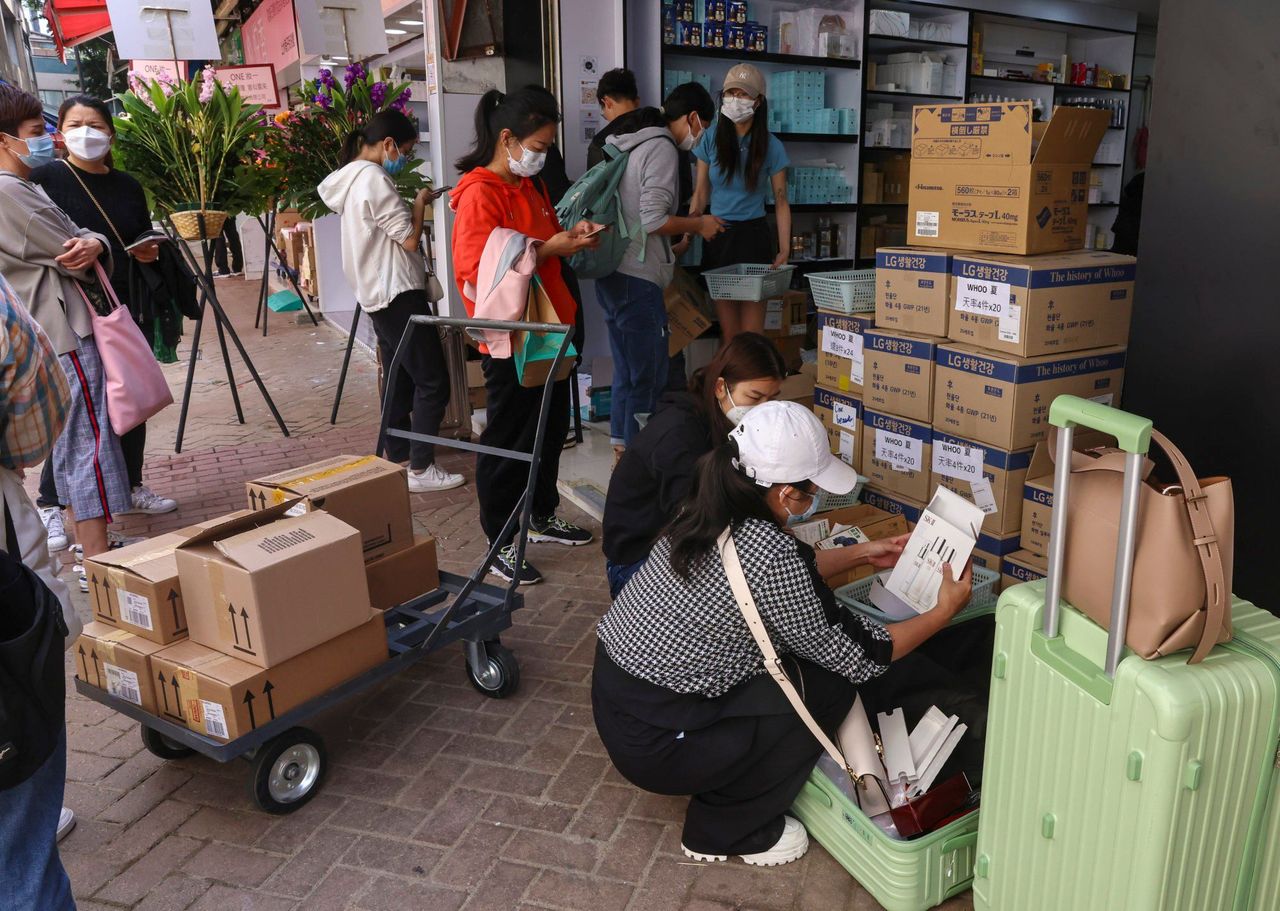 Residents are concerned the resumption of cross-border travel will mean crowds will return.
A Post reporter observed law enforcement officials conducting a routine patrol around areas frequented by mainland tourists and parallel traders on Friday afternoon. The group, with numbers in the dozens, comprised officers from the Food and Environmental Hygiene Department, Immigration Department and police.
Some city residents are concerned the resumption of cross-border travel will mean the crowds seen before the pandemic will return.
Peter Mak, a 27-year-old construction worker, lives in Tai Po but visits Sheung Shui several times a week.
Although the number of mainland tourists and parallel traders was not as high as before the pandemic, he said he was worried about the district being overrun again.
"They only just opened the border, and there are already people coming to Sheung Shui," Mak said.
Hong Kong saw the full resumption of cross-border travel with the mainland on Monday after authorities lifted the requirement for PCR tests and quotas for visitors.
Monday also marked the reopening of the Lo Wu and Lok Ma Chau land control points – which were closed to passengers for three years – and the launch of the passenger clearance service at the Heung Yuen Wai border facility, which only allowed cargo through when it began operating in August 2020.
Before the pandemic and the 2019 anti-government protests in the city, parallel trading activity in Sheung Shui had been rife for many years, sparked by higher taxes on consumer products across the border and shoppers' confidence in the quality of Hong Kong goods.
Tourists and parallel traders would often be seen outside pharmacies or the Sheung Shui MTR station packing various consumer items into suitcases, which blocked and disrupted pedestrians. The issue had been a point of contention for locals, sparking several protests against these groups.
"They would block the road and make it hard for us to walk. If you wanted to walk around or buy something, you would be cramped alongside them," Mak said. "You wouldn't expect this in such a small community."
Win Yip, a 35-year-old saleswoman, said she was also concerned the district would experience a return to the pre-pandemic situation.
"Of course, I am worried that it will return to the situation we saw before. It is only a matter of how serious it will be," Yip said.
She estimated that it would take at least until the Labour Day "golden week" holiday on May 1 for mainland tourists and parallel traders to return to the city in full force.
"If you live here, you either put up with it quietly or move away. There is no other choice," she added.
Deputy Chief Secretary Warner Cheuk Wing-hing chaired an interdepartmental meeting on Friday which reviewed the situation in different districts after the resumption of travel between the mainland and Hong Kong. It covered the planning of operations against parallel trading hotspots in the city.
In response to the resurgence of parallel trading activities outside Sheung Shui station and to prevent further expansion, police and the Food and Environmental Hygiene Department would conduct frequent patrols and joint law enforcement operations in hotspots, authorities said.
The department, they added, would install closed-circuit television in hotspots and step up street cleaning efforts.