Ray Chui, chairman of catering group the Institute of Dining Art, says industry enjoying a more than 10 per cent bump in business.
Hong Kong residents flocked to restaurants and shopping centres on Saturday to spend the latest instalment of digital consumption vouchers from the government, with retailers and eateries expecting double-digit growth in business.

Consumers were seen snapping up items such as jewellery, smartphones and electrical appliances, with malls drawing big crowds of spenders, while restaurants were packed with residents enjoying meals with family and friends.

People who chose to receive the handout through e-payment provider Octopus received HK$2,000 (US$255) on Saturday, and the remaining HK$1,000 will be handed out between December 16 and April. Those who used any of the other five service providers received HK$3,000 on Saturday.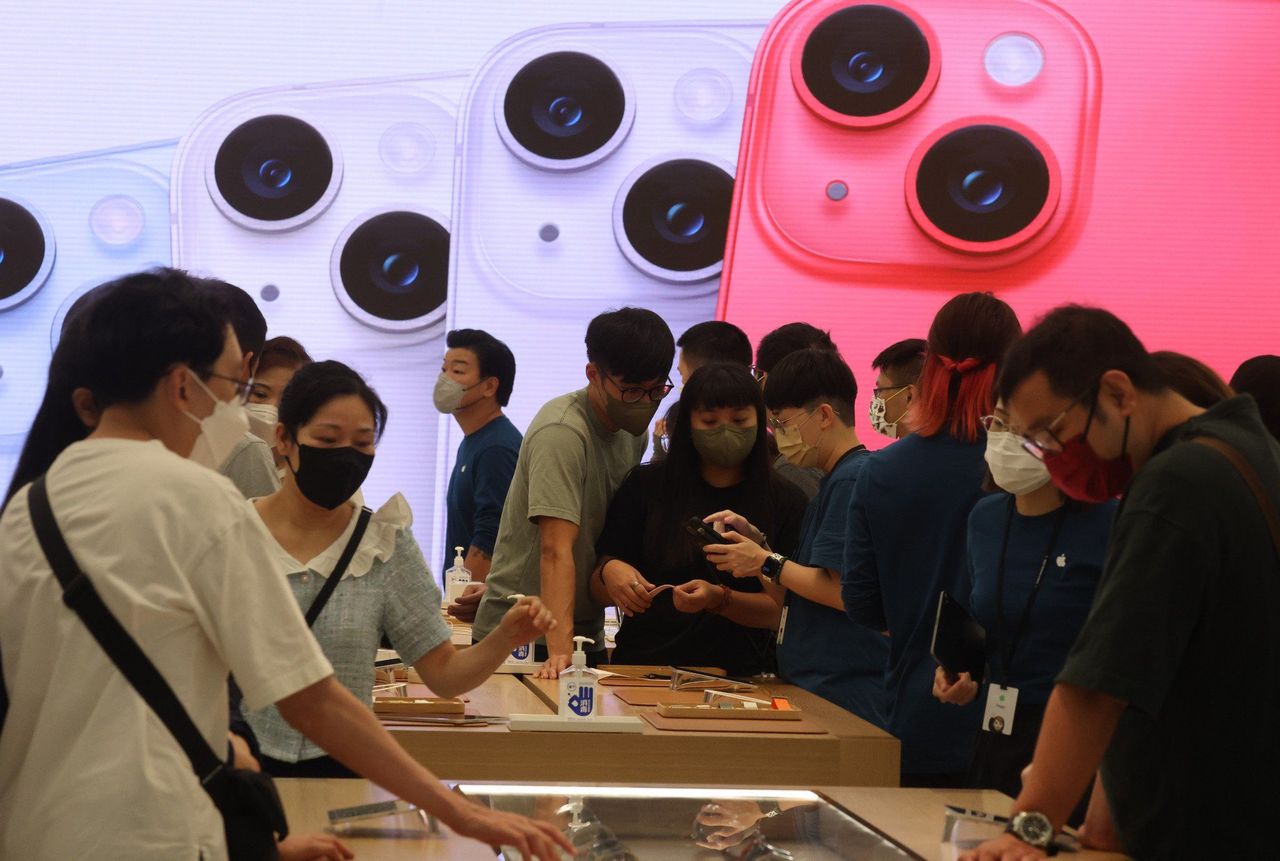 Shoppers at apm shopping mall in Kwun Tong on Saturday.

At the apm shopping mall in Kwun Tong, business was booming at a branch of jewellery chain Chow Tai Fook. Jessica Chan, a 38-year-old housewife, was planning to spend about HK$100,000 on luxury items.

"I plan to buy watches and jewellery with my consumption vouchers," she said. "I predict that I will spend about HK$100,000."

Chan said she would not use the vouchers for travelling, as it would be difficult to head overseas right now because she had to care for her children.

Assistant branch manager Danny Tsai said the low price of gold was proving alluring for some customers.

"We're seeing double-digit growth in people traffic as the price of gold is at a low point compared to recent years and the consumption voucher is also a contributing factor as well," he said.

Residents collect their consumption vouchers with their Octopus cards on Saturday.

Tsai said he was not worried his store might lose business as a result of residents choosing to spend their vouchers on travelling after the city switched to a "0+3" scheme for arrivals, doing away with compulsory quarantine but requiring they undergo three days of medical surveillance at home or in a hotel. Tsai said residents would always be interested in buying jewellery.

Ray Chui Man-wai, chairman of catering group the Institute of Dining Art, said that in general the industry saw a more than 10 per cent bump in business.

"The consumer sentiment is really good [on Saturday]. We have seen shopping malls and restaurants flooded with customers. Many restaurants are fully packed with customers," he said.

"Maybe people sense that Hong Kong is soon to fully reopen its borders with the mainland and the rest of the world so they are in a good mood for spending."

The digital vouchers, which can be used at local shops, restaurants and other businesses, were designed to boost consumer spending and accelerate the city's economic recovery during the pandemic.

The other e-payment platforms are AlipayHK, BoC Pay, PayMe from HSBC, Tap & Go and WeChat Pay HK. AlipayHK is operated by Ant Group, an affiliate of Alibaba Group Holding, which owns the South China Morning Post.

Financial Secretary Paul Chan Mo-po said on his Facebook page he had joined local tours with several families to celebrate National Day and used the digital vouchers to buy birthday peach buns to distribute to residents in a restaurant.

"I bought some birthday peach buns with my consumption vouchers and shared the joy of National Day with residents," he said.

At apm, business was also busy for shop manager Kenneth Chow at a branch of electronics store Suning.

"We are much busier than before. We are dealing with one customer after the other," he said. "Sometimes customers have to wait before our colleagues have time to serve them."

Chow said he expected that both footfall and sales would double as a result of the vouchers and long holiday due to National Day.

In the shopping district of Causeway Bay, some consumers had a more reserved attitude towards the new round of vouchers.

"The current [economic] atmosphere does not lead us to have a strong consumption attitude," said 33-year-old consultant Stanley Liu. "Even if you have a steady job, the economy is still getting worse, you need to plan ahead for a lot of things."

He added that he would use his vouchers for everyday purchases, with no intention to spend more than the given amount.

The city distributed HK$2,000 in e-vouchers in August, with the scheme expanded to include people eligible for permanent residency while excluding locals planning to emigrate.

The HK$5,000 worth of vouchers is the second round of HK$10,000 in total the government is giving out to more than 6 million residents this year. The first tranche was distributed in April.

The scheme was introduced last year, at a cost of HK$36 billion, and boosted gross domestic product by 0.7 per cent, according to the government. The bill for the new round of handouts this year is expected to be HK$66.4 billion and is projected to boost the economy by 1.2 per cent.