Residents are overjoyed but are concerned city may take a long time to undo the damage caused by quarantine measures.
Matthew Burgess could not help but feel emotional when Hong Kong finally announced the end of mandatory hotel quarantine for arrivals on Friday.

"It is a big deal. After a rough, long 2½ years, everyone feels a bit emotional," the 32-year-old Hong Kong resident from Britain said. "It's the feeling of having a bit more freedom before getting on the plane. There are going to be lots of celebrations going on in the city tonight."

The feeling was mixed, though. Underlying his excitement and relief, there was also anger about the length of time that it took Hong Kong authorities to scrap this practice and the damage it caused.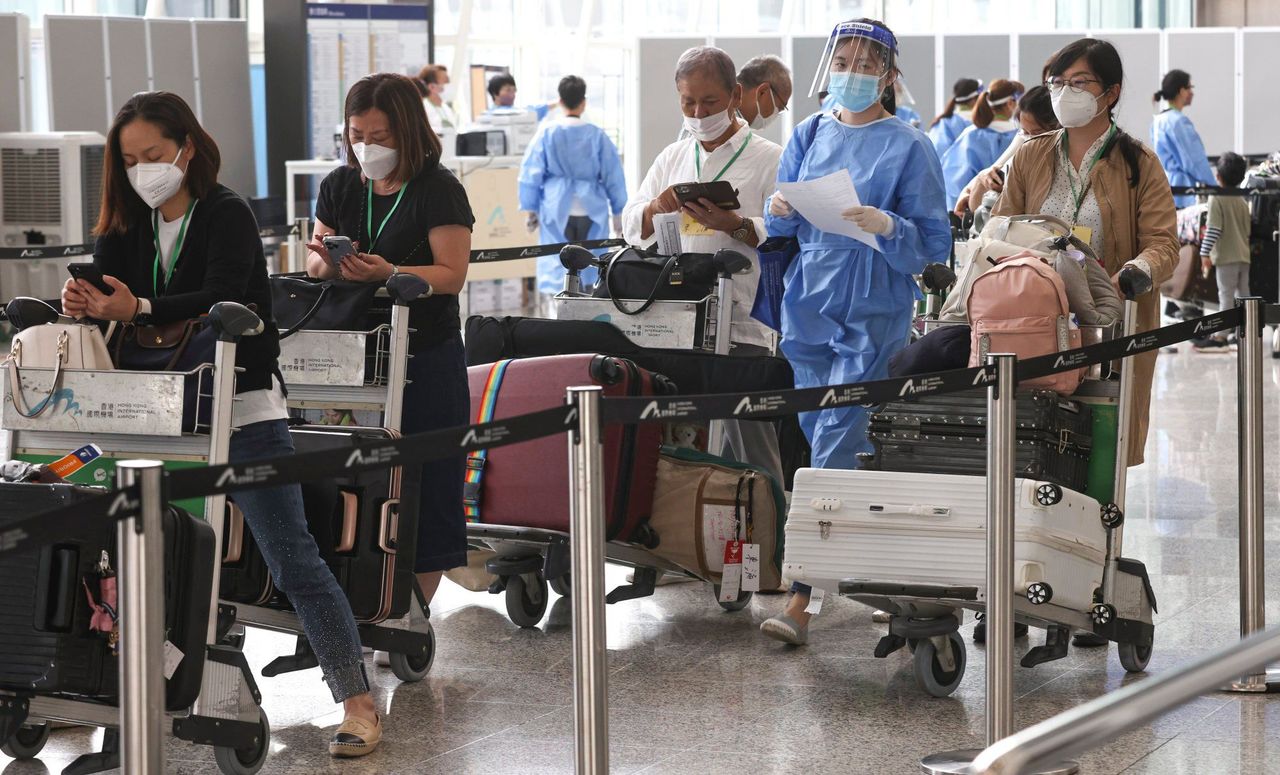 Passengers arrive at Hong Kong Airport while the government announces the quarantine policy will change next week.

"A lot of people have left. They may not have had this policy not been in place for so long. Hong Kong's reputation certainly suffered," Burgess said. "I think Hong Kong will bounce back, but I just don't know how quick it will be."

Under the new rule, arrivals would not have to go through hotel quarantine but three days of medical surveillance, in which they are allowed to go out but not to high-risk premises such as restaurants and bars. They could do so on the fourth day if they tested negative on the day before.

Burgess, who operates the Hong Kong office of a London property developer, had spent 31 days in total under quarantine this year.

After visiting his family in the UK in January, he was confined in the quarantine facility in Penny's Bay for four days, then a hotel suite in Kennedy Town for 17 days straight when he returned to Hong Kong.

He now found it impossible to fathom how he could survive such a long period of isolation.

"I look back at that now and I don't know how I did it," he said. "It was really horrible. I will never do that again … Particularly during the last week, it was just very very slow and very tough."

"It started to drag on a bit. The days were very monotonous. Everything's sort of the same. You lost the energy and motivation to continue working out," he recalled.

The authorities had implemented the city's most stringent anti-epidemic measures, including a 21-day mandatory hotel quarantine, in December last year as Omicron infections began to surge, prompting furore among locals and visitors.

As the pandemic subsided, the quarantine period was cut to two weeks for fully vaccinated arrivals in February and seven days in April.

The rules were further loosened last month as the so-called "3+4" plan was adopted, meaning overseas arrivals had to spend three days in hotel quarantine and the remaining four under home medical surveillance with their movement citywide restricted.

Knowing that some people had struggled with mental health issues during quarantine, Burgess felt lucky that he was mentally healthy when he got out.

"It's very demoralising. I don't want to say I was in a bad state because I wasn't. I'd say it wasn't a nice position to be in," he noted.

Burgess underwent another seven days of hotel quarantine in July as he crammed his family visit in the UK, holiday in Thailand and a business trip to Singapore in one go. He also spent three days in isolation this month after visiting Malaysia for work.

Although he found the last two quarantine experiences "much easier", he was glad that the hotel quarantine rules were lifted.

It meant that he would be able to travel around Asia more frequently for work, something he used to do once a month before the pandemic. His colleagues and bosses were also planning to visit Hong Kong, he added.

But for Hongkonger Ashley Kwan, the latest relaxation of the border measures not only came too late but also created confusion.

Currently in Dubai for a business trip, Kwan, a 35-year-old marketing manager, was set to board a flight on Sunday and land in Hong Kong the next afternoon.

The latest requirement – which also allows visitors to take a rapid antigen test (RAT) within 24 hours of departure, replacing the previous requirement of a polymerase chain reaction (PCR) taken 48 hours before boarding – will take effect at 6am on Monday.

"I believe I'm not required to secure a negative PCR result following the change but I will still do it anyway. I'm worried that the airport staff in Dubai might not be updated with the latest arrangement and ban me from flying," she said.

Having spent days in Singapore before landing in Dubai, Kwan was also unconvinced that the latest "0+3" arrangement would be sufficient to woo tourists, especially when she had the taste of "freedom" in places which decided to live with the virus and did not require people to wear masks.

She said Hong Kong would not be an attractive spot for tourists unless it entirely lifted border restrictions.

"Tourists usually only spend four or five days in the city. Why would they pick Hong Kong which only allows them to buy takeaways on the first three days and requires them to wear masks even in an outdoor area?"