Health authorities also reported 29 Covid-linked deaths.
Hong Kong confirmed 747 new coronavirus cases on Sunday, the second day in a row infections were below the 800 mark, while authorities reported the fewest Covid-linked deaths in nearly two months.

The daily caseload dropped below 800 for the first time in more than two months on Saturday. Among the latest cases, 11 were imported while the rest were locally transmitted.

Health authorities also reported 29 Covid-19-linked deaths, including five backlogged cases. The total marked the lowest number of reported fatalities since February 21, when 16 – including three backlogged deaths – were announced.

The city's overall case tally since the pandemic began stood at 1,197,825, with 9,139 fatalities.

Dr Chuang Shuk-kwan of the Centre for Health Protection said authorities expected a "small rebound" in cases with the coming relaxation of social-distancing rules as more people went out.

"We will look at many indicators such as positive cases found at community testing centres, the actual number of infections each day, sewage surveillance and the effective reproductive number to keep an eye on the overall trend," she said, adding the government had contingency plans in the event of a large rebound.

"We haven't started contact tracing of every case yet but we will focus on important groups such as homes for the aged and disabled to quickly identify cases and close contacts and manage the situation."

Residents are making the most of their holiday over the four-day Easter break by thronging major retail centres or hiking in the countryside. Day trippers eager for some fresh air and views also crowded geoparks and outlying islands.

Large crowds flocked to the Central ferry piers to reach popular outlying destinations, such as Cheung Chau and Lamma Island.

Residents also set up tents and had picnics at Tamar Park in Admiralty, as well as in the West Kowloon Cultural District.

The enthusiasm precedes the easing of social-distancing rules on April 21, with residents starved of leisure activities eager to take advantage of the break ahead of the relaxed curbs, as well as to spend their HK$5,000 (US$641) digital consumption vouchers at restaurants and shops.

The Leisure and Cultural Services Department stepped up patrols at venues under its management over the weekend, with officers holding up banners to remind the public to keep a distance of 1.5 metres from one another and distributing leaflets about social-distancing regulations.

As of 4pm on Sunday, fixed penalty notices had been issued to 34 people since Friday over group-gathering or mask-related offences, a department spokesman said.

The Agriculture, Fisheries and Conservation Department (AFCD) also carried out inspections and enhanced its enforcement of social-distancing rules in country parks.

Three fixed penalty notices were issued for mask-related offences, and officers took action against 49 people suspected to be involved in illegal camping or use of fire in parks, an AFCD spokesman said on Saturday.

Meanwhile, the Food and Environmental Hygiene Department said it had inspected 96 catering premises with police on Saturday and had initiated procedures to prosecute five operators suspected of breaching Covid-19 rules.

Government pandemic adviser Professor David Hui Shu-cheong last week said officials needed to continue observing the trend in daily caseloads for the next seven to 10 days to see if there would be a rebound due to the long weekend and coming eased social-distancing rules.

But he noted the risk was not high as estimates showed 4 million people had already been infected and gained natural protection after recovery, while more than 80 per cent of the population had received two vaccine doses.

As the fifth wave of infections continues to decline, the first stage of a three-phase easing of social-distancing rules will begin on Thursday, including an extension of dine-in hours for restaurants and the reopening of premises such as gyms, sports venues and cinemas.

Officials will step up screening requirements to guard against increased transmission risks. Health minister Sophia Chan Siu-chee earlier noted rapid antigen test (RAT) kits were already being used at care homes for the elderly and screenings would be implemented for schools and local tour groups.

On a television programme on Sunday, Secretary for Education Kevin Yeung Yun-hung defended the government's decision to only provide free RAT kits to needy families rather than all students, saying it would be a waste of public resources.

His comments echoed city leader Carrie Lam Cheng Yuet-ngor's appeal for public understanding on Wednesday. Lam had said providing resources for free to everyone would have an impact on the city's financial position.

Yeung said the supply of rapid test kits was stable, noting the new policy requiring all students to be tested every school day as in-person classes resumed had not caused a surge in prices.

"Students can buy the rapid test kits based on their preference if their family can afford the expenses," he said.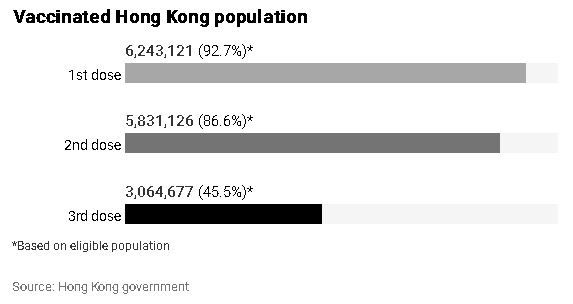 Yeung told another programme that the Education Bureau was gathering information from schools on how many students were already inoculated to plan for vaccination services.

"After a general review of the current status of vaccinations in schools, we can target those with low vaccination rates," he said.

As of Saturday, about 64.1 per cent of residents aged three to 11 had taken at least one dose of a Covid-19 vaccine, while just 34.1 per cent of the same age group had received two jabs.