Left with not much to do amid pandemic-related restrictions, residents have increasingly taken to hiking and cycling over the past year.
The sale of bicycles has increased in Hong Kong as more residents have taken to outdoor activities, but seasoned cyclists say much can be done to make the city friendlier to the two-wheelers.

Left with not much to do amid strict pandemic-related restrictions in the city, more Hongkongers have taken to hiking and cycling over the past year. Hiking enthusiasts said the city had witnessed an explosion of hikers.

On the online platform Carousell, a total of 63,345 transactions were made from Hong Kong, Malaysia and Singapore in 2020. Hong Kong topped the sales list with almost 40,000 bicycles sold, while Malaysia was in the second place with about 18,000 two-wheelers.

The most popular bicycle type in the city was road bikes, with folding bicycles being the second favourite among enthusiasts. Local bicycle shop owners told the Post folding bicycles in particular had become increasingly popular in Hong Kong.

Jason Lee, managing director of Chung Yung Cycle in Sheung Shui, said sales suddenly spiked– as much as 45 per cent compared to 2019 figures – following school closures and the introduction of work-from-home arrangements in March last year.

The sales of children's bicycles rose between February and April last year, followed by that of folding bicycles as families cycled together, he added. Currently, 60 per cent of his shop's overall sales are folding bikes driven for recreational purposes.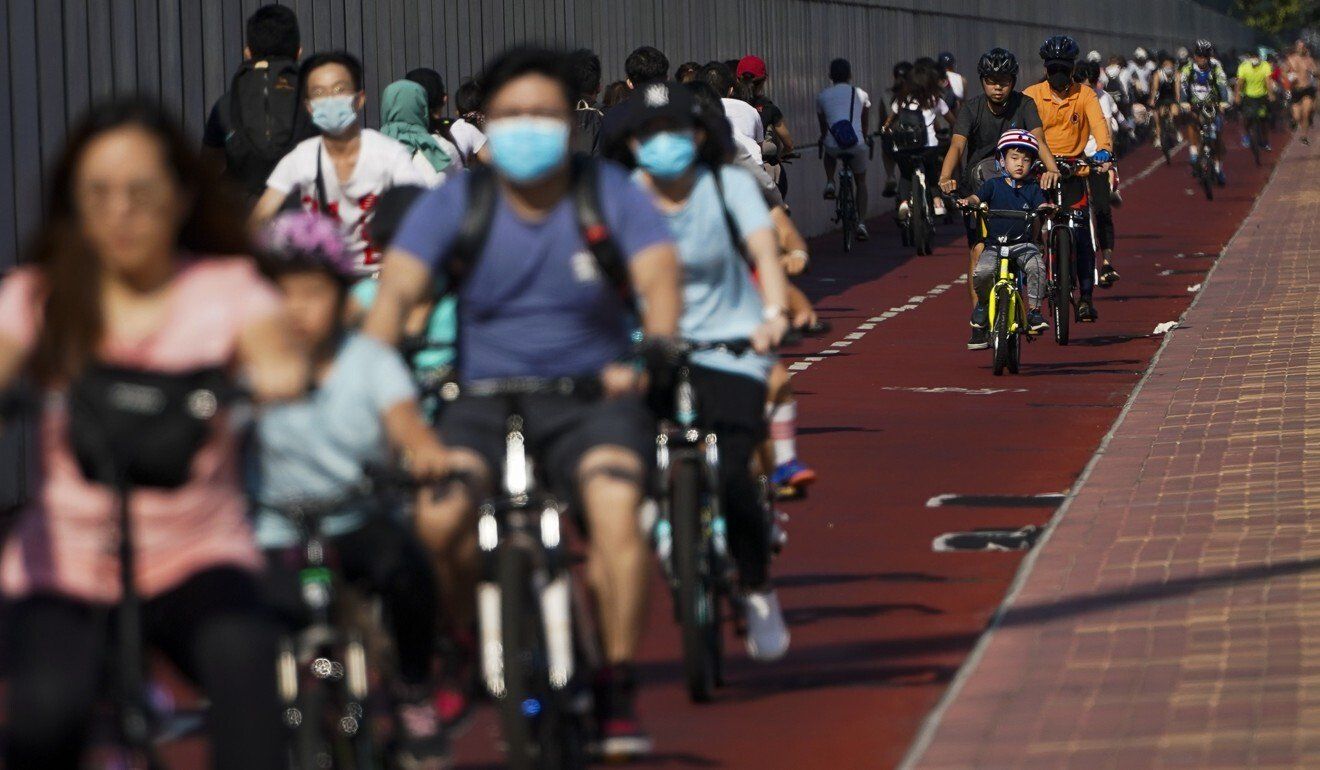 Hongkongers cycling at Sha Tin.

"The space in Hong Kong is limited, so the folding bikes fit for the whole family and also for people who have not done much exercise or cycling in the past," said Lee, who has been in the bicycle business for more than 40 years.

He said before the pandemic, his sales mostly involved serious cyclists buying road bicycles or the ones meant for the mountains, but now Hongkongers had been buying casual or family variants.

Among the cycling routes is a new 60km stretch that goes from Tuen Mun to Ma On Shan, via Yuen Long, Sheung Shui, Tai Po and Tolo Harbour. The route, which was completed last September, was very popular among residents, he said.

Anthony Arthur, 41, and his wife, Annabel, live in Clear Water Bay and cycle recreationally around Sai Kung or Fei Ngo Shan.

A keen cyclist for nine years, Arthur, an asset management professional, said when he first started cycling, he noticed most cyclists were from expatriate groups, especially on Hong Kong Island. But he said he had recently noticed a big increase in the use of bicycles among native Hongkongers, especially in Sai Kung.

"Cycling has taken off massively in Hong Kong. I've been here nine years and the numbers of people doing it now are huge," said Arthur, who is originally from Britain.

Ryan Blair, a native of the United States, has been living in Hong Kong since 1995. He said he had been cycling along the city's roads and on mountain trails for 20 years.

The director of the North Face Adventure Team rides several times a week in Pok Fu Lam, Stubbs Road as well as in Shek O, and often cycles on less busy roads to avoid cars and trucks.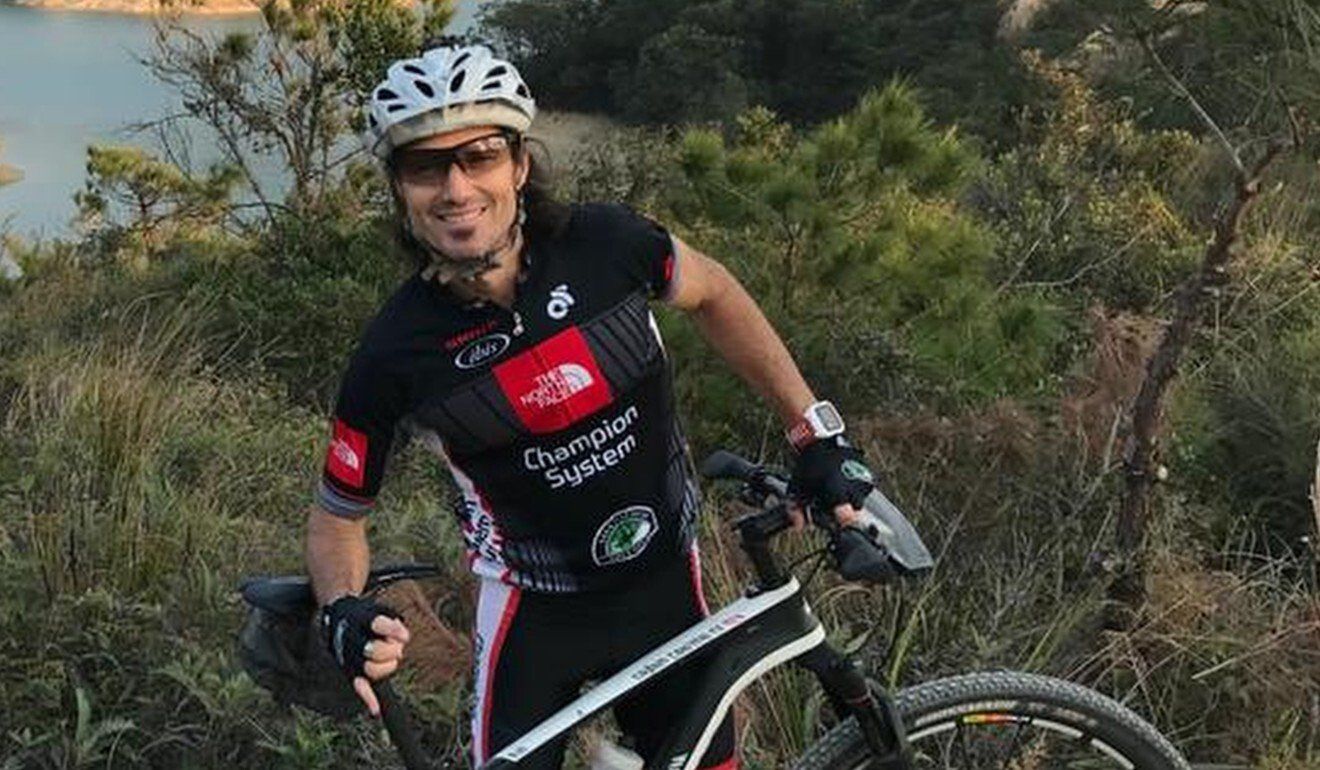 Cycling enthusiast Ryan Blair says he has noticed more cyclists on the roads recently.

Blair, 49, said on Sunday he noticed cyclists riding on the bicycle path in Tai Po, with the routes being especially busy in Sha Tin and Tai Mei Tuk on public holidays and weekends.

However, he believed the city had a long way to go to become bicycle friendly, especially on Hong Kong Island, where he said it could be quite dangerous unless cyclists were experienced riding in traffic and on steep roads.

"Hopefully the government will continue to build more bike lanes and dedicated cycling areas not only for promoting exercise, but also to encourage commuting and to reduce the impact of travelling on air quality and the environment," he said.

Arthur said he believed that raising driving awareness, such as making public announcements or teaching drivers how to drive past cyclists when they appear for the road tests, would make it easier for cyclists.

"There is good and bad driving in Hong Kong and as a cyclist, you're that bit more vulnerable to bad drivers."