City leader Lam also hits out at pro-establishment camp, asks lawmakers to 'reflect' on having pressured government to carry out universal testing as soon as possible.
A high Covid-19 infection rate, the requirement of massive resources and weak mobilisation abilities are among the reasons behind the decision by Hong Kong's leader to put on hold – if not indefinitely – the first universal testing drive in the city.

In a rare move, Chief Executive Carrie Lam Cheng Yuet-ngor on Monday also hit out at the pro-establishment camp, asking lawmakers to "reflect" on having pressured the government to carry out mass screening as soon as possible, saying the benefit for doing it now was much lower than the cost.

A government source said "the [mass testing] drive is now given a low priority and a new date has not been set either".

"The drive should only be carried out when the infection figures are low, but by that time, we have to see whether abundant resources should be spent on the programme, or [whether] it can be replaced by proper contact tracing and other methods such as rapid antigen tests," the source added.

An insider close to Beijing also told the Post that factors such as the pandemic situation and number of isolation facilities available had to be considered, adding that "the chances of doing it eventually are slim given Hong Kong's capacity".

Political pundits said they believed the government was trying to pacify the pro-establishment camp for not openly declaring that the citywide screening was not happening, while some local health experts said testing was still necessary to firmly shut down transmission.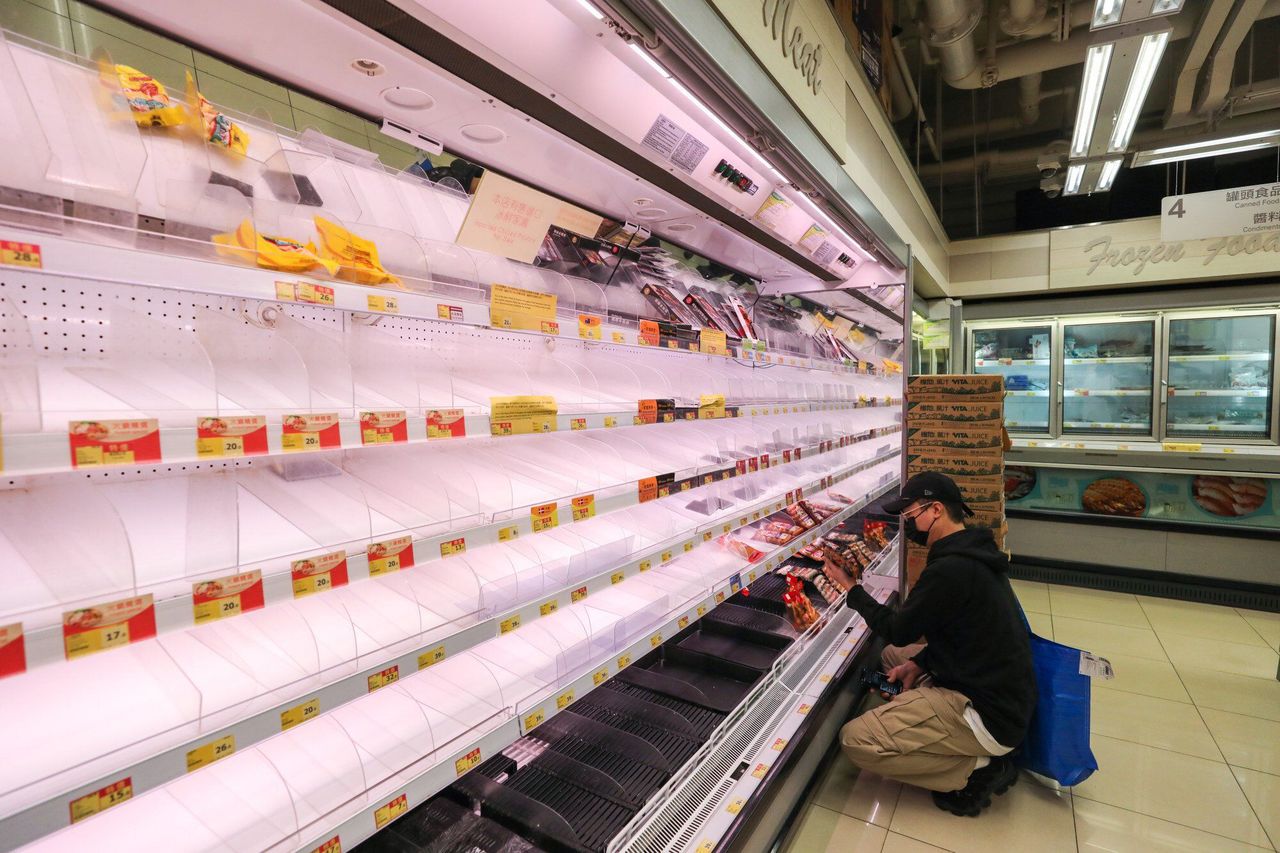 The controversial universal testing exercise triggered panic buying, with residents emptying supermarket shelves earlier this month.

The controversial universal testing exercise, which triggered not only panic buying but also a rush of businesspeople into leaving the city for fear of rising infections or being caught in a lockdown, had caused Lam to change her stance at least twice in the past month.

Lam said on Monday the suspension was a conclusion drawn by mainland Chinese and Hong Kong experts that public resources should not be spent on such an exercise when the number of cases remained high.

"Hong Kong's epidemic situation has now been alleviated, but the number of cases remains at a high level. Experts also said at this stage it was not suitable to spend limited resources on universal testing," she said. "Timing is key."

Lam said it would be very troublesome and chaotic if the city had gone ahead with the screening, in part because a number of unidentified recovered patients in the last three months with low viral load and transmission risks could still test positive in the exercise.

Mainland experts who visited Hong Kong had also noticed that the city's community mobilisation power was lower than that across the border, she added.

"Mainland residents must go downstairs for testing as soon as they receive a message on their mobile phones … the mainland counterparts are able to find each household and each person, and that's what one should aim for to make universal testing work," Lam said.

"Even [mainland epidemiologist] Liang Wannian has frankly said that the mobilisation ability in neighbourhoods in Hong Kong is weak."

Lam said not every household in the city's district-based mandatory testing took part in screening, citing the example of a lockdown on Sunday in which about 16 per cent of residents in one building did not undergo testing.

To carry out screening, Lam revealed for the first time that an estimation of at least 80,000 people each day was needed over a nine-day testing period.

They included 45,000 staff at the 500 testing centres, 9,000 mainland testing assistants, 2,500 employees in transferring testing samples back and forth from the mainland and 1,800 quarantine drivers.

Another 21,000 disciplinary officers were needed to maintain order at testing centres, while 5,100 staff would be responsible for the booking system and hotlines.

On top of that, the government source said evaluations had shown that supporting services including the delivery of food and other necessities in the city could not cope with the needs of the whole population if a lockdown was carried out in tandem with the testing exercise.

The source said even though extra isolation facilities had been built, they might not be able to cope with the large number of cases identified.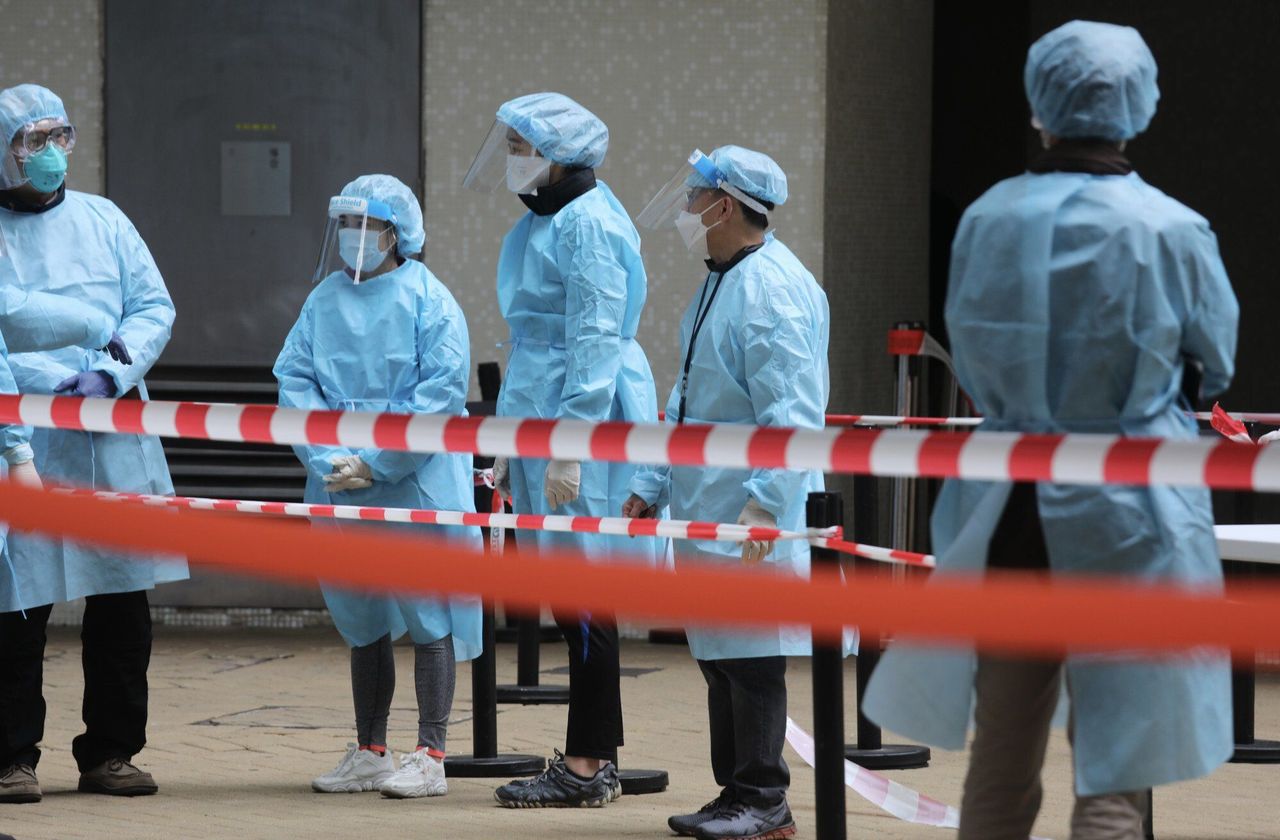 Medical workers in Tin Shui Wai during a lockdown after sewage samples there tested positive for Covid-19 in February. The city's community mobilisation power has been described as "weak".

Lam also hit out at the pro-establishment camp, after some lawmakers told the government to "just do the mass testing if it has the will".

"When we carry out any measures, the benefit has to be far greater than the cost," she said. "Those who are still calling on the government to do universal testing this morning should reflect on their own."

Top government adviser Professor Gabriel Leung had suggested last week the city could choose to stick to the dynamic zero-Covid policy after May when infections were expected to drop to below 100 a day and carry out universal testing to cut remaining transmission chains.

Agreeing with the suggestion, Professor David Hui Shu-cheong, another government adviser, believed a nine-day citywide lockdown was still important if the wave persisted and three- to four-digit infections were recorded per day.

"A nine-day testing exercise with stay-home orders should be carried out," he said. "It would be the best way to identify the remaining cases and could help end the wave."

But Professor Ivan Hung Fan-ngai, an infectious disease expert from the University of Hong Kong, said he believed the city had achieved herd immunity with high infection and vaccination rates, making universal testing no longer necessary.

He added that resources should still be spent on vaccination in the near future.

Executive councillor Ronny Tong Ka-wah said Lam made a wise decision to suspend the exercise.

"From day 1, calls for launching mass testing are just political slogans," he said. "Hong Kong's capabilities in implementing drastic pandemic-control measures, like mass testing, cannot compare with that of the mainland."

Despite Lam's criticisms, lawmaker Michael Tien Puk-sun said he believed mass screening was still an important prerequisite for resuming cross-border travel with the mainland, while New People's Party's lawmaker Dominic Lee Tsz-king said he was disappointed about the decision as the central government's support for the city was wasted.

Lawmaker Holden Chow Ho-ding, of the Democratic Alliance for the Betterment and Progress of Hong Kong, said the camp respected Lam's decision.