Four more hospitals, including Ruttonjee Hospital in Wan Chai, will also be transformed into designated coronavirus facilities.
A total of 9,000 beds at public hospitals will be dedicated to Covid-19 patients with severe symptoms, while the transformation of four more hospitals into designated coronavirus facilities will bring the total number of converted medical centres to seven, as Hong Kong battles a raging wave of infections.

The announcement was made after sources revealed on Tuesday that Queen Elizabeth Hospital would become the third facility taking in only Covid-19 patients, with North Lantau Hospital and Tin Shui Wai Hospital offering up 460 beds. The hospitals will also treat Covid-19 patients that fall in the high-risk category.

Patients' rights advocates questioned whether non-coronavirus patients would receive appropriate follow-ups after being transferred to other facilities, while health care workers had asked for clearer guidelines for those working in designated hospitals.

Chief Executive Carrie Lam Cheng Yuet-ngor said in a press briefing on Wednesday that around 9,000, or 50 per cent, of general inpatient beds at public hospitals would be dedicated to Covid-19 cases, without specifying when they would be ready.

Hospital Authority officials said four more facilities, including Ruttonjee Hospital in Wan Chai, Haven of Hope Hospital in Tseung Kwan O, Fung Yiu King Hospital in Pok Fu Lam and Kowloon Hospital in Kowloon City would be transformed into premises for Covid-19 patients after the conversion of Queen Elizabeth, adding that the roll-out of 9,000 beds would be completed in phases.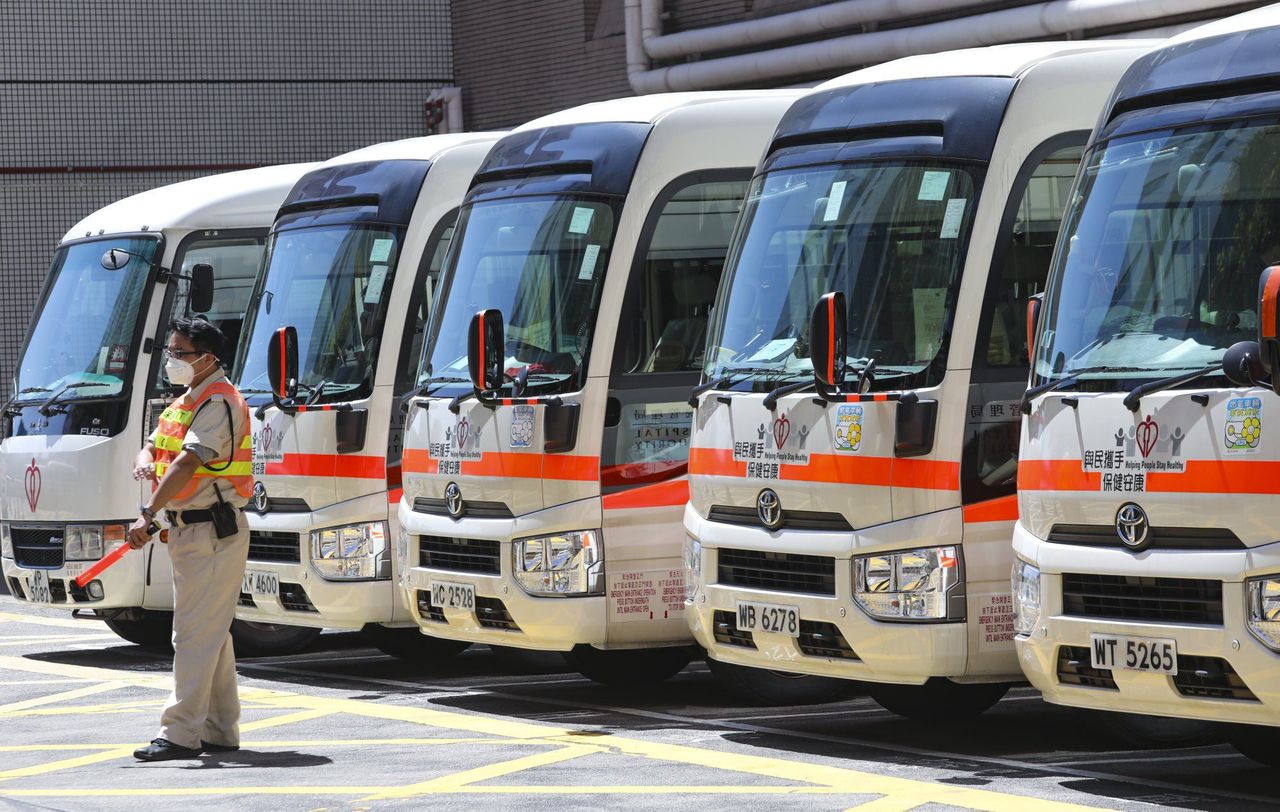 Medical workers will move non-Covid-19 patients at designated facilities to other public or private hospitals.

There are more than 8,800 coronavirus patients being treated in public hospitals, including 68 people who are in critical condition and 107 people with serious illness.

Lam conceded that the additional beds and a makeshift hospital in Lok Ma Chau would still not be enough to meet the needs of all patients.

Hospital Authority chief executive Tony Ko Pat-sing warned the number of patients affected during the fifth wave "far exceeded" what was seen during previous ones.

"We have an imminent need to increase our hospital capacity to take care of such patients," he said.

Queen Elizabeth Hospital, a leading medical facility located in Jordan, will dedicate 1,500 of its beds to Covid-19 patients when the conversion is complete by Sunday.

"We hope by bringing Covid-19 patients together, concentrating the expertise, the resources and the management of such patients, we will be able to provide better clinical outcomes for infected patients," he said.

Ko said about 380 patients admitted to Queen Elizabeth would be moved, including 250 who would be transferred to other hospitals, some of them private. The remaining 130 are expected to be discharged in a few days.

While there were roughly 2,000 beds at Queen Elizabeth, sources explained that not all of them would be used for Covid-19 patients, as a certain amount would be saved for non-coronavirus purposes, such as cancer treatments and emergency patients with life-threatening conditions. Outpatient care services would continue.

"It would be hard to transfer all patients, as it would depend on whether patients are fit for transfer and whether other hospitals are equipped to take in those patients," one of the sources said.

He added that it would be difficult to move patients in certain departments, such as organ transplant and neurosurgery.

There are a total of 43 public hospitals and institutions managed by the Hospital Authority and 13 private hospitals in Hong Kong.

According to an updated modelling projection by public health epidemiologists from the University of Hong Kong, the Covid-19 death rate in the city could be reduced by 25 per cent if the number of beds set aside for the cases reached 25,000.

Patients' rights advocate Tim Pang Hung-cheong said he understood the need for converting some hospitals into designated Covid-19 institutions based on the current pandemic situation. With the aim of converting the number of beds from the previous goal of 30 per cent to 50 per cent, he expected that an additional 4,000 to 5,000 non-Covid patients would be affected.

"Will hospitals taking in those patients be familiar with their conditions?" Pang said. While medical records could be accessed through a computer system commonly used by all public hospitals, Pang expressed concerns about whether such information could be transferred to private facilities.

He also questioned whether other hospitals had enough space to take in extra patients.

"[Other hospitals] were already quite stressed as they were taking care of their own Covid-19 patients. Are they capable of taking care of patients sent from [designated hospitals]?" he said.

Most designated hospitals, apart from Queen Elizabeth, were mainly rehabilitation hospitals, Pang said, adding that patients at these facilities often required longer stays. But given the limited amount of rehabilitation beds in the city, he was concerned if there would be enough space to accommodate those who needed extended care.

Alex Lam Chi-yau from Hong Kong Patients' Voices said given that other public facilities were already treating Covid-19 patients, instead of setting up designated hospitals, the government should make use of community isolation facilities, such as the newly built one in Tsing Yi, to provide medical care to coronavirus patients.

Dr Tony Ling Siu-chi, president of the Public Doctors' Association, said clearer Covid-19 treatment protocols and guidelines should be provided to health care workers who were not used to treating coronavirus patients, especially for those working at rehabilitation facilities.

"Nursing staff working there may be less familiar with acute illness," Ling said, adding that extra training should be provided. "Very clear protocols should also be laid out for doctors from other specialities on how to help," he said.

He added that many members of staff in Queen Elizabeth were left confused, claiming that they were notified of the conversion plan at the very last minute.