Design school student Lee Ka-hei, 20, was the first person at university campus during siege to be found guilty of rioting.
A judge has decided against jail time for a student convicted of rioting after she stayed at a Hong Kong university to show her support for anti-government protesters demonstrating nearby during the 2019 social unrest after the court accepted she was remorseful and had no plans to attack police.

Hong Kong Design Institute student Lee Ka-hei, 20, was sentenced at the District Court on Friday to three years' detention at a training centre after she pleaded guilty to two counts of rioting in connection with the fierce stand-off near Polytechnic University in Hung Hom on November 17 and 18 that year.

Lee, who was 18 at the time of the offence, was one of more than 1,200 people arrested in the area during a police siege of the campus that came at the height of the anti-government protests.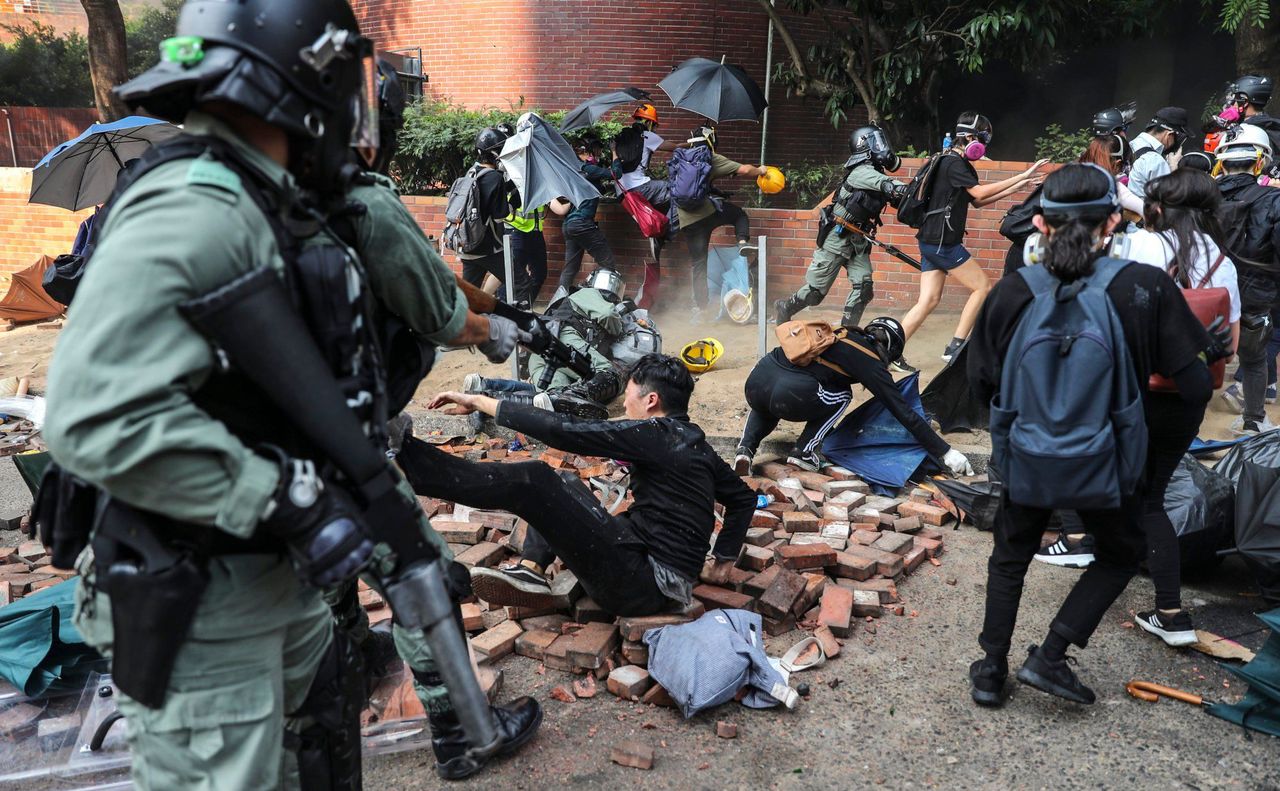 The Polytechnic University siege in 2019.

While dozens of demonstrators have been convicted of rioting within the university's vicinity, Lee was the first to be found guilty of the offence for being inside the institution.

The battle at PolyU followed a week of street violence, chaos and traffic disruption across Hong Kong, with thousands of protesters demanding accountability for what they said was an excessive use of force by police during the unrest.

A prosecution case summary said protesters occupied PolyU in an organised manner, with some barricading the university's entrances and disabling its surveillance camera system, while others paralysed traffic outside the campus and attacked police with petrol bombs, bows and arrows, and other hard projectiles.

The court heard that those trapped inside the university had aided and abetted the violence outside by keeping an abundant supply of Molotov cocktails, handmade weapons and protective equipment.

Lee and 16 others attempted to escape the campus at 8am on November 18 via its main entrance on Cheong Wan Road, but were scooped up by police outside the nearby Hong Kong Science Museum less than 10 minutes later.

The 20-year-old wrote in a mitigation letter she had gone to the scene to provide company to "distressed and desperate" protesters as she believed her presence could help "heal their wounds".

A probation officer suggested sending Lee to a training centre operated by correctional services rather than prison due to her low level of involvement and a lack of evidence she had done anything violent.

Judge Stanley Chan Kwong-chi accepted the recommendation, saying Lee became unfortunately embroiled in a "political storm" under the influence of media.

"I believe the defendant would be sadder but wiser, learning to obey the law, acquiring the ability to analyse so as not to be swayed by others, and would no longer be pushed to the front line by fanatics as cannon fodder in political storms over and over again," Chan said.

"I believe the defendant is remorseful, and in the present political context, she can calmly observe how ugly politics is."

The judge also urged authorities to consider making riot-related offences an exemption to a legal provision that spares young offenders jail time, saying it could maximise the court's discretion in passing sentences.

Also at the District Court, nine people each received 3½ years in jail for rioting near government headquarters in Admiralty on September 29, 2019, with two others sentenced to detention in a training centre.

The seven men and four women, aged 19 to 29, were among 96 people facing rioting charges over the incident stemming from an unauthorised rally against "autocracy" on Hong Kong Island.

Judge Frankie Yiu Fun-che said the 11 defendants could be given lighter sentences due to their relatively minor roles in the riot, good backgrounds and mental stress they endured in the criminal proceedings that lasted nearly three years.