Lego Chan, 28, sentenced a day after pleading guilty to three charges arising from the disturbance in Yuen Long two years ago, with judge saying defendant's actions were 'guided by a thug's mentality'.
A decoration worker has been jailed for nearly five years for his role in the assaults of two passers-by after an unlawful assembly at a Hong Kong shopping centre in 2019.

Lego Chan Lai-to was sentenced at the District Court on Friday, one day after he pleaded guilty to three charges arising from the disturbance in Yuen Long that started on September 21, 2019.

The overnight chaos occurred two months after an indiscriminate attack on commuters and protesters by white-clad men at the local MTR station.

The defendant, 28, pleaded guilty on Thursday to the three charges, which consisted of rioting, taking part in an unlawful assembly, and wounding with intent.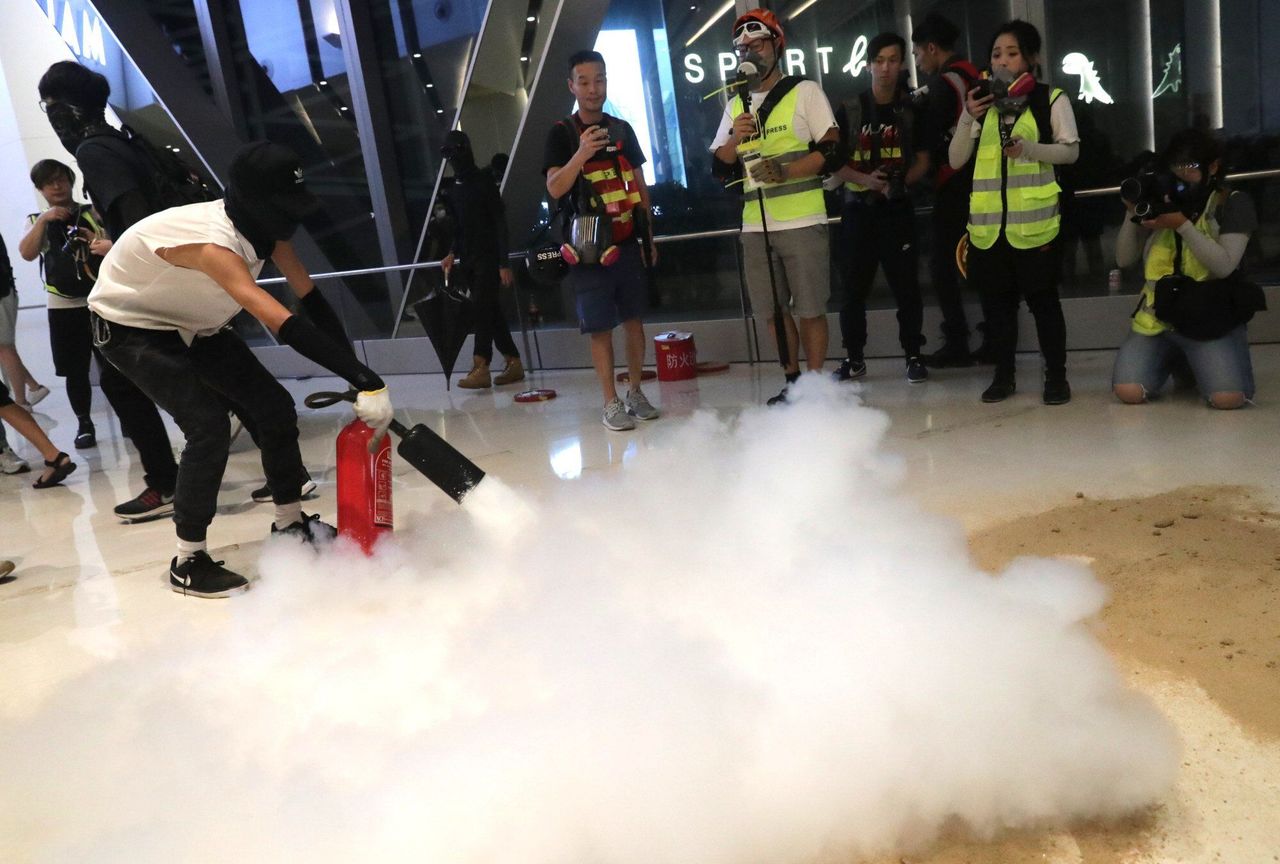 Protesters cause damage at the Yoho Mall in Yuen Long on September 21, 2019.

Chan admitted he had joined an unlawful assembly at Yoho Mall that night, before he enabled the assault of a 52-year-old man in the town centre and took part in the attack on another 38-year-old man himself.

Judge Ernest Michael Lin Kam-hung slammed Chan's riotous behaviour, saying he had taken advantage of the number of protesters to bully the weak and vulnerable.

"The defendant's actions were totally guided by a thug's mentality, believing he could injure anyone as he wished as he had subscribed to a noble cause," Lin said.

Chan, who had six previous convictions, was among at least 30 black-clad demonstrators who sang protest songs and chanted slogans after most of the stores at the shopping centre were forced to close at 9pm. He sprayed paint on eight security cameras at a cafe and built a roadblock outside Yuen Long MTR station with items stolen from the outlet.

The decoration worker then followed several others onto Hong King Street, where 52-year-old Li Tak-chung was attacked over claims he had torn down messages supportive of the anti-government protests that year from a wall.

When Li boarded a taxi in an attempt to flee, Chan and another unknown assailant pulled him out of the vehicle and enabled the subsequent assault on Li. Chan also went after 38-year-old Cheung Kwun-hung after the latter filmed the attack and called the protesters "cockroaches".

Explaining his motives in the witness box, Chan said he had prevented Li from leaving because he feared protesters would hurt the taxi driver if the car tried to steer its way through the gathering crowd.

Chan said he had kicked Cheung out of anger after seeing the latter punch one of his fellow protesters.

But Lin dismissed those claims as illogical and incredible, saying they were contrary to the prosecution's case and Chan's confession to police. He also found no evidence to support the defence's contention that the 28-year-old was influenced by mental illness when he committed the offences.

The judge started with a sentence of six years' imprisonment before shaving one-fifth of the term off to reflect Chan's guilty plea, for a total of 57 months.

Two other co-defendants, 38-year-old transport worker Cheung Yu-tai and 19-year-old student Law Hiu-fung, were sentenced to 40 months in jail and six months' detention, respectively, for their involvement in the same incident.

Rioting is punishable by 10 years in prison, but capped at seven years when the case is tried at the District Court.