The former district councillor previously shared a post on Facebook suggesting that the force had 'murdered' the student.
Former district councillor Lester Shum has apologised to the court for calling on others to take revenge against Hong Kong police for the death of a university student near the site of a clearance operation during the social unrest in 2019.

Through his defence counsel Albert Wong, Shum admitted to civil contempt of court on Friday, and also apologised for publishing a Facebook post which suggested the force had "murdered" Chow Tsz-lok, a 22-year-old student who died after falling off a car park in Tseung Kwan O in November 2019.

Shum, a student leader in the Occupy Central movement in 2014, shared the post on Facebook on May 8 last year, which was then republished on online news outlet, InMedia, the next day.

His admission came less than a week after the High Court handed down its first sentence for the violation of the same court order.

Both cases stem from an injunction barring the online promotion, encouragement or incitement of violence intended or likely to cause unlawful personal injury or property damage within Hong Kong.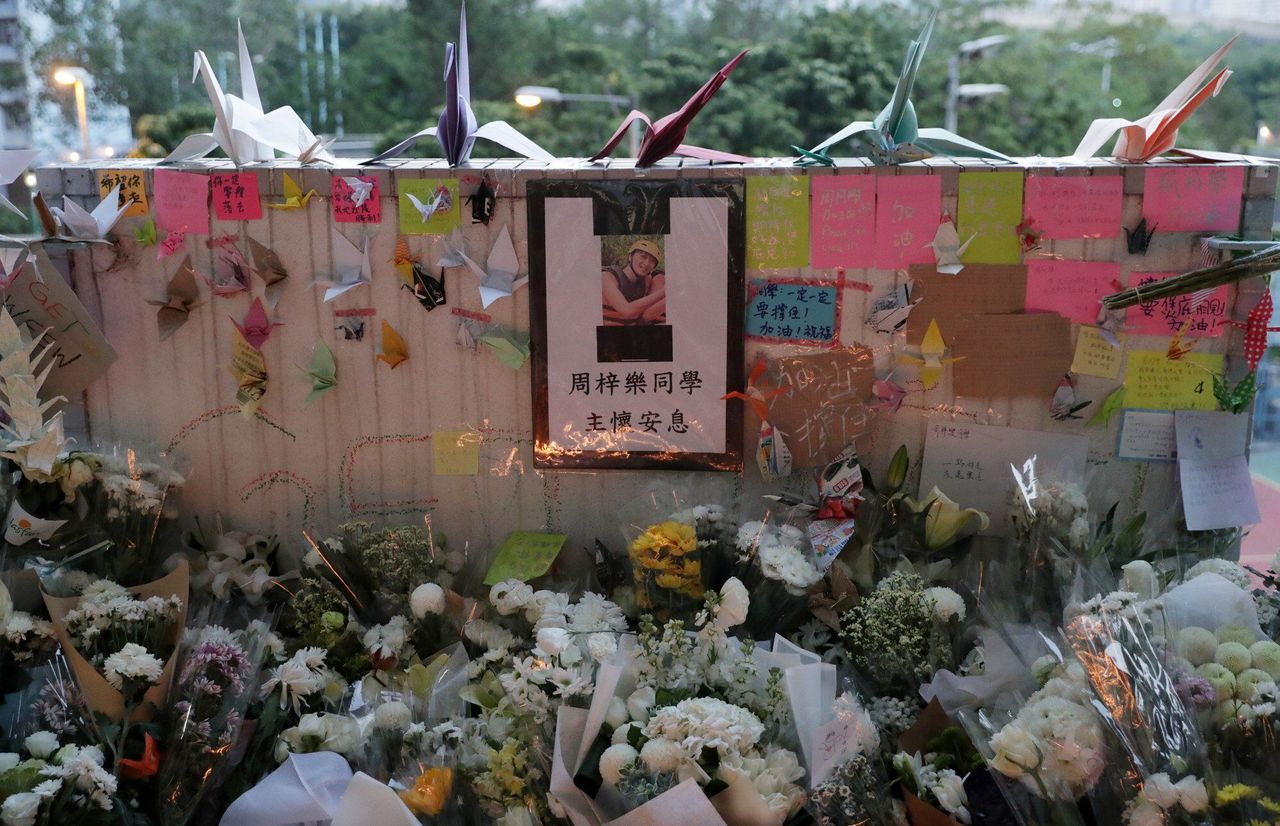 Well-wishers at the car park in Tseung Kwan O where Chow Tsz-lok fell in 2019.

The injunction was issued by the same court on October 31, 2019 as the social unrest entered its fifth month, when tensions between police and protesters continued to escalate.

On Tuesday, personal trainer Edward Sung Ho-tak, 35, was sentenced to 21 days in prison, suspended for 12 months, over two Facebook posts encouraging the killing of police officers in November 2019.

Wong said Shum regretted his past behaviour, as he did not support or encourage the use of violence.

On March 31, Mr Justice Russell Coleman will hear further mitigation and sentence Shum, who is currently remanded over a national security law case for his alleged role in an unofficial Legislative Council primary election in 2020.

Also on Friday, two men and a woman faced incitement charges over social media posts that reportedly called for attacks on police officers after a 50-year-old man stabbed a constable in the back before fatally plunging the knife into his own chest on July 1 last year.

Eastern Court heard the posts were published the following day.

Chiu Ho-nam, 34, who is unemployed, and IT technician Lai Chit, 36, were each charged with one count of incitement to wound with intent, while student Yip Sin-man, 20, was charged with incitement to cause grievous bodily harm with intent.

None of them were required to enter a plea.

Principal Magistrate Ada Yim Shun-yee adjourned the case until February 21, for prosecutors to prepare the papers needed for transferring the case to the higher District Court, where sentences go up to seven years.

All three defendants were released on cash bail of HK$10,000 (US$1,284) each, on the condition that they remain in Hong Kong, surrender their travel documents and report to police once a week.