Decoration worker pleads guilty to three charges related to an unlawful assembly in Yuen Long on September 21, 2019.
A decoration worker who took part in the assaults of two passers-by after an unlawful assembly at a shopping centre in 2019 was influenced by mental illness, his lawyer said, after he pleaded guilty to three charges at a Hong Kong court on Thursday.

Lego Chan Lai-to, 28, was found guilty at the District Court in relation to the disturbance in Yuen Long on September 21, 2019, five months after he was last released from jail. He had six previous convictions for deception.

The defendant pleaded guilty to the three charges, which consisted of rioting, taking part in an unlawful assembly, and wounding with intent.

The overnight chaos began at a demonstration where protesters expressed their anger over an indiscriminate attack on commuters and protesters by white-clad men at the local MTR station two months earlier.

The court heard protesters assembled at Yoho Mall at 9pm, with many dressed in black and wearing helmets and masks, before heading towards the town centre.

Chan caused about HK$7,000 (US$898) worth of damage after he defaced eight security cameras at an Oliver's Super Sandwich outlet. He also helped build a roadblock outside Yuen Long MTR station with items stolen from the restaurant.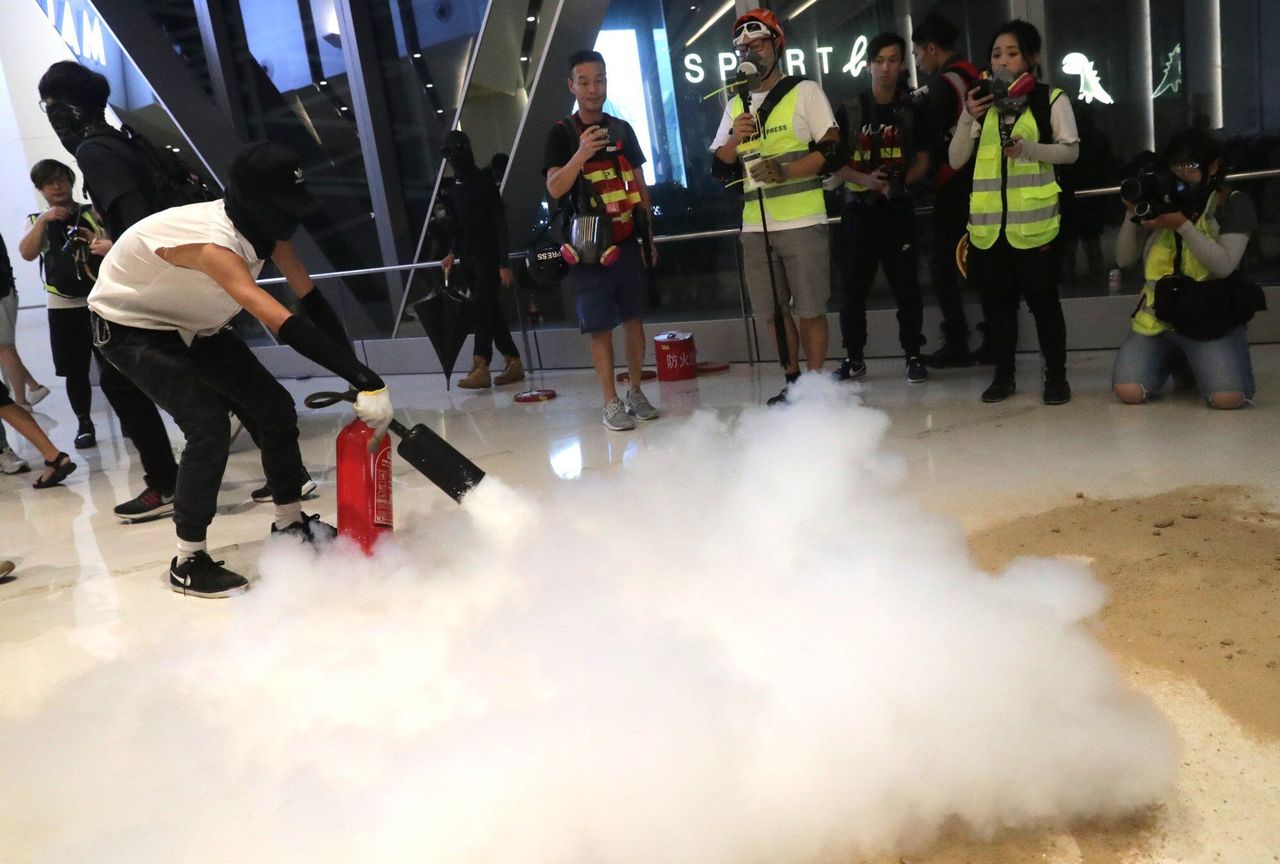 Anti-government protesters cause damage at the Yoho Mall in September 2019.

The decoration worker then followed other protesters onto Hong King Street, where 52-year-old Li Tak-chung was attacked over claims he had torn down posters from a Lennon Wall – a public display of messages supportive of the 2019 social unrest.

When Li boarded a taxi in an attempt to flee, Chan and another unknown assailant pulled him out of the vehicle, enabling the subsequent assault and destruction of his HK$2,500 smartphone by their accomplices.

Chan was among protesters who also pursued a white-shirted man, 38-year-old Cheung Kwun-hung, who engaged in an altercation with the group, filmed Li's attack and called them "cockroaches".

Chan kicked the man four times after Cheung tripped and fell down, before several others knocked him out with metal poles.

Li and Cheung were both hospitalised afterwards, where they received seven and 16 stitches on their heads, respectively.

In mitigation, defence counsel Candy Fong E-fong cited a psychiatric report that said Chan's actions were influenced by his attention deficit hyperactivity disorder, leading to his impulsive decision-making and limited control over his emotions.

"There was no premeditation whatsoever. He believed he was serving justice, so he did something not permitted by law," Fong said.

Explaining his motives to Judge Ernest Michael Lin Kam-hung, Chan said he had prevented Li's departure because he feared protesters would hurt the taxi driver if the car tried to steer its way through the gathering crowd.

He added that he had kicked Cheung out of anger after seeing the 38-year-old punch one of his fellow protesters.

Evidence for Chan's mitigation process will continue on Friday.

Two other co-defendants, 38-year-old transport worker Cheung Yu-tai and 19-year-old student Law Hiu-fung, both pleaded guilty last year to their involvement in the same incident. A separate judge sentenced Cheung to jail for 40 months and Law to six months' detention.