With mainstream opposition parties shunning the poll, centrists hoped they could offer voters an alternative, but the election ended in a near-total rout of non-establishment candidates.
Independent candidate Jason Poon Cheuk-hung kept his cool during Sunday's Legislative Council election, even as his pro-establishment rivals in the Hong Kong East geographical constituency issued desperate "emergency appeals" for voters to cast their ballots.

All signs indicated that Hong Kong's opposition-leaning voters were likely to give the polls a miss after Beijing's "patriots-only" overhaul of the electoral system effectively shut out the candidates they might have backed. But even as late as last Tuesday, Poon, 51, told a Chinese-language newspaper in a pre-election interview that he thought he still stood a chance to win.

Reality hit home early Monday morning, when results were unveiled showing Poon had finished last among four candidates, with only 14,435 votes.

The constituency's two seats went to the biggest winner, Stanley Ng Chau-pei, 51, from the pro-establishment Federation of Trade Unions, who scored 64,506 votes, and runner-up Edward Leung-hei, 36, from the Democratic Alliance for the Betterment and Progress of Hong Kong, with 26,799.

Poon was not even close to overtaking third-placed Marcus Liu Tin-shing, 38, who secured 23,171 votes.

But his defeat was not the worst among the 11 centrist and moderate candidates running in the geographical constituencies in a bid to offer voters some choice in an election shunned by the city's main opposition parties.

That unfortunate achievement went to Jeffrey Chan Chun-hung, 44, of the Path of Democracy, who managed only 2,999 votes in Kowloon East.

Altogether, the non-establishment candidates running in the 10 geographical constituencies bagged a total of just 87,540 votes, or 6.48 per cent of all valid ballots, well below the more than 50 per cent of valid votes that went to opposition candidates in 2016.

Only one centrist, Tik Chi-yuen, 63, of the Third Side party, managed to pick up a Legco seat, but it was in the functional constituency devoted to the social welfare sector, historically an opposition stronghold.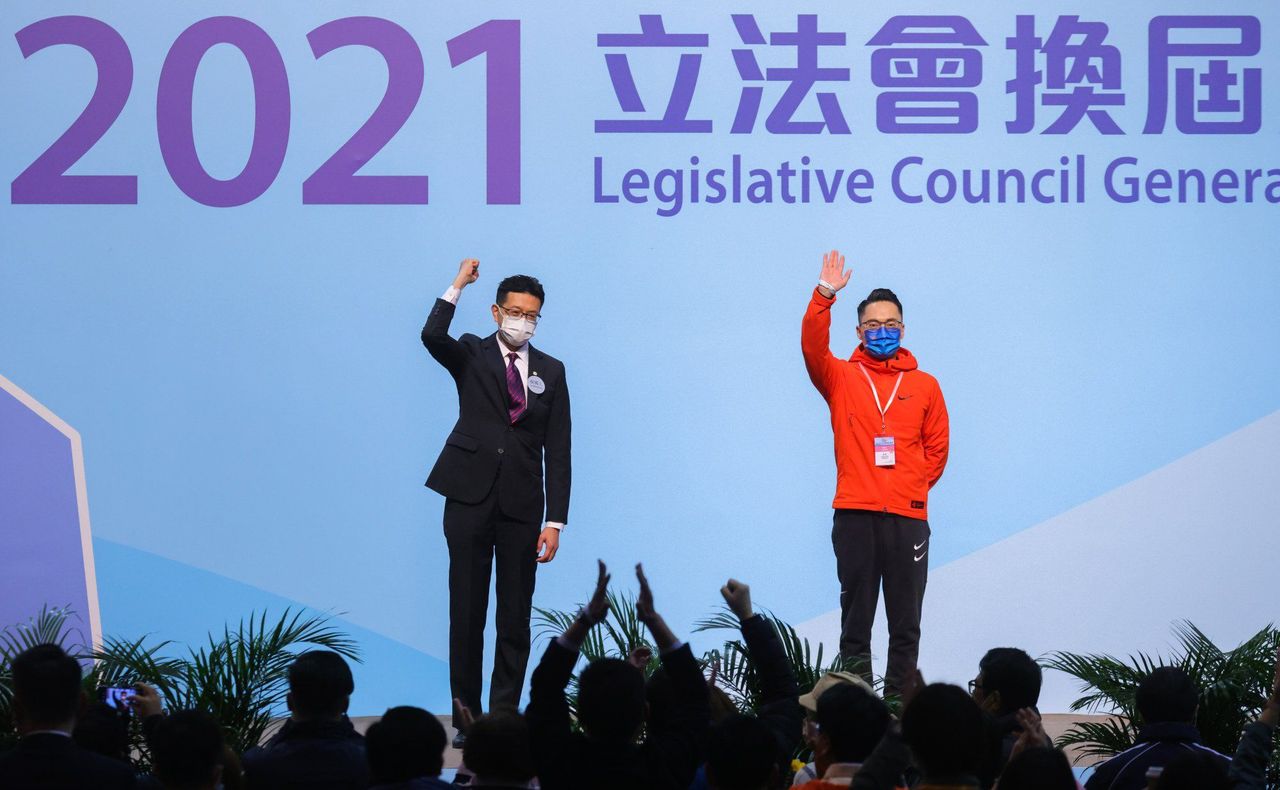 Ng Chau-pei (left) and Edward Leung defeated Jason Poon in the Hong Kong Island East constituency.

Poon, an engineer who ran on his record as the whistle-blower who exposed a railway scandal in 2018, offered a warning in his concession speech as to what the new Legco might be like without any checks on pro-establishment lawmakers.

"Soon Hongkongers will find out that when they win it all, they can do everything from increasing electricity prices to [pushing through] legislation for Article 23," he said, referring to a security bill Hong Kong is obliged to enact according to the Basic Law, the city's mini-constitution. "They may even raise taxes next year."

Like some others who lost, Poon attributed his defeat to the record low turnout – just 30.2 per cent – but also blamed Hong Kong's government.

He said although Beijing had made it clear that it wanted diversity in the next Legco, the government failed to explain to Hongkongers that "they shouldn't be too negative towards the election".

Poon may have lost his bid to be a lawmaker, but said he would remain a critic of the government through an internet show he hosted.

Worst performer Jeffrey Chan, whose middle-of-the-road Path of Democracy fielded five losing candidates this year, said his cohort lacked resources and had failed to manage their time properly in the run-up to the polls.

"It is going to be more difficult for us in future because under this political landscape, the big parties are only going to get bigger. But for a tiny think tank like ours, our room to thrive will only shrink," he said.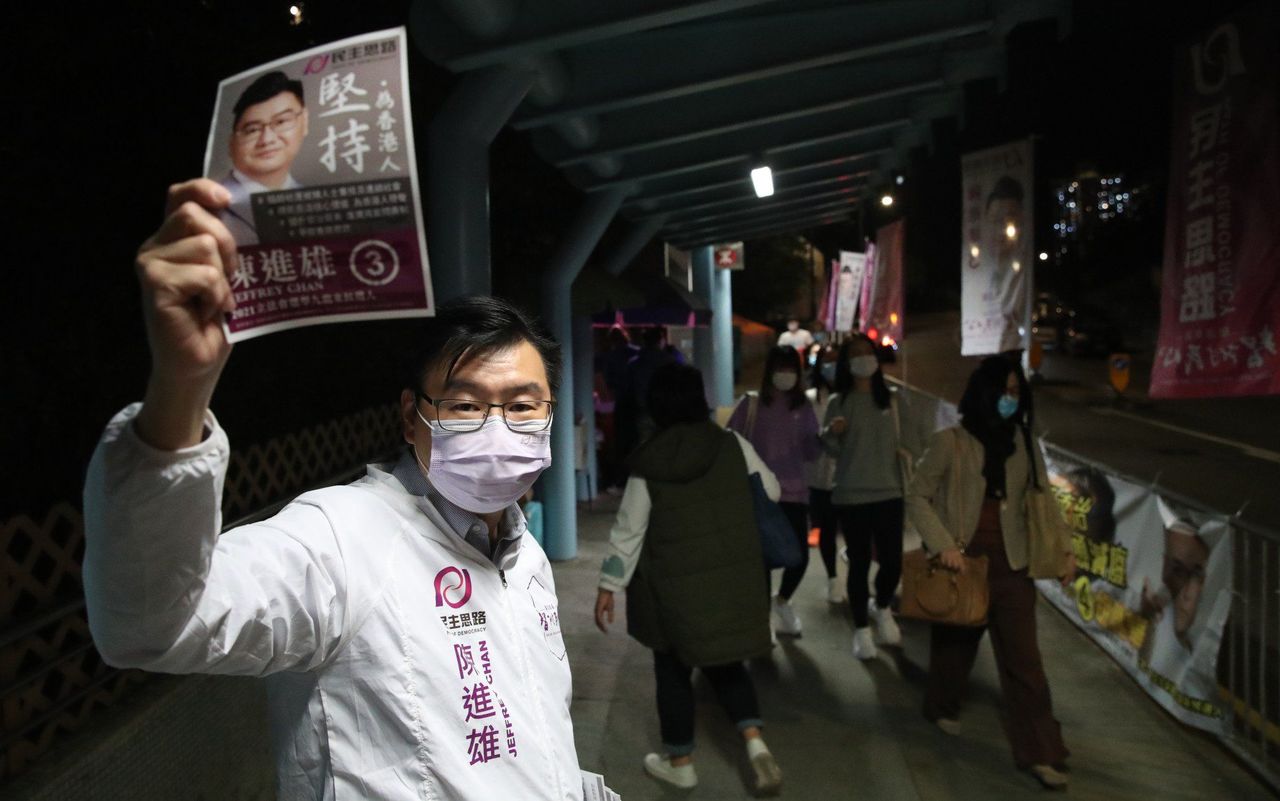 Jeffrey Chan of the centrist Path of Democracy was the worst performing non-establishment candidate this year.

Chan said it was too early to say if the group would take part again in future elections, but it would work at establishing a stronger community network over the coming years.

The top-performing moderate this year was former lawmaker Frederick Fung Kin-kee, 68, also the ex-chairman of the pan-democratic Association for Democracy and People's Livelihood.

He obtained 15,961 votes in Kowloon West, but still lost, coming in last out of three candidates.

A disappointed Fung blamed the low voter turnout for the wipeout, and said the outcome had dealt a blow to Hong Kong, which had previously been known for the diversity of its legislature.