The Correctional Services Department announced on Friday that nobody in custody would be able to attend court hearings until the end of the month to undergo screenings.
Lawyers have expressed concern over disrupted schedules and an inability to take instructions from clients after all of Hong Kong's 23 prisons and correctional institutions were placed under lockdown to conduct rapid Covid-19 tests on more than 7,000 inmates and detainees.

The Correctional Services Department announced on Friday that nobody in custody would be able to attend court hearings until the end of the month to undergo screenings. A department spokesman said 43 employees and 20 detainees had been diagnosed with Covid-19 as of Thursday.

The ad hoc measure has forced judges to postpone proceedings and left lawyers in a bind, with some having trouble finding time for the rearranged sittings and others complaining about being barred from visiting clients.

Former opposition legislator Lee Cheuk-yan, who is serving time over his role in a number of unauthorised assemblies, initially expected a court verdict over a 2021 New Year's Day protest, at which he was accused of illegally flying a balloon and obstructing a police officer near the Legislative Council.

But Eastern Court on Friday heard the 65-year-old could not attend because he needed to undergo testing.

Lee's counsel Chris Ng Chung-luen said he had difficulty finding an alternative date to receive the ruling, as he needed to represent another client at a District Court riot trial starting on February 28.

He said it was difficult to seek indulgence in that trial as it involved numerous defendants and a large number of lawyers.

Magistrate Jacky Ip Kai-leung also noted that it would be unfair for the accused if the hearing was delayed for too long. He set the next hearing for mid-March and told the lawyer to seek permission for a temporary absence from the higher court.

Some suspects awaiting trial behind bars were unable to apply for bail before the court, including veteran activist Koo Sze-yiu, who is facing charges under a colonial-era sedition law.

Koo, 75, had been expected to appear in West Kowloon Court on February 11 to renew his bail application after his initial bid was dismissed six days earlier, but he was forced to remain in Lai Chi Kok Reception Centre due to a coronavirus outbreak there.

The bail hearing was postponed for a second time on Friday until February 25, with a third adjournment anticipated.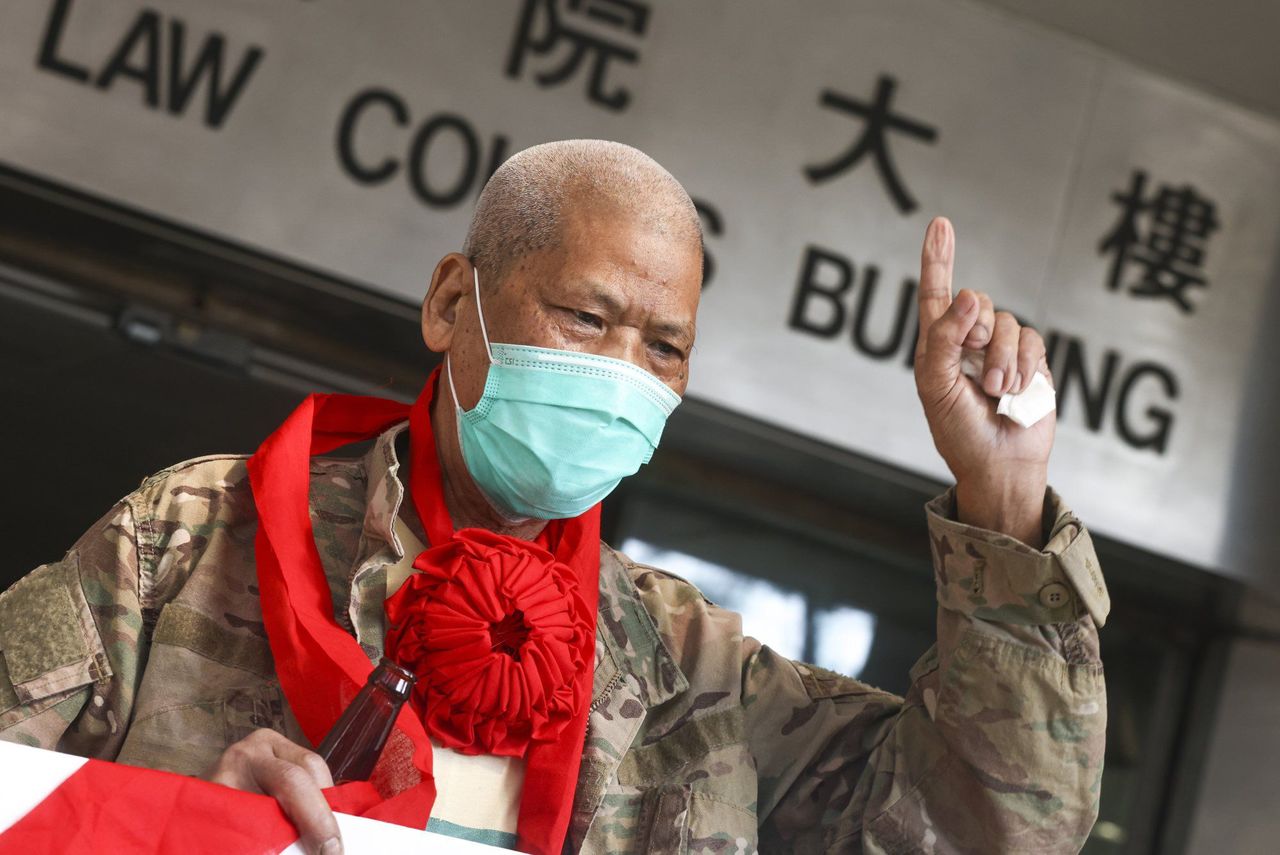 Koo Sze-yiu's bail hearing was postponed for a second time.

Lawyer Ng Gene-bond, who is acting for some defendants in a number of cases stemming from the 2019 anti-government protests, estimated that about 10 cases involving his firm had been affected by the department's measure.

Ng said he and his colleagues had been unable to reach their clients behind bars as the department had temporarily suspended official visits by lawyers.

"If the Correctional Services Department doesn't take the inmates to court, the court should adjourn the cases to save time for all parties. Further, the CSD should not stop legal visit arrangements because we can't take instructions from our clients," he said.

Another solicitor, Jonathan Man Ho-ching, said the CSD's measure had left many of his cases surrounded by uncertainty.

"For instance, you need instructions as to whether some matters can be settled by the court in your client's absence. Even if the court decides to postpone the case, there may be correspondence and exchange of documents between parties, which also require you to consult your client," he said.

Human rights lawyer Mark Daly said the latest arrangement affected almost all of his cases, many of which involved asylum seekers on remand. He suggested the court and CSD arrange remote hearings and meetings if circumstances permitted.

Some high-profile national security cases were also affected, including those involving the now-disbanded Hong Kong Alliance in Support of Patriotic Democratic Movements of China, the now-defunct Apple Daily newspaper and the Stand News portal.

Also affected was the case of opposition activist Tam Tak-chi, the first person to stand trial for sedition offences since the city's handover to China in 1997.

The judiciary said it would postpone new trials and inquests involving jurors until the end of March, while other hearings would continue unless the courts instructed otherwise.

Three people who tested positive for Covid-19 and 21 others found to be preliminary-positive had been on court premises since February 4, with 11 buildings involved.

A spokesman said it would take appropriate steps to ensure the courts could "continue to carry on business as safely as circumstances permit".