'Unprecedented' incidents could endanger national security, and show the need to stop some inmates from exerting influence over others, Commissioner of Correctional Services Woo Ying-ming says.
Some Hong Kong inmates held for offences related to the national security law and the 2019 protests are exercising "unprecedented influence" in the city's prisons, leading to round-the-clock monitoring usually reserved for high-profile criminals such as triad leaders, the city's prisons chief has said.

In a recent interview with the Post, Commissioner of Correctional Services Woo Ying-ming accused the prisoners of establishing links with outside groups to create a new rebellion behind bars and of spreading hatred of the central and Hong Kong governments.

Some in the group, he said, had behaved in ways not before seen in Hong Kong's prisons, describing how one former opposition district councillor who returned to a particular detention centre was given a hero's welcome.

Such displays had to stop, he continued, or those in prison could well end up endangering national security.

"It is not just about nipping it in the bud, but curbing them from sowing the seeds. Prisons are no places for them to cultivate their ideology," Woo said.

Woo argued that prisons had a key role in safeguarding national security, saying inmates could not be allowed to treat them as fertile ground for radicalisation and recruitment the way some foreign terrorist groups had.

Since the anti-government unrest of 2019 and the introduction of the Beijing-imposed national security law in June last year, about 900 individuals, including media tycoon Jimmy Lai Chee-ying and opposition leaders, have been jailed or held in remand. About 400 were still in correctional institutions as of this month.

Woo said these inmates were dispersed across the city's detention centres to prevent them being in contact with one another.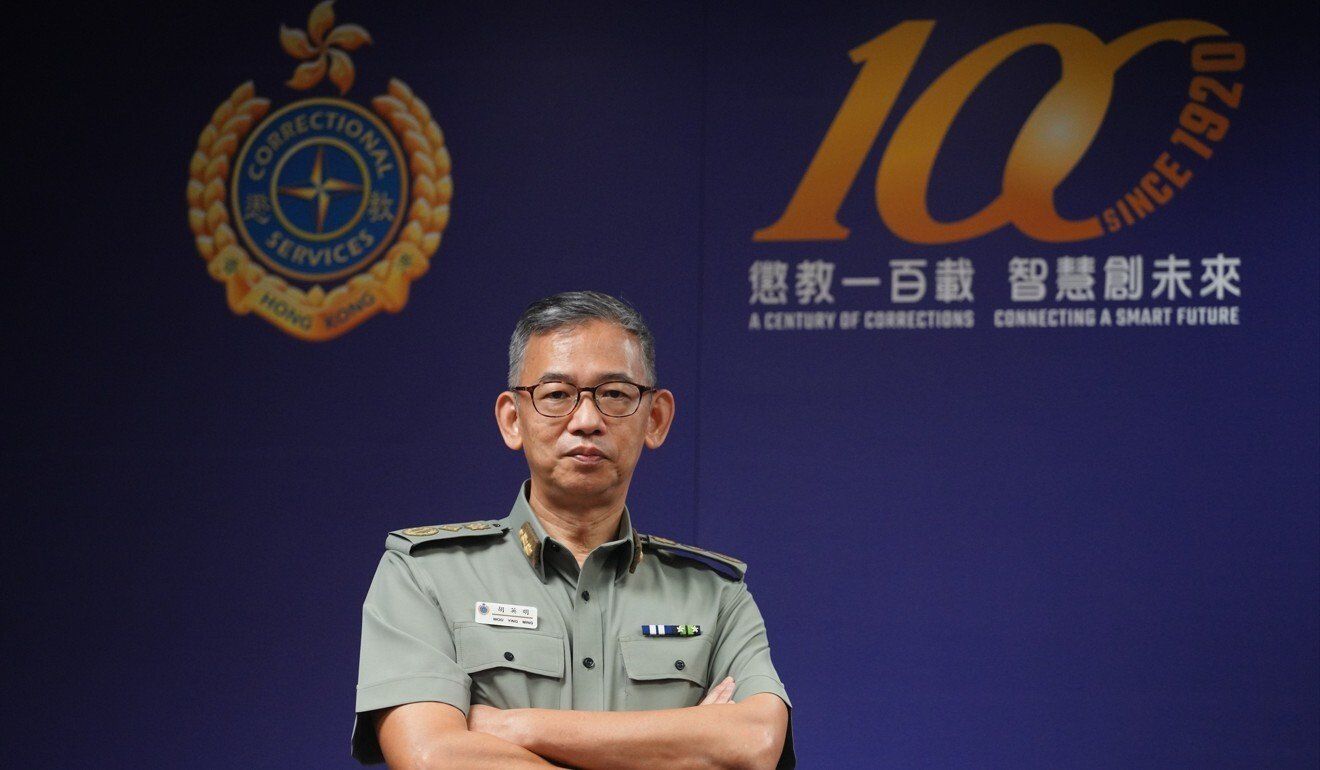 Commissioner of Correctional Services Woo Ying-ming.

Noting that they could still cause problems and influence others, the department has classified some as "concerned persons in custody", a designation also applied to prominent figures and crime bosses, meaning prison guards have to produce daily reports on each of them.

"They are closely monitored. Our intelligence networks cover all these influential figures 24/7," Woo said.

The prisons chief referred to an incident on September 2, when former Southern district councillor Tiffany Yuen Ka-wai, who is being detained in Lo Wu Correctional Institution pending trial on a national security law charge, was disciplined along with five others found with prohibited items such as hair clips and stationery.

An elite squad of correctional officers had to be called to the scene to defuse a confrontation between guards and 18 inmates angry over Yuen's punishment.

Woo said contraband items might seem like a trivial matter, but they could be used to buy friendship in prison, adding that if the authorities had failed to act, 18 angry inmates could grow to 180 the next time.

He said the incident also illustrated the strong support Yuen had within the prison, something the guards had noticed too, adding it was not the first time she was involved in a scene.

In May this year, Yuen was locked up at another correctional facility after being jailed for four months over an unauthorised Tiananmen Square vigil last year.

Woo recalled that when she was brought back to Lo Wu last month after completing her jail term, about five other inmates hugged her and held up handmade signs in their cells to welcome her back.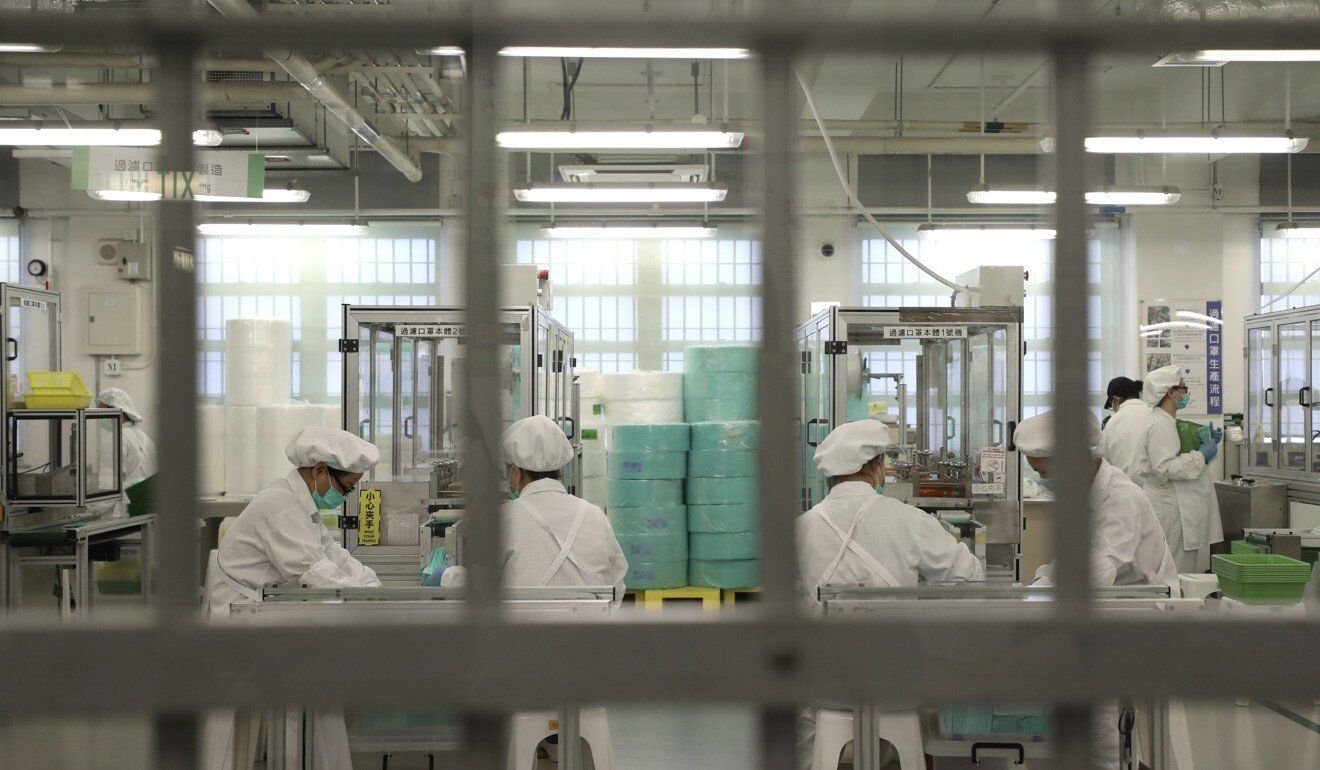 Inmates at Lo Wu Correctional Institution work to make face masks last year.

The display was more than a merely friendly gesture, Woo maintained, saying it showed that other inmates were already influenced by Yuen and followed her "subliminally".

"It was unprecedented. This is how groups begin, like terrorist groups recruiting followers. They help you play tricks in prisons and follow you upon release," he said.

"Like triads, they don't promote the ideology in the beginning. The triads recruit people and take care of them. Then they gradually teach these followers how a triad is run and start spreading the ideology. It is subliminal."

Woo also touched on what he characterised as "insanely frequent" prison visits by religious figures and opposition district council members before the Covid-19 pandemic struck last year.

The recorded number of visits has jumped nearly fivefold, from 415 in all of 2019 to 1,897 in the first seven months of last year. The number plunged to just 88 in the next four months after Woo suspended all non-emergency official visits because of the pandemic.

District council members complained that the restrictions prevented them from performing their duty and deprived those in custody of the right to seek assistance, but Woo accused the visitors of encouraging inmates to continue fighting for their cause behind bars.

He maintained some had told the prisoners not to worry about jobs after their release, as they could find employment in the "yellow economic circle" of businesses that supported the 2019 protests, or even as district councillors' assistants earning up to HK$30,000 a month.

They also promised to help inmates lodge complaints and draw media attention to their living conditions behind bars, he said.

"They turned these inmates into a special or privileged group who were protected under their umbrella. As a result, some prisoners intimidated our staff," Woo said.

"People in jail are hierarchical. They follow whoever has power. That's how the vicious circle begins, and I won't let it happen."

He said his department was prepared to face smear campaigns and doxxing attacks on officers.

But early intervention was necessary, he cautioned, or those in custody could provoke hatred, incite others to strike and possibly even riot.