Chief Executive John Lee calls for change to avoid overreliance on public hospitals, and to shift treatment-oriented approach to focus on community prevention.
Hong Kong's elderly will get an extra HK$500 (US$64) in medical vouchers if they spend more on primary care services, the city's leader has announced in his maiden policy address, as part of a major healthcare reform aimed at reducing the burden on public hospitals.

With the establishment of a new statutory authority to spearhead primary healthcare developments, as well as a partially government-funded screening and treatment programme for patients with chronic diseases taking centre stage in the annual policy set piece, health experts said they believed the shift represented a "step in the right direction", but warned the devil could be in the details.

"Our present healthcare system relies more on treatment than prevention," Chief Executive John Lee Ka-chiu said at the Legislative Council on Wednesday. "With an ageing population and increasing prevalence of chronic diseases … coupled with the impact of the Covid-19 epidemic, the dire consequences of overreliance on public hospitals over the years have become more evident. We need to change.

"Our aim is to shift the emphasis of the healthcare system from its current treatment-oriented, hospital-based structure to a prevention-focused, community-based system, by investing additional resources to promote primary healthcare," he said.

As previously revealed by the Post, the government planned to establish a Primary Healthcare Authority under the Health Bureau by 2024, armed with new powers to coordinate existing services across the Department of Health and the Hospital Authority as well as the private sector.

As part of further reforms in primary care, a new Strategic Purchasing Office will make key decisions on private services to be procured for the public.

Another key plank of the policy is a three-year Chronic Disease Co-Care Pilot Scheme, under which district health centres will enrol residents and refer those deemed to be at high risk of hypertension and diabetes for screening and treatment by family doctors. Half of the cost will be borne by the government, with an unspecified cap due to be announced later.

A pilot scheme that will also last for three years is the plan to increase the existing elderly medical vouchers worth HK$2,000 to HK$2,500, if users spend their first tranche of HK$1,000 on designated primary care services such as disease prevention and health management. A source said these would not include consultations on ordinary diseases such as the common cold or getting a new pair of glasses.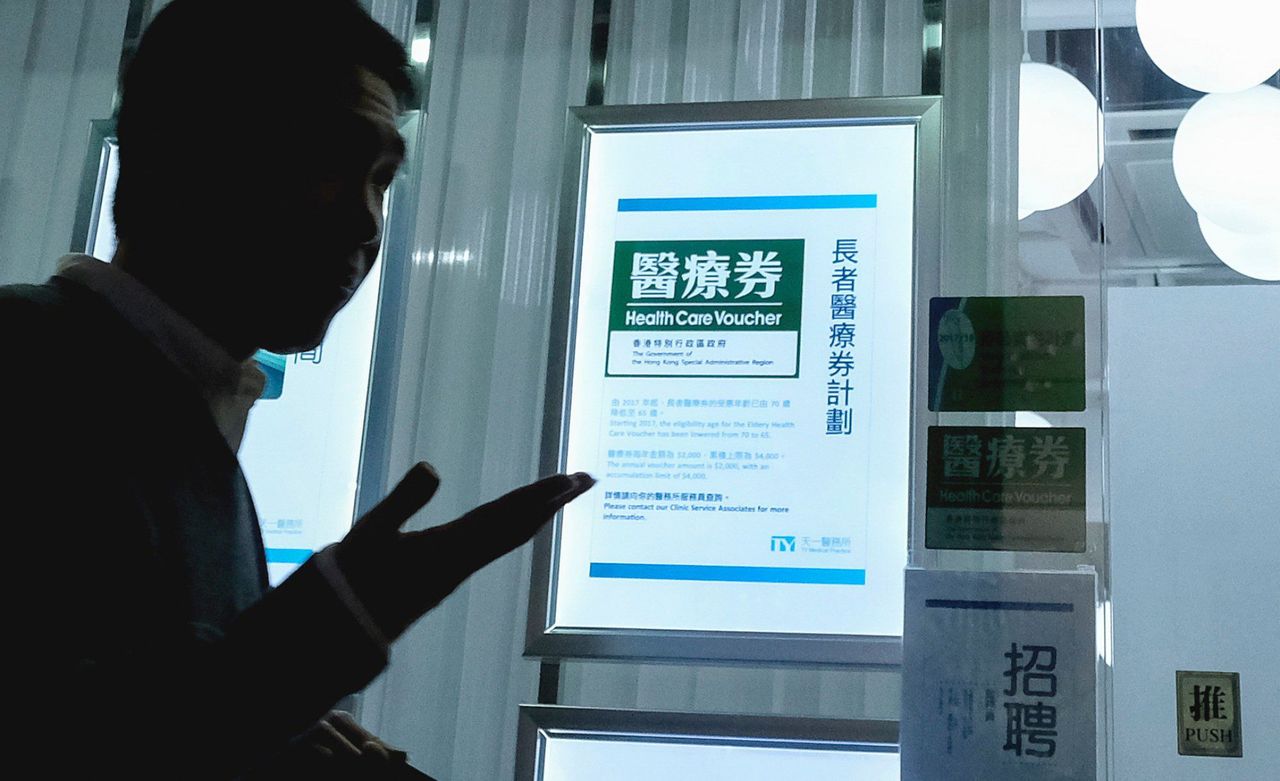 The voucher scheme being displayed on a screen at a medical outlet in Causeway Bay.

The government also plans to enable greater flexibility in the system by allowing shared use of the vouchers between spouses, with services extended to those provided by audiologists, dietitians, clinical psychologists and speech therapists.

These reforms were needed as the number of people over 65 years of age was projected to hit 2.5 million, or 31 per cent of the overall population by 2039, while those suffering from chronic illnesses would rise from some 2.2 million last year to 3 million in 2039, the government source said.

In line with other policy areas for which city leader Lee set a total of 110 key performance indicators, the government also said its target was to provide 140,000 sessions of health assessments at district health centres before the fourth quarter of next year, while rolling out drug delivery and digital medical certificates across Hospital Authority services by March 31, 2023, as a key part of its digital transformation pledge.

But while officials have set sights on longer-term health reforms, Lee had little to say on the Covid-19 pandemic and committed to no timelines on achieving quarantine-free travel with the mainland or the world.

"A big principle of fighting the pandemic is to achieve the greatest impact with the least cost," Lee told reporters at an afternoon press briefing. "If conditions allow, the government will improve policies step by step, including social-distancing measures."

In other health measures in the address, Lee also committed to reducing the waiting times for new patients of internal medicine by 20 per cent, from the current 120 weeks to 100 by 2023-24. That will be achieved through a combination of primary care reforms which will absorb some stable patients from those originally queuing up for specialist care.

The government will also increase Chinese medicine outpatient quotas from 600,000 a year to 800,000 and explore plans to attract more overseas-trained dentists and nurses.

Medical and health services sector lawmaker Dr David Lam Tzit-yuen lauded the address as the "right step". "Changing the culture however will take a longer time, so more work is needed to educate Hongkongers on the value of seeking out your family doctors before going into hospital to see a specialist," Lam said.

He added that the new primary care authority could promote body checks, saying the previous Hospital Authority lacked the incentive to do so, as any more patients discovered would only increase its workload.

Patient rights activist Tim Pang Hung-cheong, of the Society for Community Organisation, also believed the proposed reforms were significant, but warned the devil could be in the details. He said the co-payment scheme could fail to attract public interest if the subsidy cap was set too low.

"For many grass-roots patients, even paying half the fee would be a huge burden especially if they have chronic diseases which means they require continuous treatment and expenses," he said.