Police arrest three men, two women after discovering cocaine stashes at industrial building in Tuen Mun, public housing estate in Sha Tin.
Hong Kong police have seized 227kg (500lbs) of cocaine worth around HK$180 million (US$22.9 million), the largest individual haul of the narcotic confiscated by the force so far this year.

Officers also arrested three men and one woman during a raid on an industrial building in Tuen Mun on Friday, police on Sunday said.

Superintendent Lau Kai-pang of the force's narcotics bureau said one of the men, a 25-year-old, was intercepted leaving a unit in the building. Officers discovered 223 bricks of cocaine, each weighing 1kg, at the scene, including two in the suspect's physical possession.

The other three were suspected of acting as lookouts outside the building on behalf of a narcotics syndicate, police added.

Police discovered 4kg of cocaine at a separate unit, which was linked to the syndicate, at a public housing estate in Sha Tin.

Officers on Saturday arrested a second woman, 51, who was believed to be the owner of one of the units.

In a separate operation on Friday, police arrested two men, aged 26 and 61, at a flat in Jordan on suspicion of trafficking 10kg of heroin.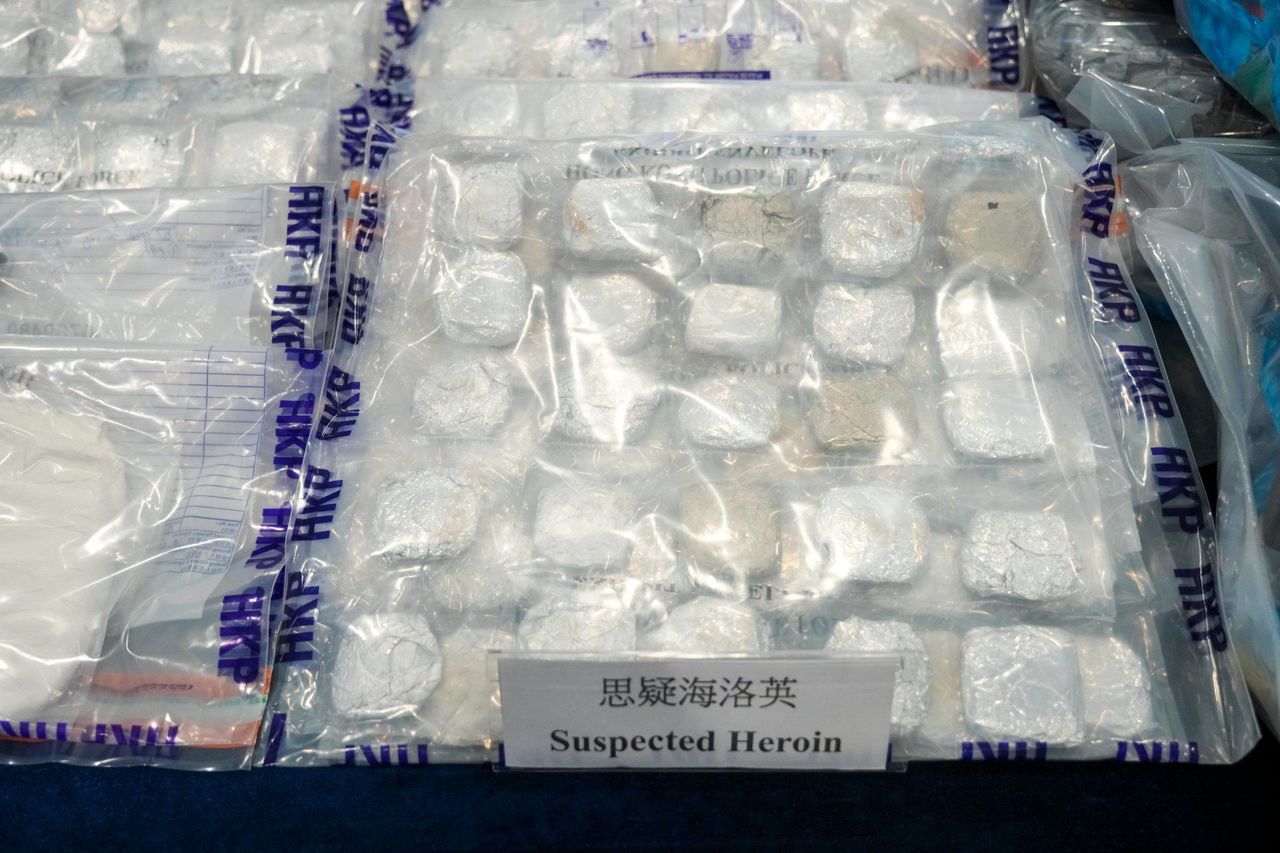 Some of the heroin seized by police on Friday.

Senior Inspector Tam Wai-lok, also of the bureau, on Sunday said the drugs were concealed in skincare product containers to evade detection while they were being shipped into Hong Kong.

Police said they seized 777 packages of heroin, each weighing about 12 grams (0.4 ounces), which were hidden inside several hundred containers.

"After the drugs arrive in Hong Kong, members of the syndicates will open the package of the skincare products and repackage the drugs to make it more convenient to sell," Tam said.

Superintendent Lau said the seven suspects arrested in both operations were aged 25 to 61, with some having connections to triad groups. The total value of the narcotics seized in the raids was about HK$190 million, he added.

Lau also said both cases involved tactics often employed by drug traffickers, such as relying on concealment, operating multiple storage premises and splitting up labour roles among syndicate members.

"Through the police's intelligence-led work, we were able to clearly understand the modus operandi of the drug traffickers, so we can make use of targeted deployments for our law enforcement operations," he added.

In March, police seized about 164kg of suspected cocaine worth HK$136 million when they arrested a 45-year-old man for drug trafficking. The haul, discovered at a factory building unit in Fanling, was divided into bricks weighing 1kg each, the force said.

The amount of cocaine seized by police and customs rose by 110 per cent to 2,271kg last year from 1,079kg in 2021.

The city also recently recorded a spate of cases involving the concealment of cocaine in the bodies of couriers arriving in Hong Kong as travellers, with three suspects flying from Brazil found by customs to have HK$1.3 million (US$165,727) worth of the narcotic inside them.

The government has said criminal syndicates are stepping up their use of couriers to smuggle illegal drugs into Hong Kong as travel became easier with the end of pandemic curbs.
AI Disclaimer
: An advanced artificial intelligence (AI) system generated the content of this page on its own. This innovative technology conducts extensive research from a variety of reliable sources, performs rigorous fact-checking and verification, cleans up and balances biased or manipulated content, and presents a minimal factual summary that is just enough yet essential for you to function as an informed and educated citizen. Please keep in mind, however, that this system is an evolving technology, and as a result, the article may contain accidental inaccuracies or errors. We urge you to help us improve our site by reporting any inaccuracies you find using the "
Contact Us
" link at the bottom of this page. Your helpful feedback helps us improve our system and deliver more precise content. When you find an article of interest here, please look for the full and extensive coverage of this topic in traditional news sources, as they are written by professional journalists that we try to support, not replace. We appreciate your understanding and assistance.