Seven 1.5kg bags of precursor chemicals capable of producing bombs were taken along with gunpowder-filled cartridges and home-made firearms.
Hong Kong police arrested two men on Tuesday morning, seizing explosive substances and weapons during a raid of their homes spurred by their alleged online promise to kill "well-known figures" and cause "bloodshed" in police stations.

Police said they had not ruled out the possibility the substances were intended for making bombs that could be used on Thursday, the 24th anniversary of Hong Kong's handover from British to Chinese sovereignty.

The force said the unemployed 29-year-old and 32-year-old construction worker had been arrested at their flats in Lam Tin and Tai Po, but refused to go into details about the social media posts that prompted the raids.

Seven 1.5kg bags of a powder mixed with potassium nitrate, sulphur and a type of syrup were seized from the Lam Tin flat. Officers also seized 580 gunpowder-filled cartridges used in rebound hammers as well as sketches that showed how to make guns.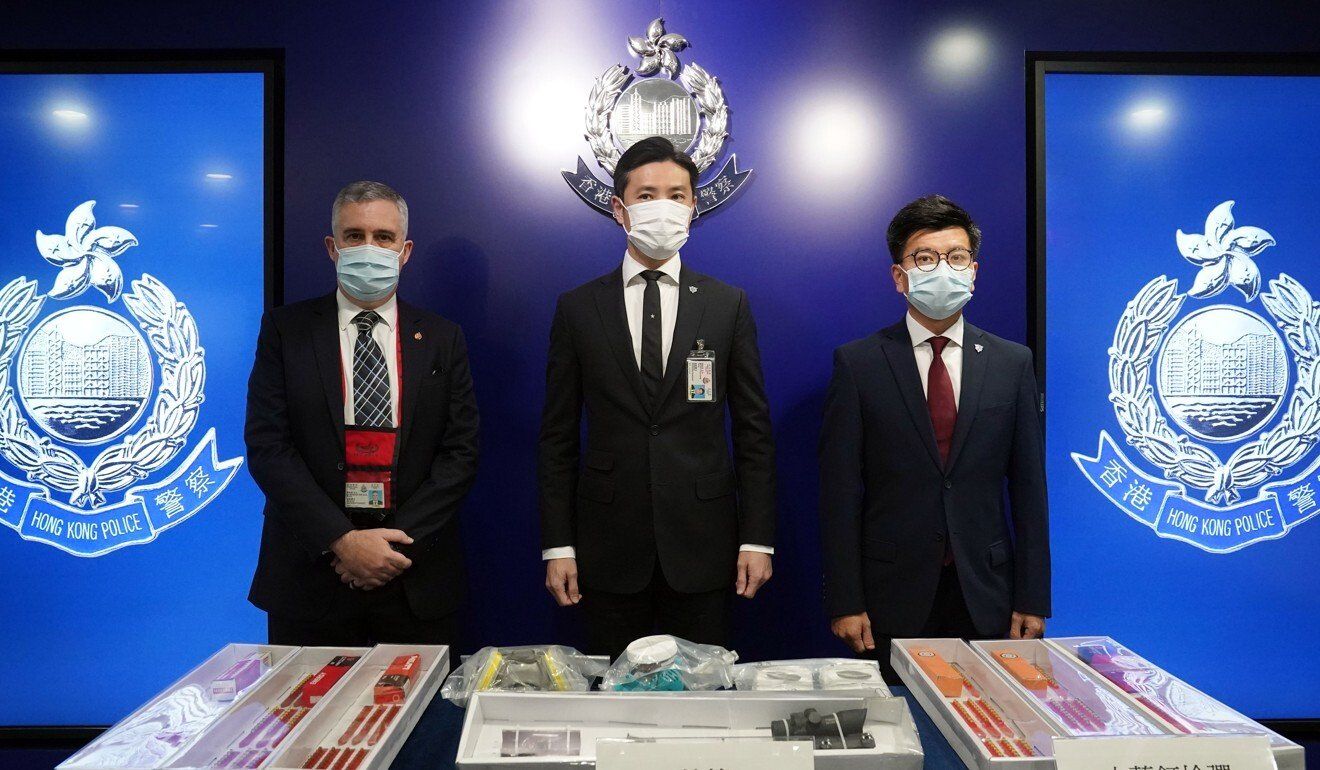 Police refused to rule out the possibility the substances seized on Tuesday were intended for making bombs that could be used on July 1.

Senior bomb disposal officer Alick McWhirter said the precursor chemicals could be used in the manufacture of home-made explosives capable of causing serious damage.

"The quantity of the chemicals seized is consistent with [the production] of around 1-1.5kg of gunpowder. [That amount] of gunpowder could result in a very serious explosion," McWhirter said, noting that storing it in a residential building was "incredibly reckless".

Acting head of the Organised Crime and Triad Bureau, Ho Chun-tung, said any explosion would have hurt residents living in the building.

The arrests, he added, showed there was still a small group of people intent on damaging Hong Kong by radical means.

"We do not rule out that they may have intended to attack innocent people during a day of celebrations," Ho told reporters.

"The destructive power is not low. It depends on where the explosives were to be used – in a dense container or in a large area, in a crowded place or an open area. But when it exploded, it could have been very destructive."

Five home-made firearms discovered in the Tai Po home were created with industrial materials. Officers also found recordings of the pair discussing how to build the weapons.

The 32-year-old man was arrested on suspicion of sedition, possession of arms and ammunition without a licence, and making explosives with intent, while the younger man was detained for possession of imitation firearms.

As of Tuesday afternoon, the pair were still being held for questioning and had not been charged.

It was the second case of its kind this year. In February, police said they believed they had foiled a "bloody" Lunar New Year bomb attack by anti-government radicals after arresting two men and seizing 23.5kg of explosive substances, as well as a variety of weapons.

The two suspects, a 42-year-old computer programmer and a 62-year-old renovation worker, were thought to have been involved in planning a bomb attack on crowded areas of the city during the holiday.

Officers think the suspects obtained the explosives through others involved in the 2019 anti-government protests.