Modified boats, souped-up engines worth more than HK$4 million found during police raid on storage site.
Hong Kong police seized four powerful speedboats and 14 outboard engines suspected of being used for smuggling during a raid on a storage site hidden along the Tuen Mun coast.

Officers said the modified vessels, worth more than HK$4 million (US$515,000) in total, were each fitted with three or four 450 horsepower outboard engines, enabling them to reach speeds of 50 knots.

They were found some 10 to 20 metres inland off Nim Wan Path in Lung Kwu Tan and hidden among two-metre-tall trees, according to Kam Hok-chun, assistant commander of Castle Peak division.

Briefing the press on last week's predawn operation, Kam on Sunday said six containers were placed on the beach, blocking the view from the sea of the secret storage area. A three-metre-tall metal gate also prevented access to the site from the path. The boats measured 15 metres long, four metres wide, and two metres tall.

"They are painted black and there are no lighting fixtures on them. If they sail at night, it is difficult for others to spot them," Kam said.

"And what is more, the hulls of the boats are fitted with steel plates. In the event of a collision at sea, it could sink another boat easily. Therefore, the four speedboats are a threat to marine traffic."

Kam said police suspected the speedboats were linked to smuggling activities, adding investigations were continuing into how the boats were transported to the hiding place. No one was arrested during last Thursday's operation.

"It is possible they were transported there via heavy trucks," Kam added.

The force has stepped up its fight against sea smuggling after two men suspected to be engaged in the crime rammed their boat into a police craft during a high-speed pursuit off western Lantau last month, leaving one officer dead.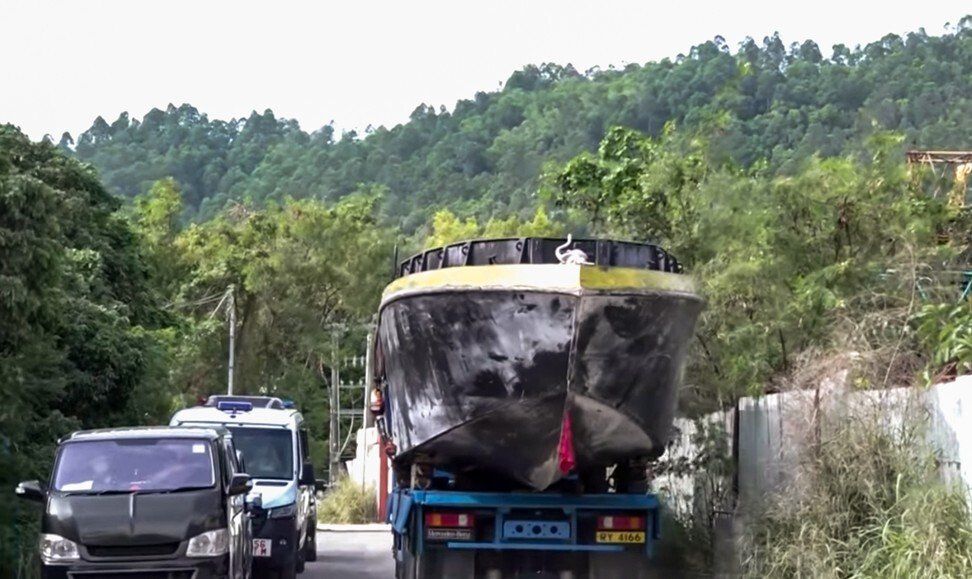 The boats were found off Nim Wan Path, Lung Kwu Tan.

Senior Inspector Lam Yuen-yee's body was recovered two days after the 37-year-old and her colleagues were thrown into the sea by the force of the collision.

Earlier this month, Guangdong police arrested two mainland Chinese men and seized a speedboat in connection with Lam's case.

One of the men was believed to be driving the speedboat at the time of the incident.

They are suspected of being part of a cross-border smuggling ring, at least 35 other members of which have been arrested in a series of law enforcement operations held since Lam's death.