Drugs worth an estimated HK$57 million were hidden in two containers with consignment of 1,500 boxes of bedding products.
Hong Kong police have seized 106kg of illegal drugs worth about HK$57 million (US$7.3 million) hidden in two containers of bedding products from Pakistan.

Officers from the force's narcotics bureau detained two brothers, aged 24 and 26. The 26-year-old was arrested for conspiracy to traffic in dangerous drugs, obstructing police officers in the execution of their lawful duties and failure to produce proof of identity for inspection. His younger brother was held for obstructing police and failure to produce proof of identity.

Police on Sunday said they believed their operation had stopped the shipment of Ice and ketamine from entering the market and stressed they would step up exchanges of intelligence with overseas law enforcement agencies to crack down on drug trafficking.

Acting on intelligence, officers from the narcotics bureau last Thursday raided a warehouse on Kung Um Road in Yuen Long and found the illegal drugs hidden in two containers with a consignment of 1,500 boxes of bedding products.

The haul comprised 82kg of Ice, or crystal meth, and 24kg of ketamine, according to police. A logistics company collected the containers after they arrived by sea from Pakistan at Kwai Chung container terminal on Thursday.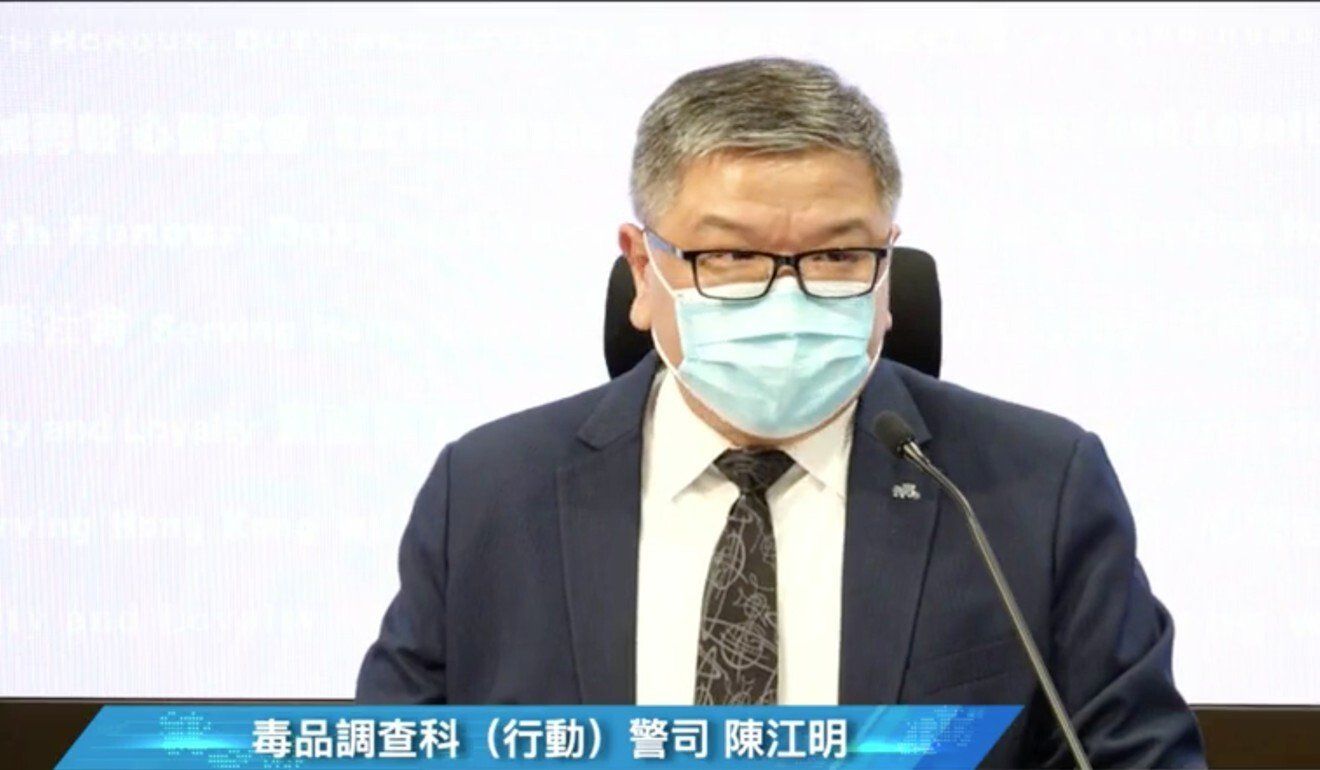 Superintendent Chan Kong-ming.

The drugs were estimated to be worth about HK$57 million in total.

Officers subsequently arrested the two men in Yuen Long on Friday in connection with the case. Police said they believed one of them was the mastermind. The two men were released on bail on Sunday afternoon and are required to report back to police early next month.

A police spokesman also said initial investigations showed the duo were not employees of the logistics company.

At a press briefing on Sunday, the bureau's Superintendent Chan Kong-ming said: "Because of the [Covid-19] epidemic, border restrictions have been tightened, making it difficult for traffickers to use individuals to smuggle drugs in smaller batches separately across the border.

"Syndicates will thus take higher risks and try to smuggle illegal drugs in larger batches. They hide the drugs in various shipments and import them using various ways in the hope of smuggling a larger amount of drugs into Hong Kong at once."

Chan urged logistics firms to be on their guard and report any suspicious clients or shipments to police.

Police figures showed there were 1,149 serious drug offences last year, up from 740 in 2019. For the first half of 2021, there were 756 such cases, up 67.6 per cent year on year.

Seizures of major illegal drugs, including cocaine, cannabis, Ice, ketamine and heroin, also rose 63 per cent to about 3.68 tonnes in the first half, from around 2.25 tonnes during the same period last year.

Ecstasy seizures increased sharply to 21,770 tablets, up 745 per cent during the period.