Constable So King-cho tells Coroner's Court he has been taking sick leave on and off since hospital discharge on July 19 last year.
A Hong Kong police officer stabbed on a busy street in Causeway Bay has been unable to fully return to work over a year after the July 1 attack, an inquest into the death of the suspected assailant has heard.

Constable So King-cho told the Coroner's Court on Wednesday he had been taking sick leave on and off since his discharge from hospital on July 19 last year and he had not yet been able to return to full duty.

So, then 28, was stabbed outside the Sogo department store in Causeway Bay on July 1, 2021, the anniversary of the city's return to Chinese rule.

Presided over by Coroner David Ko Wai-hung, the inquest into the death of 50-year-old Leung Kin-fai, who was named a primary suspect for the attack, is expected to last six days before a jury of three women and two men.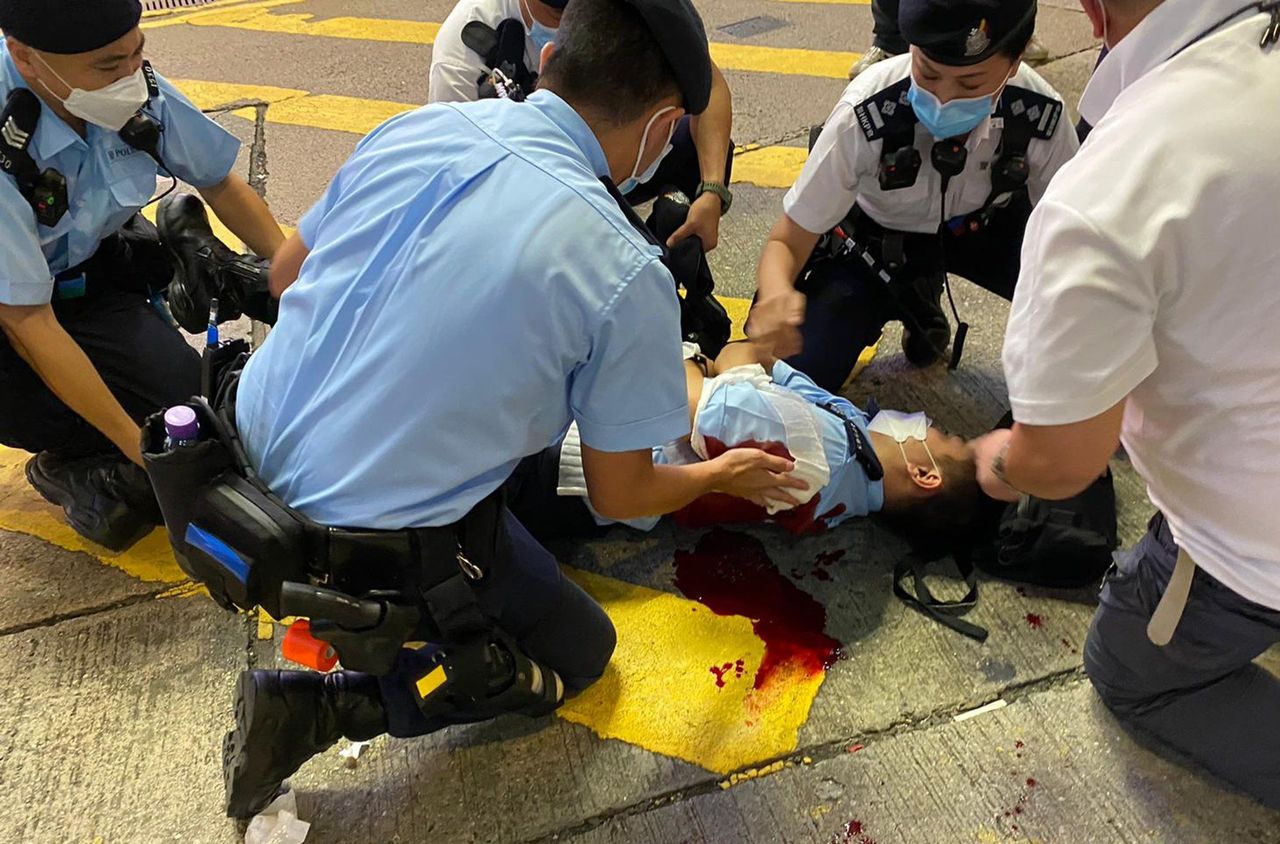 Constable So King-cho says he has not been able to fully return to duty.
Leung, who was working as a Vitasoy purchasing agent at the time, is believed to have stabbed the officer before turning the blade on himself.
Recounting the attack, So said he initially thought the assailant was a passer-by when he first noticed his silhouette out of the corner of his eye. But he became suspicious as the person edged closer.
"At that time, my left eye noticed a black human silhouette walking towards me, inching closer and closer," So said. "When he got too close, my head turned left to get a better view. I saw him leaning right on my back ... then I saw him raise his left hand as if wanting to touch me, I could see a person then."
So recalled making a full turn, walking forward, and shouting for help from his colleagues before collapsing on the pedestrian crossing on East Point Road.
Leung's identity was confirmed in court by his brother, who examined screenshots from footage of a journalist's live broadcast of the scene, surveillance footage from the Causeway Bay MTR station and police video of the aftermath.
The brother, who was referred to as X, after the court approved his anonymity request, also gave testimony about Leung's relationship with their family, which he described as distant.
Disputes had arisen between the deceased and his parents regarding his failure to find a job after graduating from Australia's Monash University, the brother said.
"After he came back, he lived at home for a while. At that time, the economy wasn't great after 1997. He hadn't found an ideal job and lived there [with our parents, who] wanted him to find a job as soon as possible and not procrastinate, maybe there were arguments then," X said.
While unaware of his brother's occupation, X said he knew Leung was financially independent and gave money to their parents monthly until his death. X and his parents did not attend Leung's cremation.