The officer is one of three people suspected of running the underground poker room, while four stand accused of working as dealers.
A Hong Kong police officer was suspended from duty after he was found to be among the 65 people arrested at an underground casino in the city over the weekend.

The 28-year-old constable was accused of operating the gambling den with another two men, aged 23 and 29, who were also picked up during a raid on the venue in an industrial building in Kwun Tong in the early hours of Saturday.

The other 62 included five people accused of working as dealers – one man and four women – while the rest were suspected gamblers, aged 18 to 54, according to the force.

A police source said the gamblers were mostly in their 20s and accused of playing poker inside the establishment. They included university students, a fashion designer and white-collar workers, as well as jobless people.

"Inside the venue, there were four poker tables. Officers seized HK$600,000 [US$77,131] in cash and gambling chips along with 20 decks of cards and gambling paraphernalia in the operation," the source said.

He said a preliminary investigation showed the gambling den had been in operation for about a month, and could take in as much as HK$100,000 a night. But he noted the investigation indicated it was not open every day.

Another source said the arrested constable had been under police investigation recently after suspicions arose that he was running an illegal gambling establishment. Detectives from the Kowloon West regional crime unit were then tasked with investigating.

He said after finding the site of the den, police swooped in and raided the venue on Saturday.

The constable, attached to the patrol subunit at Cheung Sha Wan Police Station, had been suspended from duty pending further investigation, the second source said.

"Police attach great importance to the conduct of personnel. Any officer who commits illegal acts will not be tolerated and the force will handle it seriously and carry out a criminal investigation and disciplinary review," the force said in a statement.

The constable and his two alleged partners were arrested on suspicion of operating a gambling establishment, an offence that carries a maximum penalty of seven years in jail and a HK$5 million fine.

In Hong Kong, gambling in an illegal establishment carries a maximum penalty of nine months in prison and a HK$30,000 fine.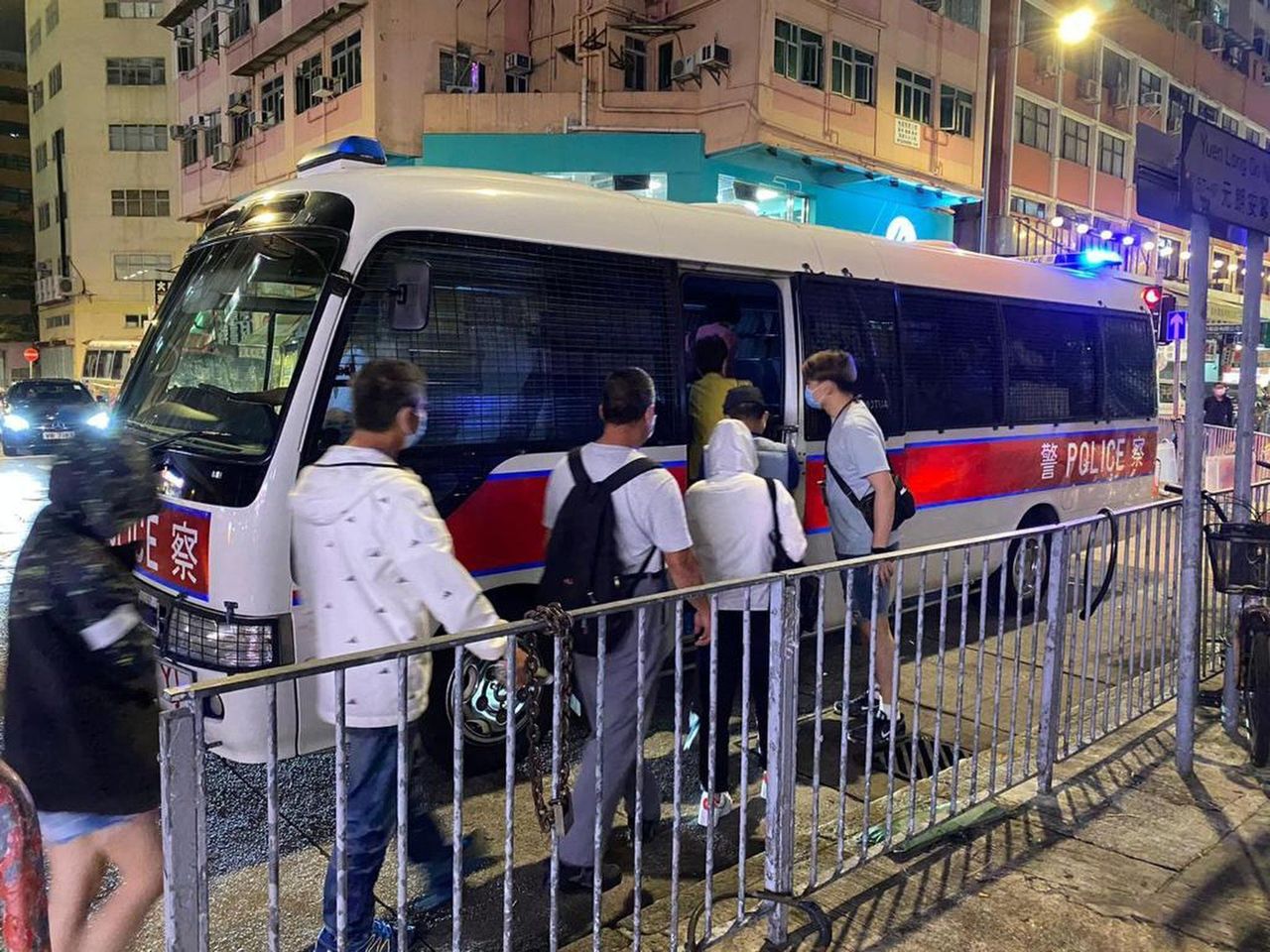 Suspects are escorted into a police van after they were arrested in a raid on a separate gambling den in Yuen Long on Sunday.

According to the force, the 65 suspects were also arrested or fined HK$5,000 each for violating pandemic-related social-distancing rules that ban group gatherings of more than four people.

All the suspects have been released on bail pending further investigation. The Kowloon West regional crime unit is handling the case.

Separately, police arrested 29 people when they raided another gambling den in a flat in Yuen Long On Ning Road on Sunday. The suspects were also accused of breaching social-distancing rules.