Project Pinpoint follows pilot scheme last year to provide Bluetooth positioning devices to help families in need locate elderly relatives, such as dementia patients.
Hong Kong police have launched a project to distribute smart positioning devices to families to help locate elderly members, such as those with dementia, who frequently go missing.

Originally a pilot scheme introduced by the force's Regional Missing Persons Unit Kowloon East last April, Project Pinpoint is expected to spread citywide this year.

The initiative aims to help locate missing elderly and disabled residents, as well as assist dementia patients and those receiving services from social welfare organisations.

As part of the initiative, the force has bought Bluetooth tracking devices such as Tile Pro, Samsung Galaxy Smart Tags and Apple's AirTags at a price of around HK$200 (US$25) each. The devices will then be distributed to families in need for free and paired with smartphones to track the vulnerable person's location in real time.

Fu Chun-yip, chief inspector of Kowloon East Headquarters' operations wing, on Saturday said the small devices had a large area coverage and low power consumption, with 200 having been given out to families in need as of December last year.

"The goal of this project is to use a cross-agency model, cooperate with digital policing, and promote advanced positioning devices to assist police to quickly and accurately find missing persons, prevent those who were lost from getting lost again, and intervene early for those who are potentially at risk of getting lost," he said.

The devices have already helped to locate 13 lost elderly residents involved in 38 incidents, with each person on average being found in less than an hour, he said.

Fu added that police were cooperating with the Social Welfare Department under the project, with the latter introducing the devices to community organisations and referring cases to the force.

A total of 16 social welfare organisations had joined the project, while security guards and other staff members at 14 shopping malls and nine public housing estates were now familiar with the devices, police said.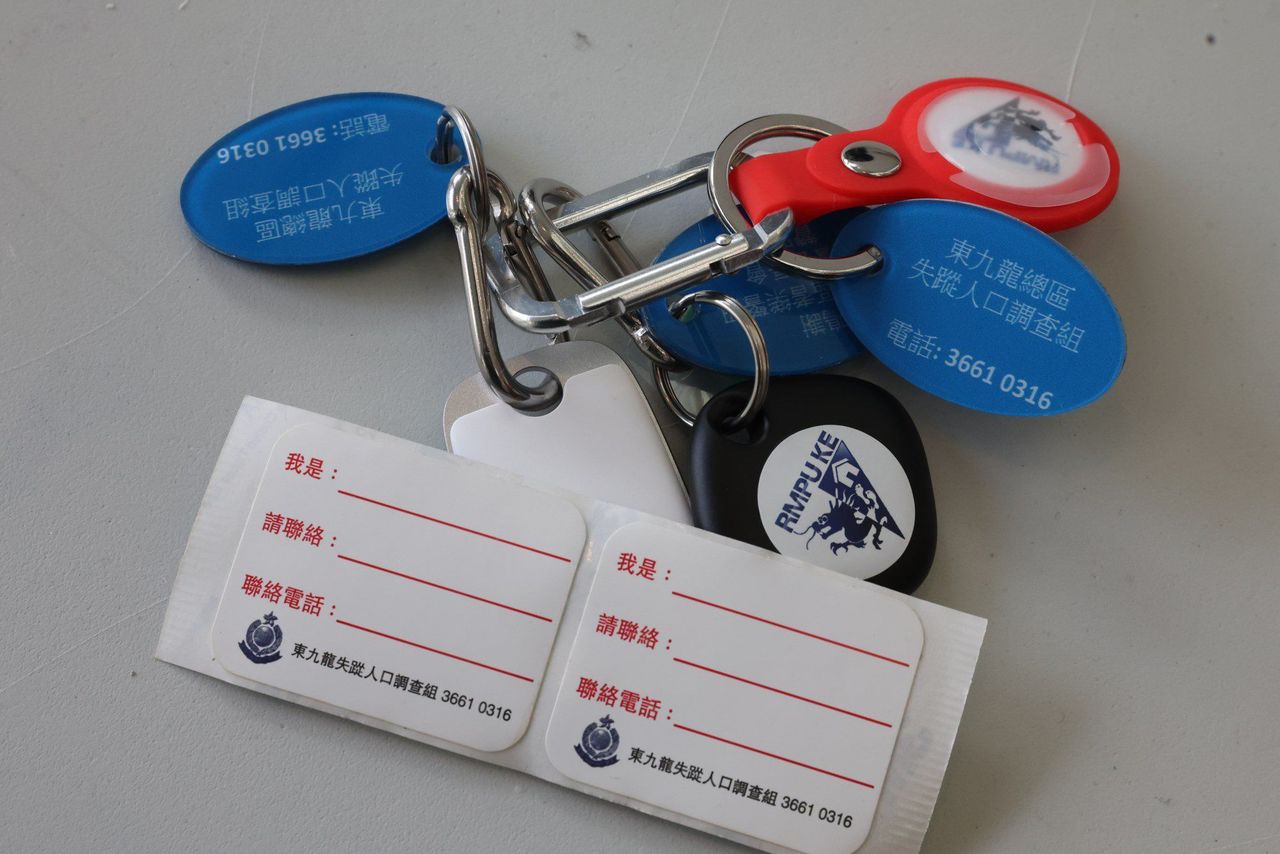 One of the tracking devices used by police as part of the scheme.
Fu said the force would also continue collaborating with the social welfare, property management and transport sectors to promote the project and reduce the number of missing person cases involving dementia patients.
Tang, who asked to be identified by her surname, was among those who had benefited from the pilot scheme after police were able to locate her 76-year-old husband.
The 67-year-old said her husband, who was diagnosed with dementia last year, had developed poor memory and was unable to remember dates or locations.
After previously calling police to find her husband in September last year, Tang was referred to the scheme and received a positioning device a month later.
She said police were able to find her husband on October 21 when her husband went missing from their home in Tseung Kwan O and wandered all the way to Tsuen Wan. Tang was able to provide officers with real-time updates and he was found 18 minutes later.
Thanks to the device, Tang was even able to find her husband in Kwun Tong on January 3 without calling the police.
According to police figures, around 340 elderly people with dementia were reported missing between December 2021 and November last year.
In Kowloon East alone, the number of missing person cases involving residents with dementia rose 16 per cent from 86 in 2021 to 100 last year.
Statistics also showed around 20 per cent of all missing person cases reported between 2018 and 2022 involved residents with dementia.
"The seriousness is worthy of attention," said Ma Chung-ying, senior inspector and officer-in-charge of Regional Missing Persons Unit Kowloon East, adding the force expected to expand the project to cover the whole city this year.
She explained that dementia patients suffered from impaired mobility, which could lead to life-threatening injuries if they went missing. Those who were undiagnosed or suspected of having the condition were also at risk of getting lost, Ma added.
In 2017, some 100,000 elderly residents above the age of 60 had dementia, with authorities estimating the figure could pass 300,000 in 2039.
Dementia involves a decline in brain function induced by neurological pathology, which affects a patient's memory, comprehension, language, learning capacity, calculation and judgment.