Commissioner of Police Raymond Siu says the possibility of an attack exists, though there is no specific intelligence one is in the works.
The threat of a terrorist attack in Hong Kong remains "moderate", although there is no specific intelligence that one is in the works, the city's police chief has said.

Commissioner of Police Raymond Siu Chak-yee told a radio programme on Saturday that safeguarding national security would be one of the force's main focuses for the coming year, while encouraging the public to inform authorities of any suspicious activities.

"Although the overall social situation has become calmer after the introduction of the national security law, we should not take it lightly," he said.

"Many anti-China activists have not given up and are still determined to act, as they often make comments online to incite hatred or persuade others to commit serious offences. We must remain vigilant."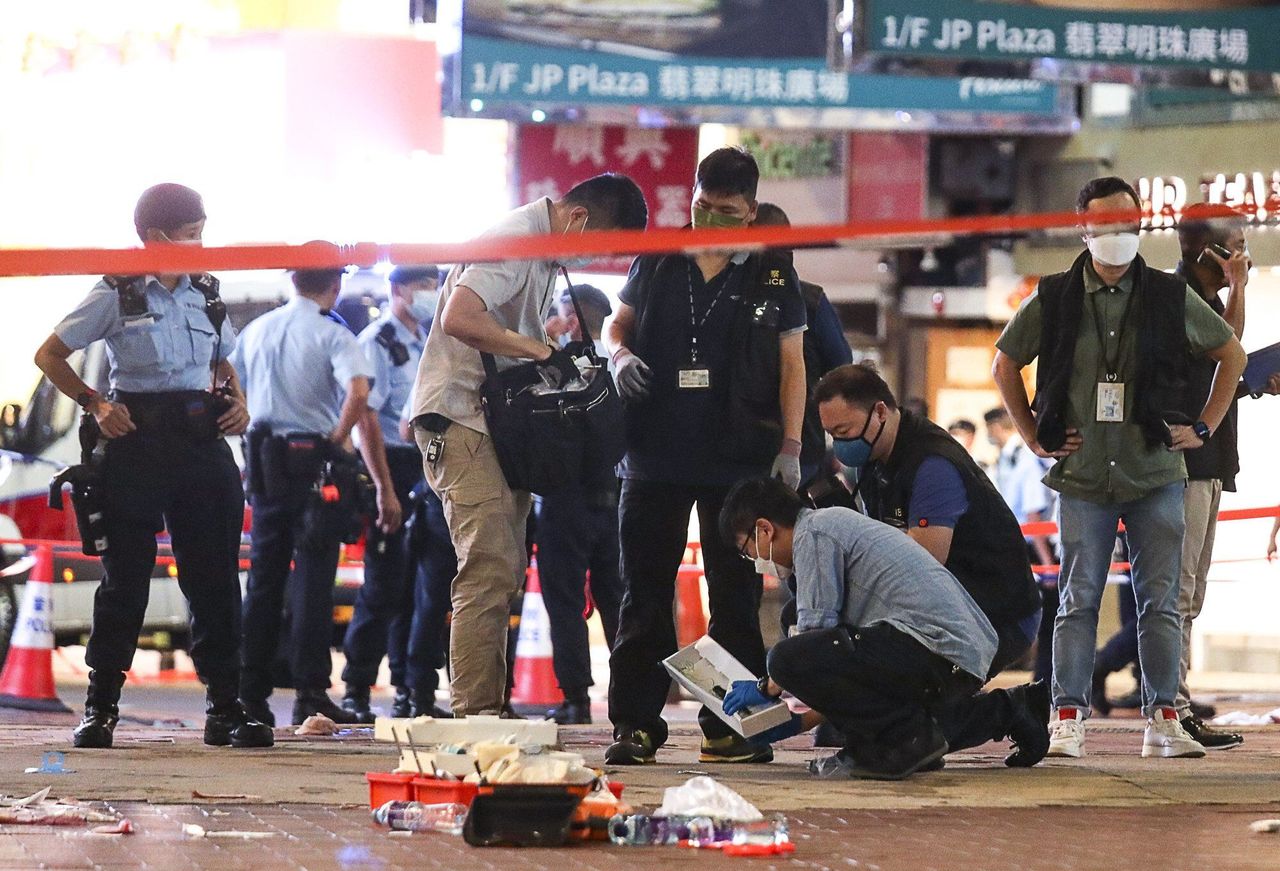 Police investigate the scene where a lone assailant stabbed an officer before killing himself last year.

Siu said police had been strengthening their intelligence gathering over fears that terrorist attacks similar to ones seen overseas could take place in Hong Kong.

Last year, a man stabbed a police officer on a busy street in Causeway Bay, then turned the knife on himself on the 24th anniversary of Hong Kong's return to Chinese rule.

Police characterised the act as a "lone-wolf terrorist attack", saying the man had been radicalised by hate speech.

Four University of Hong Kong students were later charged with incitement and with advocating terrorism under the national security law for passing a motion in the student union council mourning the death of the assailant.

At least 14 people have since been arrested over incidents including petrol bombs being thrown at Government House in Central, online posts calling for attacks on police officers and an alleged plot threatening public spaces across the city.

Siu said police had been encouraging everyday Hongkongers to also do their part to prevent terrorism.

"We have staged more counterterror drills over last year. Besides the participation of our officers and other departments, we also included the general public," he said.

"For example, we had invited security guards to the drills in shopping malls, as they also have to respond during such attacks."

He added that authorities had been educating the public on how to identify and react to suspected bombs, and would continue to step up patrols of special forces and plain-clothes officers at major events and festivals.

Commenting on the closures of several media outlets last year, two of which had senior staff arrested and assets frozen under the national security law, Siu said the decisions to shut down were the organisations' own. Police, he added, were merely enforcing laws against certain crimes, not against a specific industry or organisation.

Several outlets have since added a disclaimer to opinion columns in hopes of shielding themselves from prosecution, a gesture Siu characterised as "self-hypnosis", saying it would be "meaningless" if they were found to have broken the law.

Siu also offered an update on the ongoing investigation into abuse at a local facility run by a child protection organisation. Police, he said, had so far been through half of some 60,000 hours of CCTV footage from the Hong Kong Society for the Protection of Children care home, where at least 35 children were believed to have been abused by its employees.

He said five officers were recently added to the team of 21 investigators to speed up the process in hopes of prosecuting the suspects within a month. Twenty staff from the society have already been arrested and charged.