Police insider says two of Siu's deputies expected to retire this year but third is considered too young to take reins just yet.
Hong Kong police chief Raymond Siu Chak-yee will serve for another two years to ensure a smooth succession as two of his three deputies are set to retire and the third is currently considered too young to take the reins, the Post has learned.

The incumbent police commissioner, who will reach the force's retirement age of 57 on April 2, would be granted a two year service extension, the government said on Thursday. Siu was promoted to the position in June 2021.

"The purpose of granting Commissioner Siu an extension of service is to facilitate a smooth transition for the senior management of the Hong Kong Police Force," a spokesman said.

A force insider said the decision was largely due to the expected retirement of two of Siu's deputies.

Deputy Commissioner for Operations Albert Yuen Yuk-kin is expected to retire around the third quarter of this year, while Deputy Police Commissioner Edwina Lau Chi-wai could vacate her post in April.

Deputy Commissioner for Management Joe Chow Yat-ming, the third of Siu's aides, was widely tipped to take over as police chief but the 50-year-old was considered too young at the moment, the source said.
The insider added that senior management believed Chow needed time to gather more experience and would take the helm at just 52.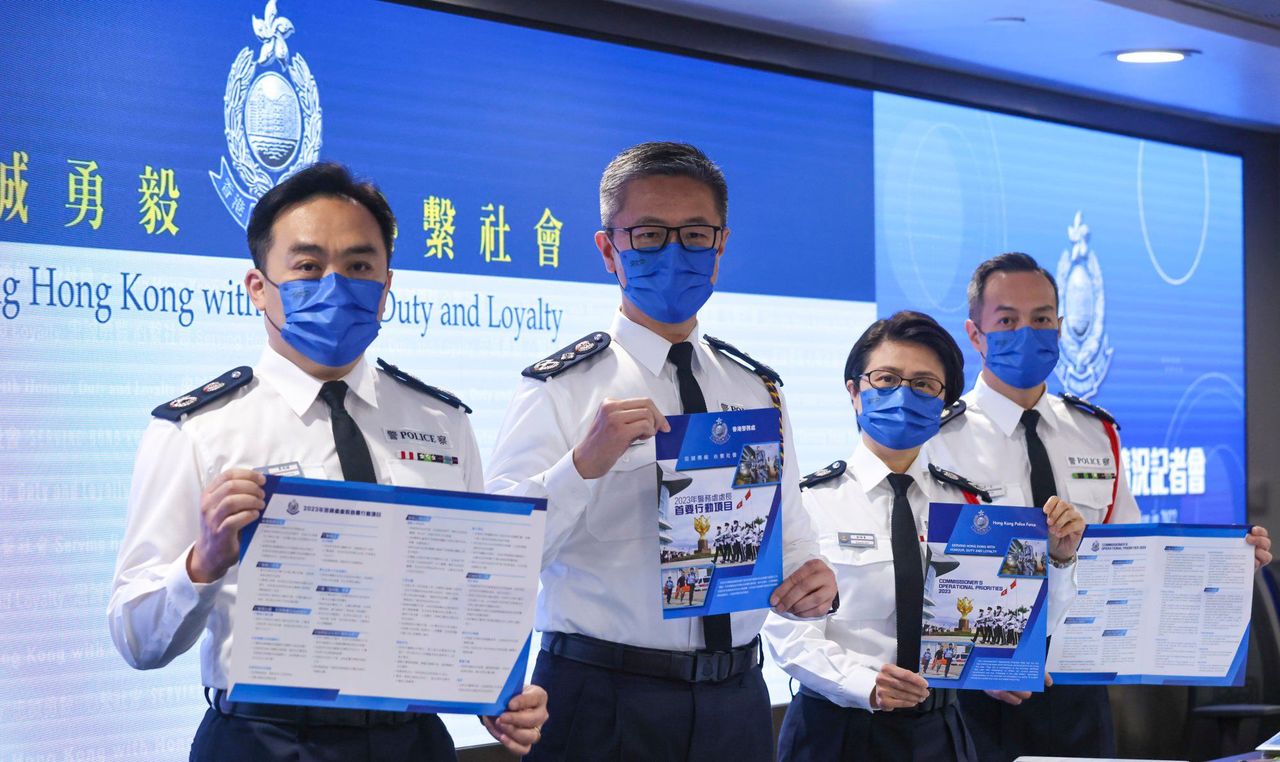 (Left to right) Deputy police commissioner Albert Yuen, police chief Raymond Siu and deputy commissioners Edwina Lau and Joe Chow.
"For the sake of the leadership of the organisation and stability in succession, Siu's stay for two more years will stabilise the whole situation," the insider said.
Chow is expected to take up Yuen's office this year, while his current position will be taken over by Senior Assistant Police Commissioner Director of Operations
Johnson
Chan Joon-sun.
Lau's position would likely be filled by Andrew Kan Kai-yan, a senior assistant police commissioner who also heads the force's National Security Department, according to the insider.
Incumbent police chief Siu joined the force in 1988 as an inspector, later being promoted to senior superintendent in 2007.
In 2017, Siu was appointed assistant police commissioner and oversaw the personnel wing. A year later he attained the rank of senior assistant commissioner before reaching the role of deputy police commissioner for operations in 2019.
A previous police chief, Stephen Lo Wai-chung, was granted a 12-month extension when he reached retirement age in November 2018, with authorities citing the need for a smooth leadership transition.