Suspect, 28, arrested days after businessman lost HK$800,000 in bogus transaction which took place on Canton Road in Tsim Sha Tsui.
Hong Kong police have arrested a suspected triad member days after a cryptocurrency trader was conned out of HK$800,000 (US$102,070) in a bogus Tether transaction that took place last weekend.

The suspect, a 28-year-old man believed to be a Wo Shing Wo triad member, was detained on suspicion of obtaining property by deception after being picked up at 1pm on Thursday in a public housing flat in Tin Shui Wai where officers seized about HK$40,000 believed to be crime proceeds.

An investigation showed the suspect met and collected HK$800,000 in cash from the businessman in a transaction that occurred on Canton Road in Tsim Sha Tsui on Saturday night, according to a police source.

The victim was lured into paying the money to buy Tether coins, a type of cryptocurrency.

According to the force, the suspect gave an excuse to leave the scene after collecting the money from the 30-year-old victim, who later realised the transaction was a scam when the man did not return and no Tether coins were transferred into his cryptocurrency wallet. He then called police at about 9.30pm on Saturday.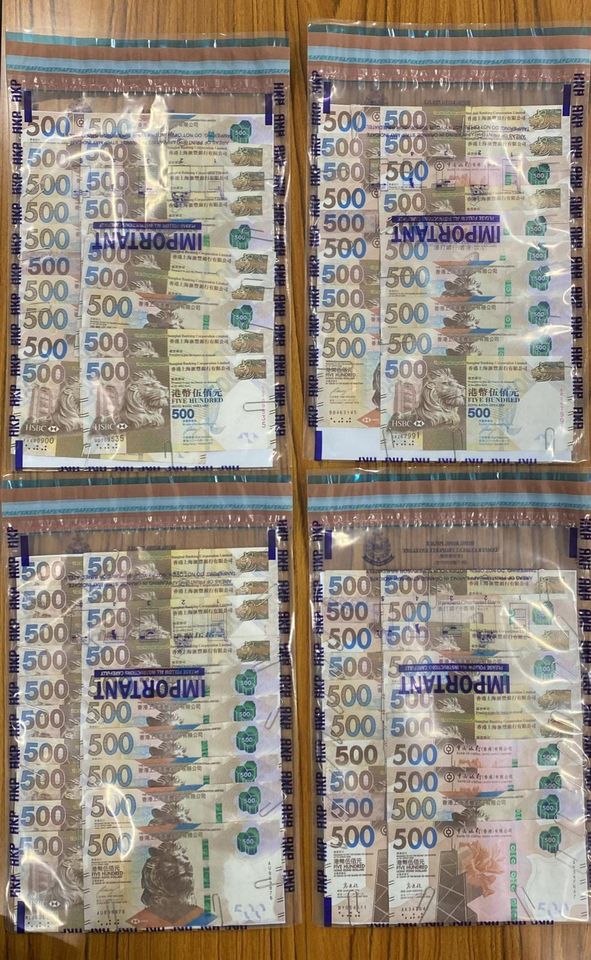 Money seized from the suspect's flat in Tin Shui Wai on Thursday afternoon.

"An initial investigation suggested the arrested suspect was paid HK$40,000 for collecting the money from the victim," the source said.

Police were able to identify and track down the suspect using surveillance camera footage. As of Friday afternoon, the 28-year-old was still being held for questioning and had not been charged.

The source added that officers were trying to find another triad member who had also contacted the businessman online to tempt him into making the fake transaction.

Following a string of recent arrests related to crypto­currency scams, police have warned the public against meeting strangers to conduct transactions, and have urged traders to use credible platforms.

According to the force, cryptocurrency crimes tend to fall into three categories: using digital currencies to launder money; robbing buyers or sellers during face-to-face transactions; and investment scams in which purported sellers disappear after taking the victim's money.

In the biggest known cryptocurrency scam in Hong Kong, a 30-year-old man was conned out of HK$124 million in June. He was approached by two men and a woman, all in their 30s, who posed as investment consultants and promised that if he put his money in a cryptocurrency called Filecoin, he would reap huge returns.

The victim handed over the money in two instalments in February and April, but he tried to withdraw the amount in June after seeing Filecoin plunge from US$168 to US$73. However, he was unable to contact the consultants and ultimately reported the case to the force.

In Hong Kong, police handled 19,249 reports of deception last year, up by 23.8 per cent from 15,553 the year before.