Video shows thief on scaffolding of tenth-floor flat and snaring handbag from sofa with improvised apparatus through window.
Hong Kong police have arrested a suspect believed to have been captured on video stealing a handbag using a home-made apparatus through the window of a tenth-floor flat in Sham Shui Po.

The jobless 31-year-old Vietnamese man was detained by officers on Fuk Wa Street.

The case at Tung Ming Mansion on Lai Chi Kok Road sparked a manhunt earlier this week, after footage of the theft went viral online.

The clip, believed to be filmed on a home security camera installed in the victim's living room, showed a masked man wearing gloves and a black cap standing on scaffolding outside the window. He was seen reaching into the flat with a bamboo pole fixed with a metal hook, and lifting a purse from a sofa.

A female tenant almost foiled the 45-second act, which occurred in broad daylight last Sunday afternoon, when she emerged from a bedroom just as the bag reached the hands of the thief.

She was heard yelling in the video as she ran towards the window, but was seconds too late. The burglar managed to clamber down the structure and flee before police arrived.

Officers believed the man, a holder of a recognisance form, which is a temporary identification document prohibiting work in the city, was also connected to four other burglaries in Sham Shui Po since July.

They comprise another case in Tung Ming Mansion on Friday last week, and three others in two adjacent buildings on Yee Kuk Street from July 6 to July 12.

All five cases involved a total of HK$208,000 (US$26,705) in stolen cash and property.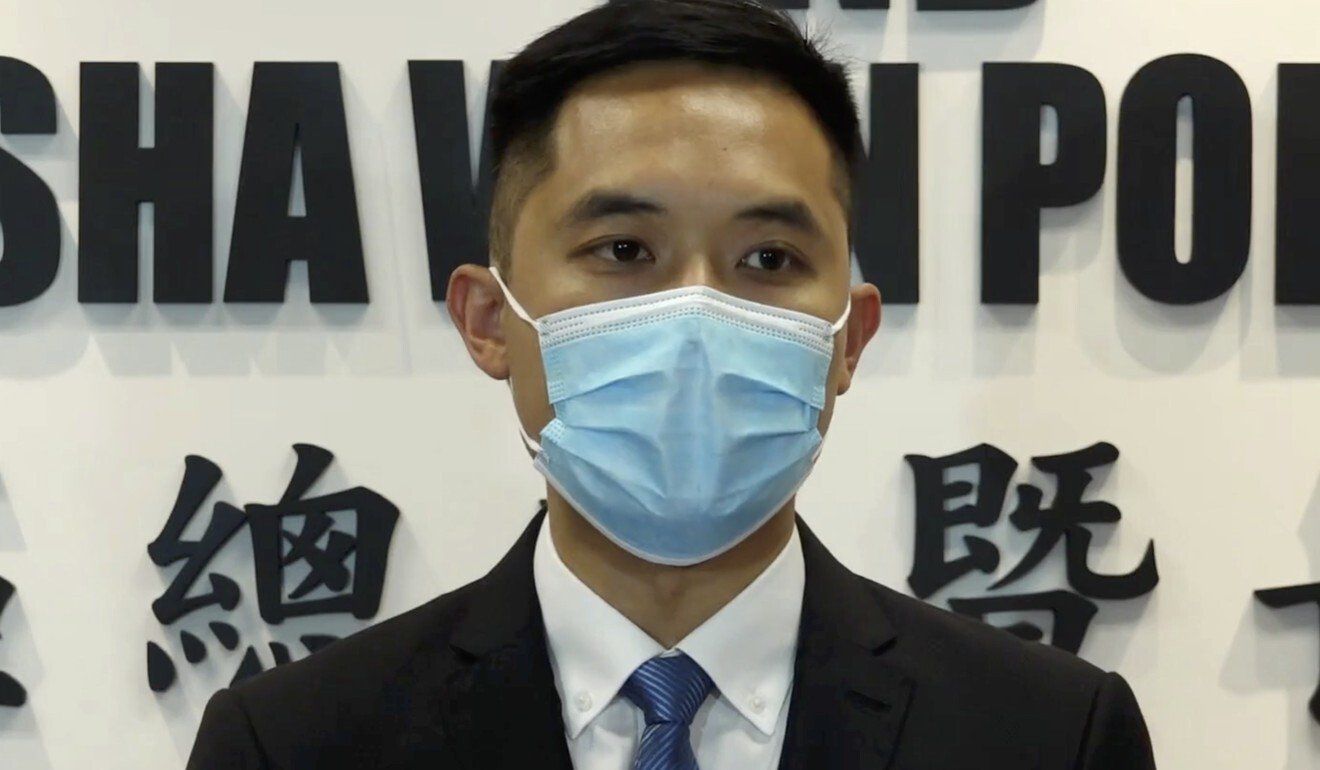 Senior Inspector Alex Yeung says the suspect sneaked into the building and used the stairs to reach the rooftop before climbing onto scaffolding to hunt for targets.

Addressing the case that was caught on video, Senior Inspector Alex Yeung Tit-ho of Sham Shui Po district said the suspect had sneaked into Tung Ming Mansion, which had no security guards, and used the staircase to reach the rooftop. He then scaled the scaffolding, which had been around the 11-storey building for maintenance work since March.

A bamboo pole with a hook made from a clothes hanger, resembling the apparatus shown in the clip, was found at the scene.

Officers also picked up a knife and two screwdrivers at the building after the Friday theft.

The man is being held for questioning.