Latest arrests take number of suspects involved – among them a local businessman – to seven in first eight days of Lunar New Year.
Hong Kong police have arrested five more people on suspicion of setting off fireworks illegally over the Lunar New Year holiday, during which pyrotechnics were discharged in daily displays across the city.

The latest arrests took the number of suspects involved in this crime to seven in the first eight days of Lunar New Year. Officers said the belief that fireworks displays could ward off the coronavirus pandemic might have fuelled such actions.

The five suspects were accused of illegally discharging fireworks near the Golden Bauhinia Square at the Expo Drive waterfront outside the Convention and Exhibition Centre in Wan Chai at about 3am on Sunday.

Investigation suggested a

group of people set off the pyrotechnics display and then fled in a car before police arrived, according to the force. Officers found a box of launching tubes left behind at the scene.

After checking surveillance camera footage, detectives from the Wan Chai criminal investigation unit picked up the four men and one woman, aged between 25 and 40, on Monday and Tuesday. One of them is a businessman aged 37.

Inspector Ng Hay-yu noted that the site was near a helicopter pad and said the illegal discharge of fireworks or firecrackers might affect emergency rescue services.

Describing it as an "irresponsible act", she said the pyrotechnics display could also pose a danger to the safety of others and those who set off fireworks.

As of Tuesday afternoon, all the suspects were being held for questioning.

During the Lunar New Year holiday last week, illegal firework displays reportedly lit up the sky across Hong Kong, including in the Mid-Levels, Yuen Long, Tin Shui Wai, Sha Tin, Tsuen Wan, Kwai Tsing, Tsz Wan Shan, Yau Ma Tei, Yau Tong, Hung Hom, Tsim Sha Tsui and Kowloon Tong.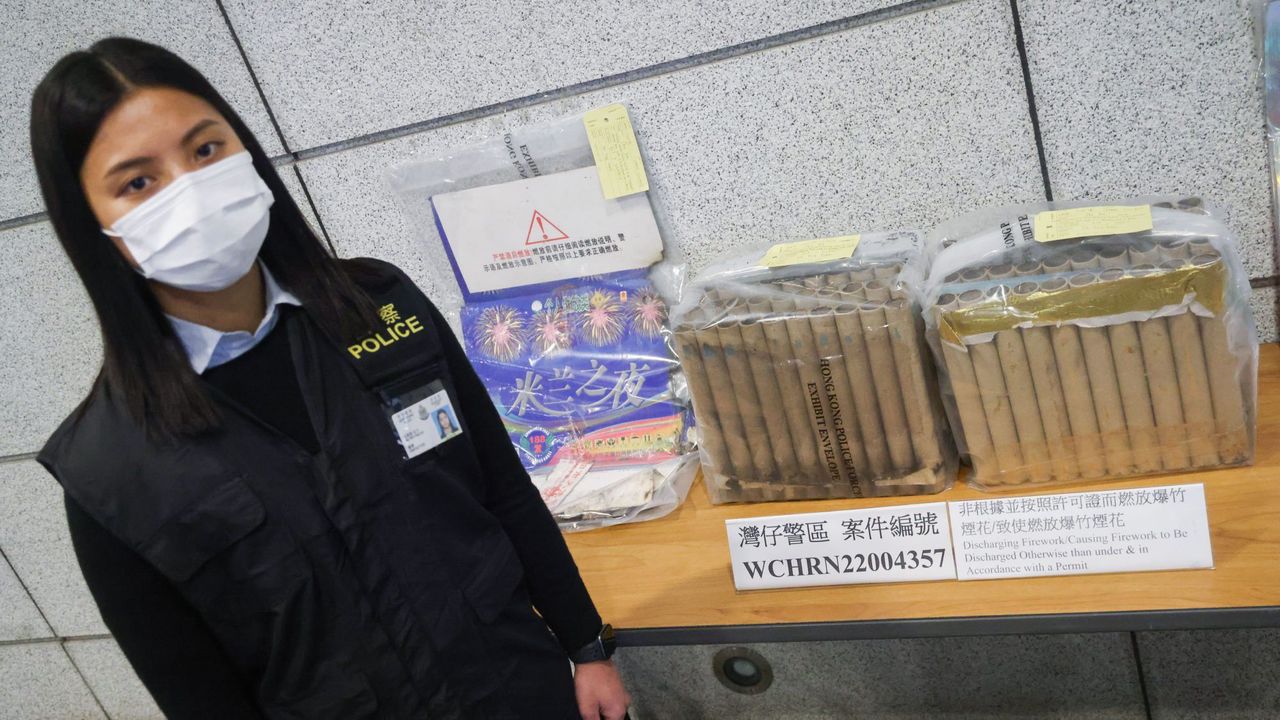 Inspector Ng Hay-yu has described the illegal fireworks display as an "irresponsible act".

At about 8pm on the fourth day of Lunar New Year, police investigated an illegal fireworks display at the junction of Magazine Gap Road and May Road in the upscale Mid-Levels residential area.

Officers found two discharged fireworks launchers at the scene, which was about 2km away from Government House, the official residence of Hong Kong's chief executive, on Upper Albert Road in Central but no arrests were made.

One Mid-Levels resident said he heard loud bangs, adding: "I'm sure [Chief Executive] Carrie Lam would have heard it at Government House".

Police have recorded a more than fivefold increase in the number of cases involving unlawful possession of fireworks during Lunar New Year this year, compared with the same stretch in 2021.

The force handled 183 such incidents between January 30 and February 3, a spokesman said. There were 34 cases between February 10 and February 14 last year.

In response to a sharp rise in the crime this year, a police source said: "Perhaps people really feel that the fireworks can ward off the pandemic in the new year."

He admitted it was difficult for police to make such arrests, as fireworks displays would have been over by the time officers got to the scene. "Even if police find evidence of fireworks, we do not have the evidence regarding who owns them or who set them off," he said.

The fireworks were often set off in remote locations not covered by surveillance cameras, he added.

When asked about the sources of fireworks and firecrackers, he said it was possible they were smuggled into the city from mainland China.

Another source said the force was very concerned about such illegal pyrotechnics displays and had enhanced enforcement actions against them.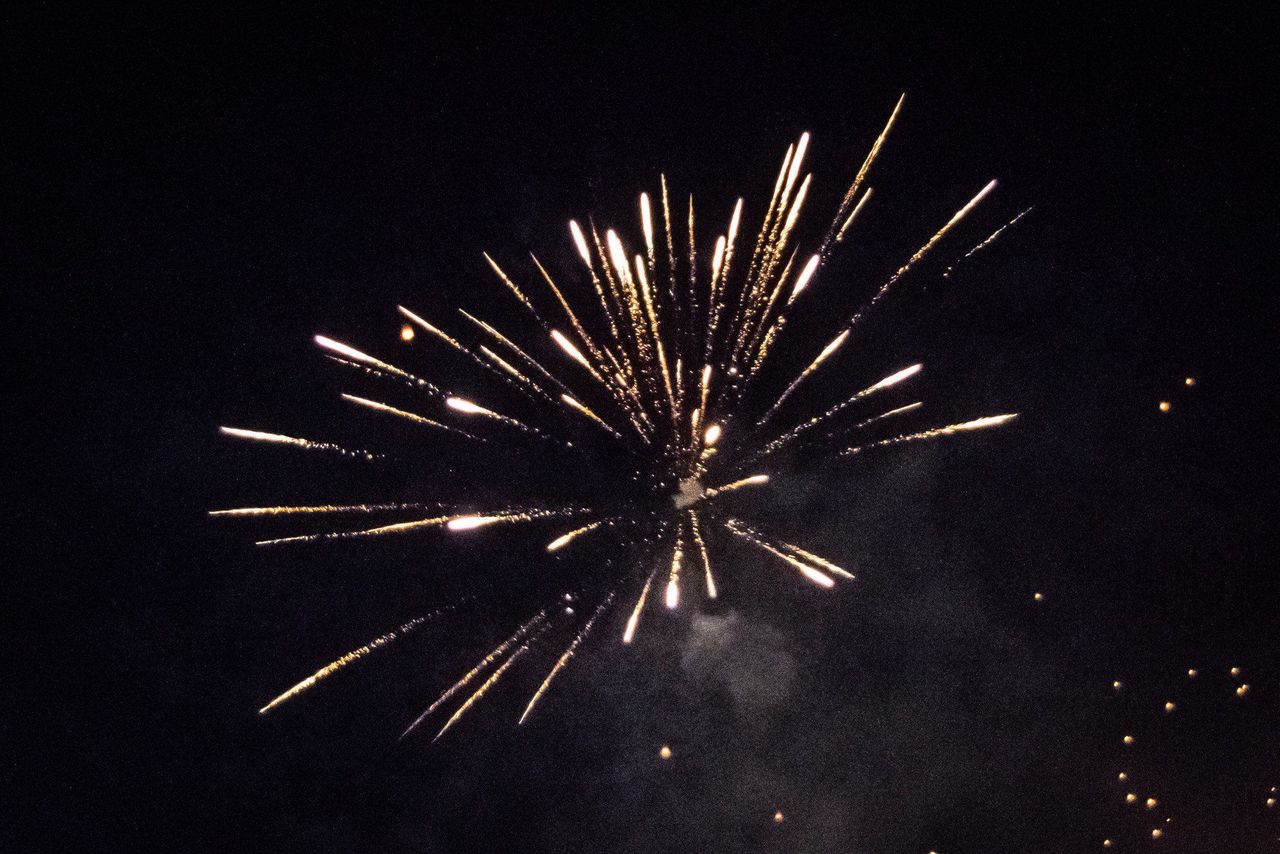 Setting off fireworks during Lunar New Year is thought to bring good luck, health and wealth.

On Sunday, officers arrested a 43-year-old man at his home in Kowloon City following an investigation into a fireworks display on Flint Road in Kowloon Tong at about 10.30pm last Wednesday, the second day of Lunar New Year. Police are searching for another two men in connection with the case.

In a separate case, a 30-year-old man was arrested in Tsuen Wan last Tuesday for the illicit possession of firecrackers, after officers heard loud bangs while handling an unrelated case near Sam Tung Uk Resite Village.

Under the Summary Offences Ordinance, anyone who discharges, throws or sets fire to any firework, to the damage or danger of any person, faces a maximum penalty of three months' jail or a fine of HK$2,000 (U$257).

Illegal possession or discharge of fireworks and firecrackers carries a maximum penalty of six months in jail and a HK$25,000 fine under the Dangerous Goods Ordinance.

The private use of fireworks and firecrackers was banned in Hong Kong after large-scale riots in the city in 1967. But the ban is sometimes flouted in some villages in the New Territories.

Setting off fireworks during Lunar New Year is thought to bring good luck, health and wealth.

Traditionally, the city would host a fireworks display at Victoria Harbour on the second day of Lunar New Year. But the show has been cancelled for three years in a row, first because of anti-government protests and then the pandemic.

Hong Kong confirmed 625 new coronavirus infections on Tuesday, breaking the record for the highest daily case count for the third consecutive day. Authorities had confirmed 614 new infections on Monday, almost twice the 342 recorded on Sunday.