Three jobless men aged 24 to 28 and 35-year-old woman arrested during raids.
Hong Kong police have arrested four people on suspicion of using fake identity documents to register more than 7,300 SIM cards to help scammers open social media accounts, marking the first crackdown since a real-name registration rule launched last year.

The group comprising three local jobless men aged 24 to 28 and a 35-year-old Indonesian woman were arrested during a police raid on industrial and residential buildings in Cheung Sha Wan and Sau Mau Ping, the force on Sunday said.

Superintendent Wilson Tam Wai-shun, of police's cybersecurity and technology crime bureau, said the three men were believed to have started acquiring a large number of mobile phone SIM cards from March last year.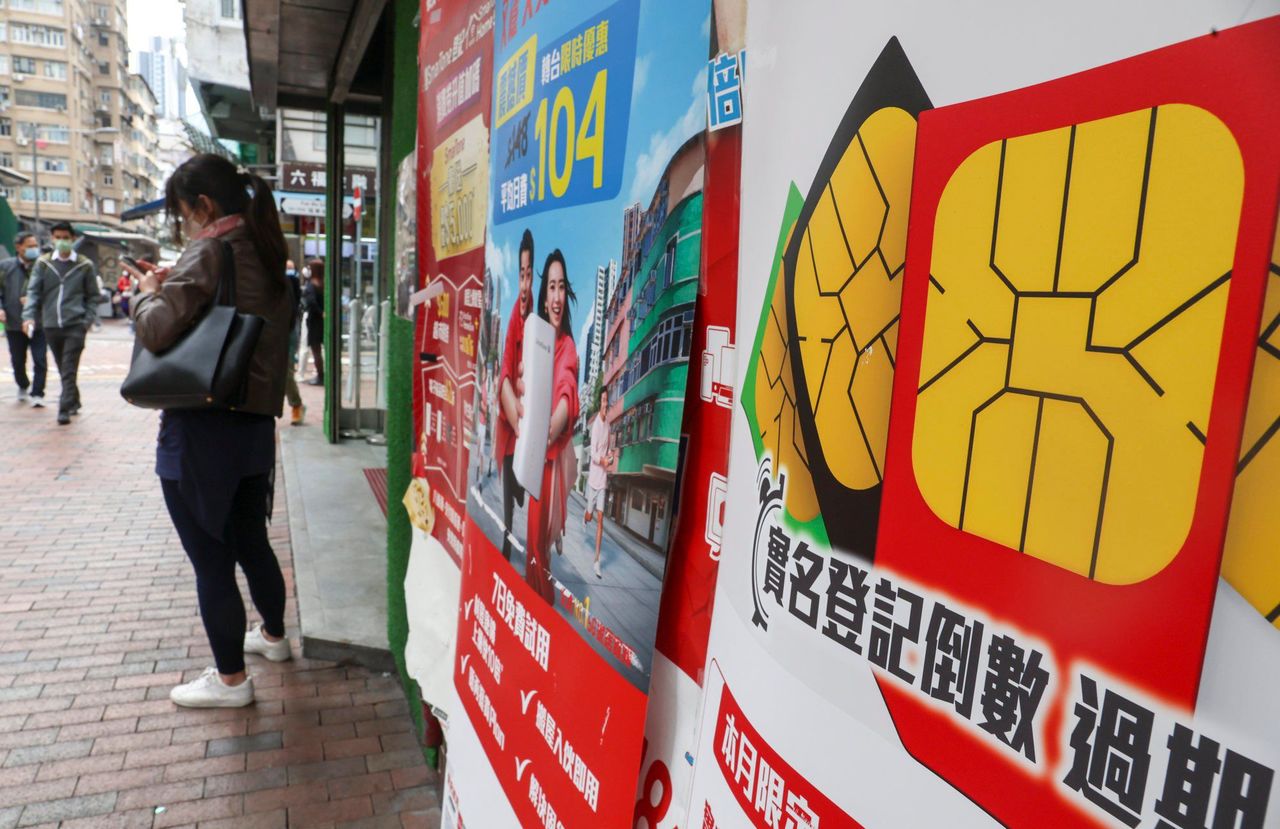 A poster reminding residents about real-name registration for SIM cards.

Since last February, all SIM cards in the city were required to be registered using a Hong Kong ID card. The initiative was proposed to combat criminals using anonymous pay-as-you-go SIM cards to evade detection.

Using computers and modem-pool devices to connect online intermediaries, the group were able to obtain one-time passwords for scammers to create accounts on WhatsApp, Facebook, and Instagram, he said.

The modem-pool devices can house multiple SIM cards and send out calls in bulk, making the gadgets popular among phone scammers.

Police said the group had allegedly registered more than 7,300 of SIM cards using fake Hong Kong ID cards.

According to a force insider, one of three men had used his own ID card to create copies with different numbers for registration purposes, successfully passing the authentication process.

The 35-year-old woman, a domestic helper, had opened a social media account with a promise of financial reward, the source added.

Police said they believed the registered cards could allow scammers to send phishing messages for fraudulent activities such as investment, romance and online shopping scams.

Superintendent Tam said the trio earned HK$10 to HK$20 per SIM card from scammers using their services.

"An investigation showed the ring was connected to at least three online shopping scams in Yuen Long, Chai Wan and Cheung Sha Wan involving a total loss of about HK$16,396," chief inspector Benjamin Tai Tze-bun of the bureau said.

The three men, who included two core group members, were arrested for using false instruments, while the woman was arrested for obtaining property by deception. The group were being held for inquiries.

Police also seized 65,000 SIM cards, 95 sets of modem-pools, 29 computers and a router during Saturday's raids.

Further arrests were possible, police said.

The real-name registration for mobile SIM cards was proposed to combat offences as criminals made use of anonymous pay-as-you-go cards to evade detection.

The real-name registration requirement was initially proposed by the Commerce and Economic Development Bureau in January 2021. The Telecommunications (Registration of SIM Cards) Regulation taking effect in September of the same year, with a cut-off period ending in March 2022.