Ploys involved cold-calling victims and tricking them into making a deposit to obtain a low-interest loan or committing to an investment backed by fake accounts.
Hong Kong police have broken up two syndicates touting low-interest loans and arrested 34 people suspected of conning 85 victims out of HK$8.3 million (US$1.06 million) in total.

The targets were typically tricked into handing over large sums of cash after being told the money was a deposit or an investment required to qualify for the "loan", with the culprits then fleeing before the victims realised they had been ripped off.

Revealing the arrests carried out over the past three weeks, Senior Inspector Tso Sai-leung of New Territories North regional crime squad said on Friday the scammers usually made cold calls in which they claimed to be a loan intermediary offering cash at interest rates as low as 0.09 per cent per annum.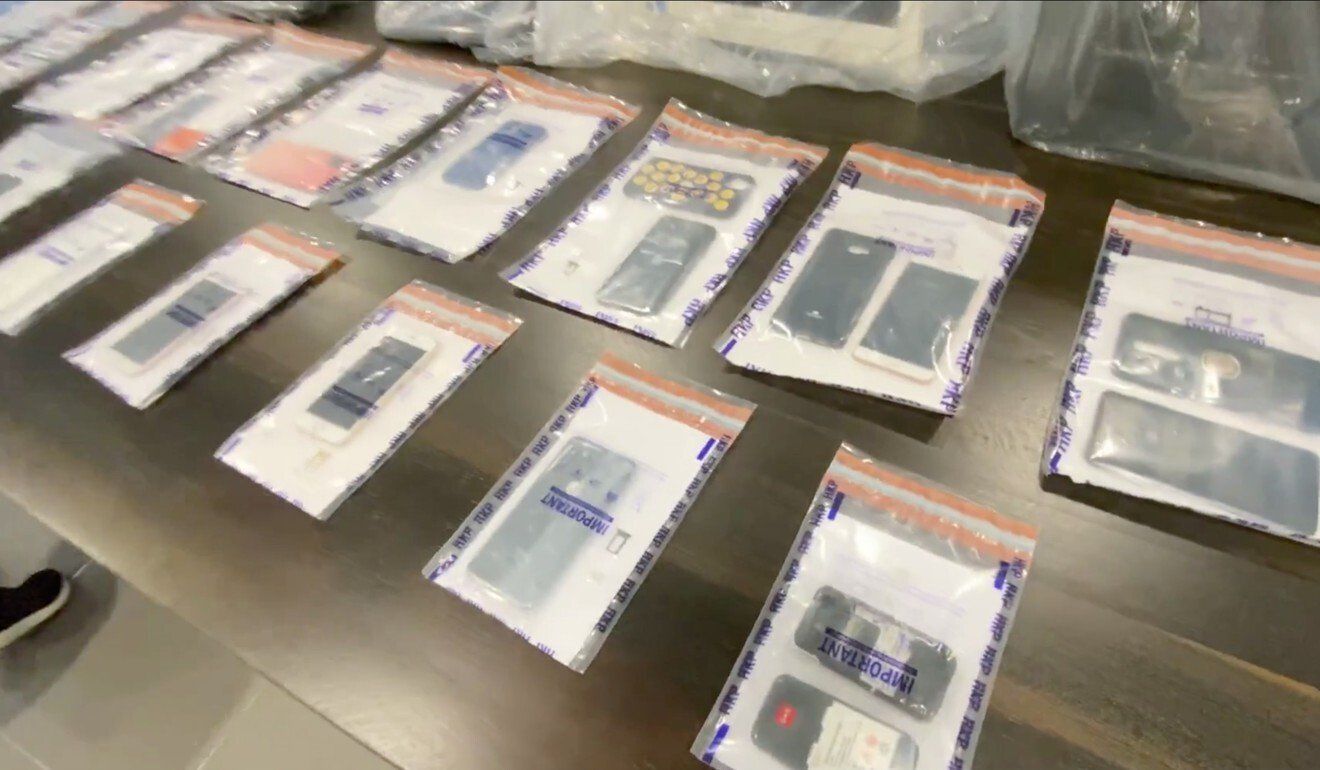 Evidence seized by police during the three-week wave of arrests.

They would then request a deposit to a designated bank account or arrange to meet the victim in a public place to obtain proof of assets.

But when the victims later tried to contact the "bankers", no one answered.

The second syndicate also relied on cold-calling victims and luring them into making an investment.

"After the victims turned over the money for investment, scammers would create a fake investment account to show the credit balance to fool the victims," Tso said.

"They eventually knew they were cheated as they couldn't withdraw the money nor contact the scammers."

A total of 47 men and 38 women, aged between 24 and 76, fell prey to the schemes between November 2019 and this February.

One 66-year-old woman who worked at an elderly care home was cheated out of HK$850,000 while trying to secure a HK$4.5 million loan to help pay for her son's wedding and buy a flat.

The suspects – 26 men and eight women – were arrested on suspicion of money laundering and obtaining property by deception. They are believed to have triad backgrounds and belong to a larger fraud operation.

They have been released on bail pending further investigation and must report back to police in July.

Officers have frozen HK$800,000 in bank accounts and more arrests could follow.

Hong Kong recorded 15,553 cases of deception in 2020, a rise of 89 per cent over the figure for 2019. Some 6,678 cases involved e-shopping fraud, 905 were related to online romance scams and 1,193 involved deception over the phone.