Catering industry still expected to take HK$350 million through increased bookings for winter solstice, although figure well down on normal years.
Concert halls and other performance venues in Hong Kong started to run at full capacity on Thursday after more Covid-19 restrictions were lifted.

But the relaxation of restrictions on numbers, which also included banquets, did not have immediate benefits for cinemas or newlyweds who had planned smaller-scale celebrations months before their big day.

The catering industry recorded brisk business as large families gathered over the winter solstice and in the run-up to Christmas, but a health expert warned that the festive season could lead to an increase in Covid-19 cases and add to the pressure on the public healthcare system.

Simon Wong Ka-wo, president of the Hong Kong Federation of Restaurants and Related Trades, said the catering sector was expected to rake in around HK$350 million (US$45 million) through more restaurant bookings for the winter solstice on Thursday.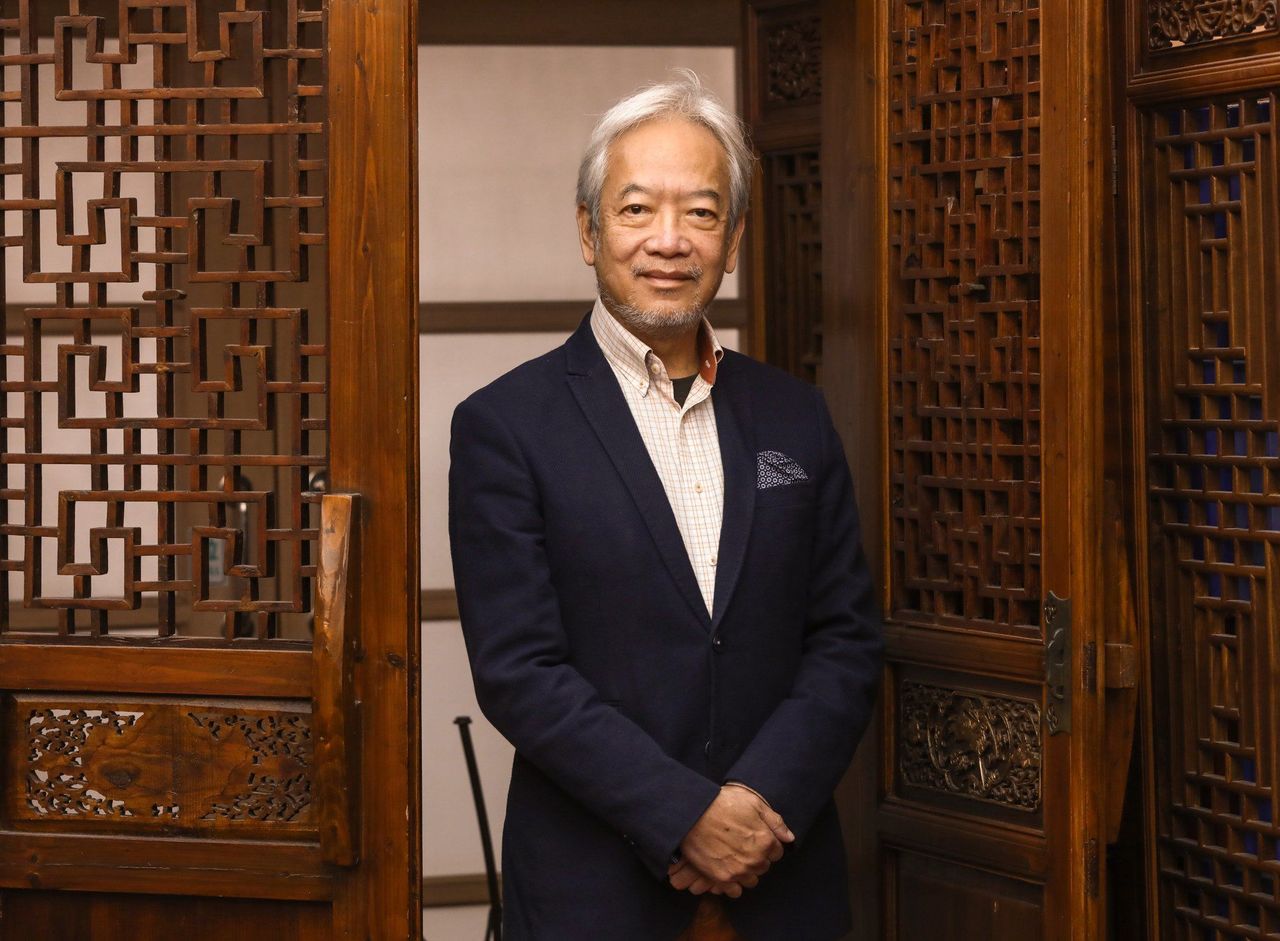 Simon Wong Ka-wo, president of the Hong Kong Federation of Restaurants and Related Trades.
Wong said while the winter solstice earnings were predicted to be the highest since the pandemic hit, they still paled in comparison to pre-pandemic years where an average of HK$420 million to HK$450 million was recorded every year.
"We still don't have many large banquet bookings because most were arranged some weeks ago and we cannot increase the number of tables immediately. Especially for weddings and large parties, we can't accommodate more people at short notice," he explained.
Wong added he hoped the 12-per-table limit would be lifted so the sector could cater to larger parties.
The 85 per cent capacity limit for entertainment venues such as cinemas, museums, theme parks and performance venues was lifted under the changes.
Bar customers and banquet guests also no longer have to undergo rapid antigen tests (RAT) and the 240-guest limit for banquets was also abolished.
But the government has not lifted the cap on the number of customers per table at bars and restaurants.
Only 12 people can be seated per table at restaurants and the limit for bars is six.
Some concert and performance organisers also reaped benefits after they decided to open at full capacity right away.
An 18-day series of concerts by Cantopop star Eason Chan this month and in January, was the first to gain.
Staff at the box office in the Hong Kong Cultural Centre at Tsim Sha Tsui said about 1,000 on-the-day tickets held back earlier because of social-distancing rules were released for sale on Thursday.
The news was a welcome surprise to many fans of the singer who failed to get tickets in the first allocation.
"His tickets were so hard to get that I thought I would miss the concert. But now I am hoping for a silver lining as more seats have been released," Lilian Hu, 23, said.
A spokeswoman for the West Kowloon Cultural District Authority said extra tickets for the performing arts programmes produced by the organisation would be up for grabs soon.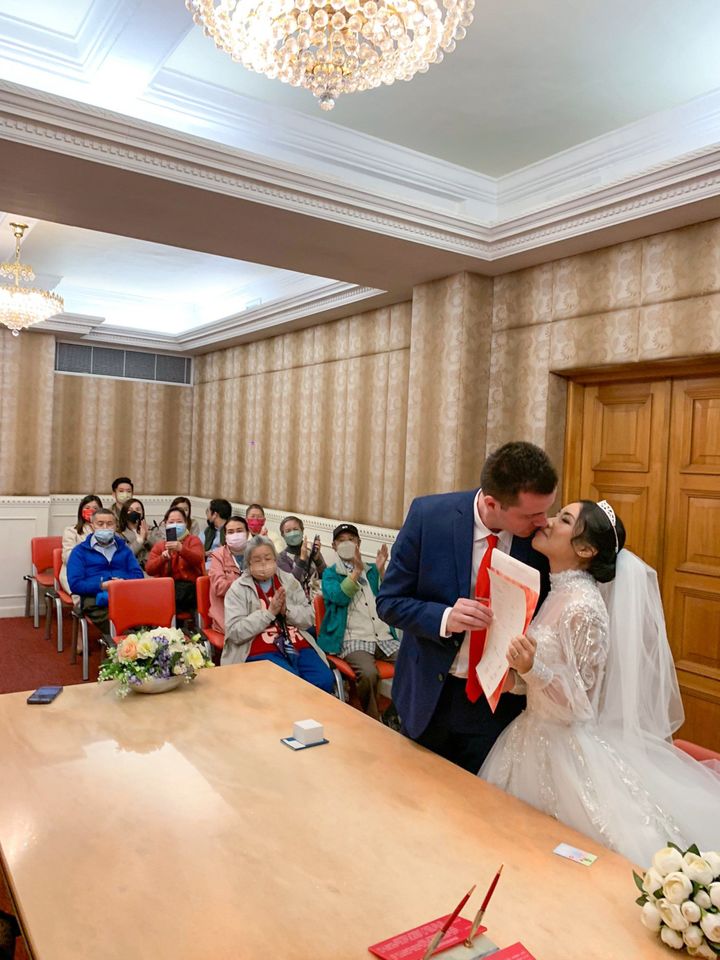 Bliss Ng and her new husband Konstantinov Ivan, who wed on Thursday at Cotton Tree Drive Marriage Registry in Admiralty, said they were happy with their slimmed-down celebration, planned before the government lifted more Covid-19 restrictions.

Some couples at Cotton Tree Drive Marriage Registry in Central who registered their marriage on Thursday said they were still happy to settle for small-scale banquets they planned earlier.

"I want my ceremony to be simple and we settled the list of guests a long time ago, so the recent policy changes will not change our plan," Bliss Ng Lok-han, 32, a product manager, said.

She said she would have a small-scale dinner with around 20 people at a restaurant at Whampoa in Kowloon.

Peng Yuexin, a 49-year-old Mandarin teacher who registered her marriage with her partner of 18 years, said she would invite around 30 friends to a small buffet on Thursday night in Tsuen Wan to celebrate the event.

"We just want to stay safe and healthy, so we will not have any large-scale celebrations for our wedding," Peng said.

Cinemas run by the major chains have also returned to full capacity, although there were no major increases in ticket sales.

Employees at MOViE MOViE, in Pacific Place, Admiralty said they had not seen an increase in the number of film-goers.

There were also Christmas Day seats still available online for popular films like Avatar: The Way of Water in other cinema chains such as Broadway Circuit.

Respiratory medicine specialist Dr Leung Chi-chiu warned that the city's coronavirus numbers may increase because of the holiday festivities.

"The public medical system has been under significant pressure recently. There are more than 4,000 hospitalised Covid-19 patients and nearly 550 people were admitted in a single day," he said.

"Once a large-scale outbreak occurs in a hospital or a home for the elderly, the epidemic situation may further deteriorate."

Travellers from Hong Kong, Taiwan and overseas from Thursday are no longer required to take polymerase chain reaction (PCR) tests on arrival and will not be issued with a red health code. Travellers will, however, still need to obtain a negative PCR result in the 72 hours before they enter Macau.

Arrivals will instead be given an amber health code to self-administer rapid antigen tests for five days. If the results are negative, the code will turn green.

Travellers from December 17 could choose to isolate at their homes or hotels in Macau for five days instead of at isolation centres.